I love solo travel. I can go where I want, when I want, how I want, on the budget I want, and change any of what I want at the drop of my backpack. I love the feeling of having a new destination in front of me where I can meet new and fascinating people and challenge myself; physically, mentally, and educationally.
After crossing off a good chunk of my bucket-list adventuring across the six more accessible continents, I set my sights on Antarctica.
It doesn't take much research to realize that Antarctica isn't exactly easy to get to and close to impossible on your own. (While I did get an offer while in Ushuaia to hop on a sailboat that was headed to the white continent with a friend of somebody that my hostel dorm-mate had met at a bar, the idea of crossing the Drake on a tiny boat with strangers was too  much for someone as crazy as I can be.)
In my head, a cruise seemed to be the antithesis of everything I loved about solo travel… someone else navigating and telling me when and what to do… there would be no going back or altering my route if I felt like it on a whim… what would I do all day stuck on a boat when we weren't making landings?
My (hilarious and extremely patient) travel agent, Jennifer, promised me that while she understood my concerns, I should shove them aside and I'd love every minute of an Antarctic trip with (and that I wouldn't be the only person under the age of 50). Still with a couple of doubts, I thought, "Screw it, when else will I have the time, money, and opportunity?" and the next thing I knew I was shopping for waterproof pants so that I would be allowed off the zodiac to step on my final continent.
I booked a 19-day Expedition (you can't just call this a trip because it's so much more) that would take me to the Falkland Islands, South Georgia, and Antarctica. By the middle of the first day, I knew Jennifer was right. The energy of both the crew and the passengers was contagious and electric. I was on a boat with expedition staff full of passion and expert knowledge about the south polar region and 194 other passengers who were like-minded travel addicts like myself.
Combined with the amenities of the ship and the culinary delights of Chef Bill, I was in an ice-reinforced heaven heading south.
SUBSCRIBE TO INTREPID'S NEWSLETTER FOR MORE TRAVEL STORIES, TIPS AND EVEN GIVEAWAYS!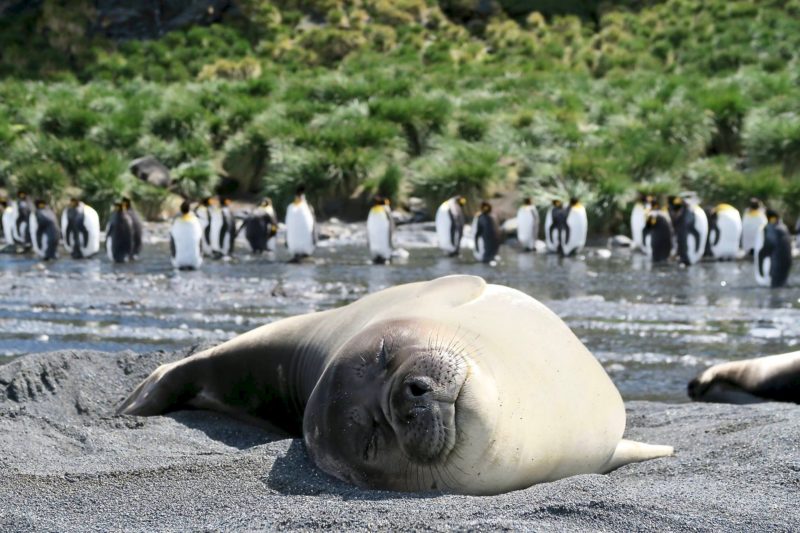 As soon as I was shown to my room, I knew I would be in good company. I met my roommate – another solo traveler – from Australia, who was kind, chatty, and we quickly began exchanging jokes and travel stories. It was just as easy to meet other people throughout the ship – whether at open-seated meals, hanging out on deck, enjoying some tea at snack time, or holding on to each other during a choppy zodiac ride!
There were so many more solo travelers than I expected, and of a wide range of ages. At 29 years and 10 months old, I was not even in the handful of youngest passengers, but was able to befriend fabulous and inspiring people from their 20s to their 80s. Many of these will be friends for life.
READY FOR THE ADVENTURE OF A LIFETIME? CHECK OUT INTREPID'S RANGE OF ANTARCTIC TOURS
There was no time to be bored. Each day was packed. What I thought would be long days at sea crossing the Drake Passage were filled with educational lectures on every topic from wildlife to geology to history of the south polar region and workshops on how to improve your photography. Each night, there were activities as well, ranging from informal talks from our expedition guides on their other endeavours (from climbing Everest to kayaking the Ganges… no big deal), to party nights, movies, trivia, and my personal favorite…. Antarctic Jeopardy, where I represented America in a hilarious attempt.
Additionally, there were yoga classes, a gym, spa, sauna, board games, and the extensive library of books (go ahead and put Endurance, the story of Shackleton's famed Antarctic voyage, at the top of your reading list now!). The guides were constantly around the ship to answer questions or offer more knowledge about their specialty.
Even the bridge of the ship was open almost all day with reference material, binoculars, and a crew happy to answer questions. I knew I would learn a lot, but the knowledge I gained is truly astonishing … just call me an expert seal identifier, albatross spotter, and Antarctic history buff!
POLAR POINTERS: ALL YOUR ANTARCTICA QUESTIONS, ANSWERED
While we were given an expected itinerary for each day the evening before, these were always subject to change, and did! Our expedition leader barely slept to ensure that we maximized every landing opportunity available… even if it meant a wakeup call at 5am to beat inclement weather or a last-minute rush to the mud room after lunch to catch a zodiac cruise around a Macaroni penguin colony. There was no need for my own research, scheduling, and alarm setting to maximize my days because it was done for me, by experts!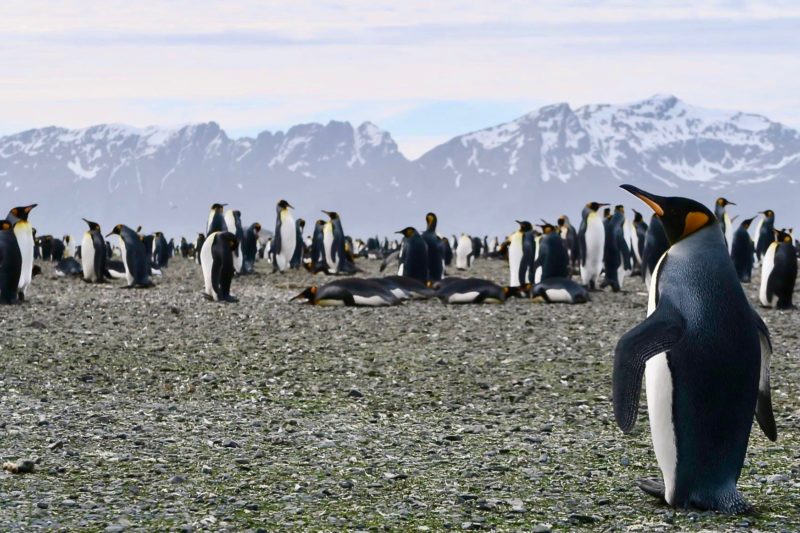 Part of every adventure for me is challenging myself to not only learn about where I am, but to challenge myself with new experiences. There was no shortage of new experiences aboard the Endeavour. Never in my life did I think I would trek across a glacier in Antarctica, cross-country ski to the top of a South Shetland Island, or take a plunge into the 29°F Southern Ocean!
READ MORE: WHAT TAKING A POLAR PLUNGE IS REALLY LIKE
These activities increased my confidence as I learned new skills and saw pristine landscapes I had never dreamed of from as many viewpoints as possible. I am constantly amazed at how much you learn during travel and Antarctica didn't disappoint as I navigated glacier crevasse crossings, withstood the cold and snow to cruise the Drygalski fjord, and patiently waited for the clouds to clear at the top of Barrientos Island to see the most pristine view of the entire trip.
If Antarctica is a dream of yours, make it happen as soon as possible. It is truly the journey of a lifetime. You'll leave the white continent feeling fulfilled, accomplished, in awe of our planet, and with a special bond to the special souls that accompanied you.
Most of all, you'll be ready to go back. I am!
Ready to visit the awe-inspiring seventh continent? Check out Intrepid's range of Antarctic adventures.
—
(All images c/o Maggie Hereford.)
Feeling inspired?