There are few experiences in all my travels that I recall with greater clarity or fondness than the magical time I spent exploring the Angkor Archaeological Park.
I remember waking up in the earliest part of the morning when there was still a thick layer of fog. I remember getting into a tuk-tuk with my partner, Briana, and arriving just as the sun was keen to peak out its knowing head. I remember being entranced by the famed spiraled towers of Angkor Wat, and I stood there, completely in awe, with nothing to do but soak in the sun's rays and the temple's majesty.
Visiting Cambodia's Angkor Wat is like being granted the keys to another world for a short period of time. While I was there, I often imagined in my head that, like a certain CS Lewis novel, I must have walked through a closet and into another realm.
So, what is it really like to visit? What are the can't-miss sights and the lesser-known gems? What time of day and year should you visit, and what is there to do after you've had your fix of this beautiful temple complex? Worry not because all these questions, and more, are about to be answered.
What is Angkor Wat anyhow?
Angkor Wat is the prized temple and showpiece of what is now known as the Angkor Archaeological Park. The city of Angkor itself was built in the 12th century to be an unparalleled Khmer capital for King Suryavarman II. When built, the ancient city extended over 400 kilometres, which makes it the largest pre-industrial city in history. While guesses about the city's population vary wildly, some prominent historians suggest that the population could have been as high as one million people. Mysteriously, archaeologists are still unsure of what actually happened to this vast empire and its people.
What I didn't know when I visited, but learned after through further reading, is that the Angkor Archaeological Park shouldn't really be conceptualized as a collection of disparate temples and monuments in a jungle. This was a fully functioning, complex city that was well-connected, and these temples were just a part of that burgeoning city.
When is the best time to visit Angkor Wat?
Generally speaking, November to February is going to be your best window for a visit. I had the pleasure of getting some input from Channa, an incredible intrepid leader with a remarkable story, and she wholly concurs because, "it is not too hot, and there's no rain." Now, it's worth noting that because you've got this window without the aggressive humidity and rainfall, you're going to have more tourists, so it's going to be quite a bit busier.
As far as timing for visiting, the Angkor Archaeological Park is open most days from 5am until 6pm. I would very strongly recommend getting there for sunrise. Most people who are visiting Angkor Wat will be staying in Siem Reap, and that means if you want to do this right, you're in for an early morning. The tuk-tuk ride takes approximately 30 minutes, so factor that into your plans.
KNOW BEFORE YOU GO: HOW TO PHOTOGRAPH THE TEMPLES OF ANGKOR
Once the park opens, you're going to want to head straight to Angkor Wat to get the famous sunrise picture. The full breadth of the sunrise usually occurs between 5:30-6:00, so have your camera ready. And prepare for crowds.
You might be tired, but I always joke to my fiancée (who in all likelihood is getting tired of my jokes) that it's always worth it to get up extra early or stay up extra late because fatigue is temporary, but a picture lasts forever.
Trust me, Angkor Wat at sunrise is something to behold, do yourself a favour and get up to appreciate it.
VISIT ANGKOR WAT ON A SMALL GROUP ADVENTURE WITH INTREPID 
What should I wear to Angkor Wat?
It's important to note that at Angkor Wat, there is a dress code that must be abided by. You'll need to wear clothing (preferably light) that covers your shoulders and knees. The sun is likely to be quite strong, so it makes sense to bring a hat, and you should be wearing good-quality walking shoes. Lastly, you might want to carry around or pack a thin raincoat as weather can be a touch erratic.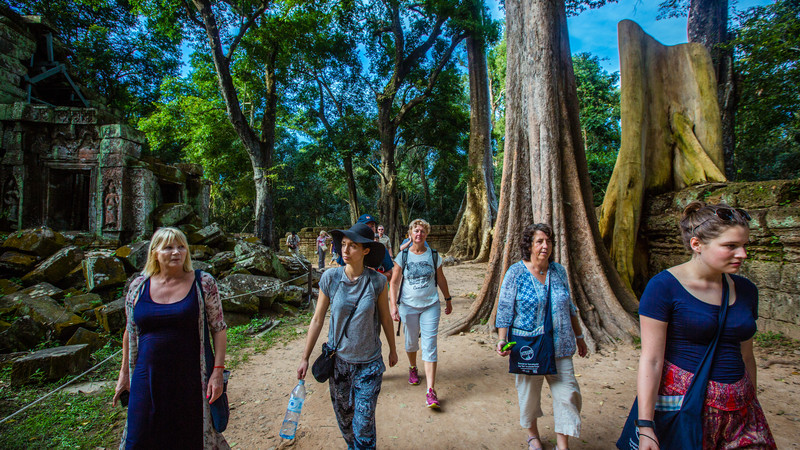 READ MORE: 4 MUST-HAVE EXPERIENCES IN CAMBODIA (THAT AREN'T ANGKOR WAT!)
What do you need to see if you're short on time?
If you haven't got much time, you're going to want to make the most of every moment. The good news is that you can cover a lot of ground in just a little bit of time if you've planned with purpose. There are some places that you simply need to see if you're visiting the Angkor Archaeological Complex, and they are, in my humble opinion, the following:
Firstly, the Angkor Wat temple itself. I'd recommend taking in the views of Angkor Wat at sunrise, then going directly after to explore the famed temple. Angkor Wat is the pièce de résistance of the complex, and the postcard picture you've seen a million times.
Its pointed towers rising up from the base structure are a classic example of Khmer Architecture of the 12th century, and, based on its prominence, some suspect that this structure was actually constructed by Suryavarman to be his final resting place. Angkor Wat, in short, is a temple like you've never seen, on a scale you couldn't have anticipated. It doesn't disappoint.
FIND OUT WHAT IT'S REALLY LIKE ON AN INTREPID TRIP TO CAMBODIA, IN PHOTOS
Angkor Thom, known as the Bayon Temple, is also an absolute must. Technically Angkor Thom is a city built by the ruler Jayavarman VII and the Bayon Temple is within it, but they're often thought of as synonymous. Before I move forward describing what the Bayon Temple is, you should note that there's no need to be intimidated by the distances between temples as you can take a tuk-tuk between sights to save time if you've only got a day.
The Bayon Temple is a very impressive temple built towards the end of the 12th century, and it's beyond photogenic. What makes it unique is the smiling faces which jut out of the rocks and greet you with their warm disposition. 
Insider tip from top Intrepid guide in Cambodia, Channa:
My favourite spot in the whole park is Bayon Temple, one hour before sunset. There are fewer tourists, it's cooler and when sun rays hit the faces it is just magic.
Lastly, you'd be remiss to leave without spending some time at Ta Prohm Temple, which was constructed roughly around the same at Angkor Thom, and commissioned by the same ruler. Ta Prohm was constructed to be a monastery and university, and what is perhaps most impressive is that it's still in remarkable condition considering when it was constructed. What makes it truly famous, however, is the way the jungle has grown into and straddled the structure. It's an example of what happens when a man made structure is essentially given back to nature. To me, this is the most unique spot to snap a photo.
What should you see if you've got time to spare?
The sights listed above will astonish you, but they're far from the only sights to see. Preah Khan is also dazzling in its own right, and it's not too far away from Ta Prohm and other more famous temples. Preah Khan was also built by Jayavarman VII (12 century), but, in this case, to honour his father. It served as a massive administrative headquarters of sorts, but is now famous because of the overgrowth that has added a layer of mystique.
Jayavarman VII also built a small temple known as Ta Som. It's a temple dedicated to his father, Dharanindravarman II, and it's not far from Angkor Thom, which makes it well worth checking out. It's a single-level shrine that has been left unrestored, and also exists in congruence with growth of the jungle. This is a nice temple to check out if all the other more popular temples seem a little crowded.
Perhaps the unsung hero is Banteay Srei, which you wouldn't be able to fit into a short visit, but is certainly worth fitting into an extended visit. It's about 25km away from the more well-known temples, but it often receives rave reviews from tourists due to the fact that there are less crowds, and it's build with red sandstone. It's not large and imposing, but it's gorgeous, ornate, and offers something a little different. Not to mention, it was built in the 10th century, so it predates much of what you'll see elsewhere!
What can you do in Siem Reap?
I'm not going to lie, when I was staying in Siem Reap, I likely stayed out on Pub Street a touch longer than I needed to the night before heading to the Angkor Archaeological Park. Now, while I wouldn't recommend that, I also can't say I regret it. Siem Reap is a fun place to be.
That being said, Siem Reap is a lot more than just "Pub Street," that's for absolute sure. The food in Siem Reap is just remarkable, and it's a good place to dive into Cambodian cuisine which, in my opinion, deserves just as much respect as Thai or Vietnamese. I personally love Fish Amok, which is essentially a fresh fish curry (usually served in a banana leaf), but I'm also a fan of Lap Khmer which is more or less beef salad. I'd also say that you're safe trying most curries, especially red curries, as they're to die for.
READ MORE: A GUIDE TO CAMBODIAN DISHES AND MUST-VISIT RESTAURANTS
One of the more unique experiences that I had in Siem Reap was taking one morning to go out to the Tonlé Sap Floating Villages (explore them on this day tour). It was fascinating to see how people lived seasonally when the lake flooded, and the communities that formed more or less on stilted houses. 
What to do in Siem Reap according to top Cambodian Intrepid guide, Channa:
Go to Phare (a circus with dance, theatre and live music that tells Cambodian stories). Go to the Angkor Silk Farm. Go shopping, visit local villages and monasteries, and try a cooking class.
So, why go?
I've been to the Angkor Archaeological Park, but I'm yearning to go back because it's just that special. I've always been a creative and imaginative person, and I feel like visiting this place unlocked doors I didn't know existed for me. It was like watching fact and fiction blur together before my eyes.
That's what makes this place so unbelievable, it's the idea that, unless you go, you just can't imagine being there. I look around today at the skyscrapers that populate the skylines of most metropolitan cities, and I just can't imagine them being around for too long. Then you have the Khmer temples which have endured centuries, and will still be there long after the skyscrapers are gone.
Ready to experience this awe-inspiring site for yourself? Check out Intrepid's range of tours in Cambodia.
—
(Image credits from top to bottom: Intrepid Travel x5, Chris Mitchell, Intrepid Travel, Chris Mitchell, Intrepid Travel x3.)
Feeling inspired?