There are certain experiences from my time in Cambodia that have simply stuck with me. They're the moments we all look for while traveling. Moments of self-realization. Moments of profound beauty and wonder. Moments of pure humanity that make you tilt your head and crack a smile.
To be frank, I didn't know that much about Cambodia before I left to photograph the adventure with Intrepid Travel. I had seen the epic photos of the legendary Angkor Wat at sunrise, but that was pretty much it.
I knew more about Thailand and Vietnam, places I was also venturing to on this trip, but I was spending the majority of my time in Cambodia. Close friends espoused that Cambodia was more "raw," "more authentic" and not quite as built-up with tourism as other Southeast Asian countries, aside from maybe Laos. That got me excited, as I'm more of a off-the-beaten-path type of photographer/ adventurer. And since being home for a few months, I have to agree. But it's more profound than that. Let me explain through some stories that have stuck with me.
Without further ado, here are a few whoa-this-is-unreal experiences on Intrepid's 12-day Cambodia Adventure tour.
Exploring rural Cambodia by bike
Getting around via bike is one of the best ways to immerse yourself in a culture. To really see a land. We had just left the bustling city of Siem Reap and drove five hours via public bus into the heart of the country to the sleepy village of Kompong Cham. It was the opportunity to see the small town lifestyle of Cambodia, and it didn't disappoint.
A group of eight or so of us rented bikes and went adventuring across the large bamboo bridge (so cool!) to the rural island of Koh Paen. As we biked along dense green foliage, we got a glimpse into a slower, calmer lifestyle. We witnessed – and tasted – the making of local cuisine. As the sun began to dip, we started to make our way back to mainland. As we did, we came across a young cow herder as the sky turned orange and purple. As we got to the bridge, the sun was just setting over the water, emitting this perfect orange glow. And standing there, almost waiting for me to jump off my bike, was a lone monk in his matching orange religious garb.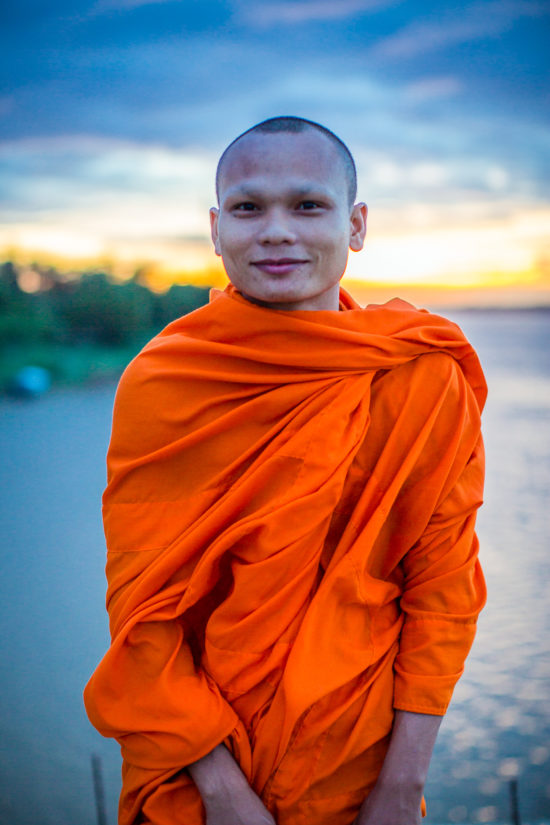 Right away, he was open to having his photograph taken. It all showed how open Cambodians are. How happy they are to share in a moment. How open they are to showing you around their rural communities.
SEE MORE: 22 PHOTOS THAT WILL INSPIRE YOU TO VISIT CAMBODIA ASAP
Hiking from a homestay to a hidden waterfall in the dense jungle
Staying in a homestay is always a highlight. Always. It's the most authentic part of traveling, as you get to eat with the locals and sleep where they sleep. Tucked away in the mountains, the Chambok Homestay offered the world. On red dirt roads, we passed school children on their way to school, workers returning from the fields, and the odd cow in the middle of the road.
We stayed in raised homes, designed in case of floods, elevated a storey off the ground. Each bed had its own brightly-colored mosquito net. Following a warm, plentiful sleep, we made our way to the local gathering spot via ox-pulled carts. That's one way to get around. Following breakfast, we packed our kits, refilled our water bottles and headed for a true shower via waterfall. Cambodia has a lot to offer, and natural beauty is a certainty here.
READ MORE: WHAT TO EXPECT AT A CAMBODIAN HOMESTAY
With our local guide, we made the two-hour hike through lush vegetation to an unreal waterfall up the side of a mountain. It was awe-inspiring. I had to get a long exposure shot to show its beauty, and crawled along water-slicked rocks with my gear (I don't recommend this part) to get the shot. Worth it, says the photographer, always.
SUBSCRIBE TO INTREPID'S NEWSLETTER FOR TRAVEL TIPS, COMPETITIONS, GIVEAWAYS & MORE
Exploring Siem Reap's ever-lively Pub Street at night
Undoubtedly, Angkor Wat is the most-known landmark in Cambodia. And for good reason. What I wasn't expecting was the bustling nightlife of Siem Reap's Pub Street. Siem Reap is the city closest to Angkor Wat. It's fairly built-up, and you can see the direct result of the millions of annual travelers to the religious landmark in the money that's poured into the city, namely Pub Street and the Night Market.
Essentially it's a party zone. Fluorescent lights abound. Music pours into the streets. People are dancing everywhere, in and out of the clubs.
As I was out to get a few night photos to showcase the vibe, a couple of us stopped for a beer along Pub Street. As we were sitting there, we saw a barrage of people coming down the road. It was none other than Psy, the South Korean singer behind the smash Internet hit, "Gagnam Style." He was just walking down the street with his bodyguards, who were clad in all-white military outfits, taking photos with locals and tourists alike. Cambodia definitely surprises.
CHECK OUT INTREPID'S RANGE OF SMALL GROUP ADVENTURES IN CAMBODIA
Sampling scorpions and tarantulas on sticks
When my friends had described Cambodia to me as "raw", I didn't take that to mean the food! I think it was right at the land border crossing from Thailand into Cambodia that I first saw them—insects on sticks. (I had seen crickets on sticks in China years ago, but Cambodia felt like it was on another level.)
Scorpions on sticks. Tarantulas on sticks. Crickets and cockroaches mixed with peppers. Snakes on sticks. Take your pick.
It's truly one of those aspects that makes you remember, Oh yeah, I'm traveling. (I wasn't brave enough to try the tarantula on a stick, but did hold a live tarantula. I named him Henry.)
READ MORE: IS EATING SPIDERS IN CAMBODIA GIMMICK OR GOURMET?
READ EVEN MORE: EVERYTHING (ELSE) YOU NEED TO KNOW ABOUT CAMBODIAN CUISINE
—
…But don't forget Angkor Wat at sunrise either!
As a photographer, you have to work with what you get, weather-wise. It's just part of the game. Imagine all the people that climb Machu Picchu to get that legendary photo… only for it to be shrouded in a thick fog. Not fun.
As aforementioned, the photos of Angkor Wat was all I really knew about Cambodia. Those large, ancient circular steeples that pierce the sky with the sharp reflection in the water. We left around 4am to get an optimal viewing spot. But we didn't really get a viewing spot as there were hundreds if not thousands of travelers already in queue, waiting quietly in the dark as the morning stun starting to pierce through.
Another 15 minutes later, however, and we got it all. Yellows, oranges, reds and even some purple bouncing off the clouds, dancing in the water.
It was a transcendent moment. And after I got a number of shots and angles, I had to put the camera down and just revel in this beauty.
The ever-present beauty of Cambodia.
—
Ready to experience the magic of Cambodia for yourself? Check out the trip this traveler did here and our range of Cambodia tours here.
—
(All images taken by Ryan Bolton on Intrepid's Cambodia Adventure trip.)
Feeling inspired?