Trust us when we say your feet aren't going to mind putting in the hard work on these spectacular tracks.
Nelson is one of the most stunning regions in all of New Zealand (and we're not even exaggerating). From its to-die-for beaches to its extraordinary national parks, exploring Nelson is the best way to spend your well-earned break. But if you want to take your appreciation for Mother Nature to a whole 'nother level then lacing up your hiking boots and hitting these top trials is the perfect way to do it.
Whether you fancy taking in the beauty of Abel Tasman or attempting the challenging St. Arnaud Range Track, these Nelson walks will not only leave you breathless (literally) but also take your breath away.
Difficulty: hard (extremely challenging)
Distance: 17.3km return
Duration: 5-7 hours
When looking up at the Nelson skyline, chances are you'll catch an eyeful of Mt. Arthur (Tu Ao Wharepapa) as it's one of the highest peaks in the surrounding region.
Not only is it one of the highest, but it's also one of the best mountains to climb. Enter the Mt. Arthur Summit Track.
Don't be fooled. This track isn't for the faint of heart (or for the not-very-fit). With a distance of 17.3km return, this track will take you 5-7 hours to complete and is a complete challenge and a half. Despite the length, this track is more than worth the effort with various landscapes and notable stops along the way including marble outcrops, grassy areas full of alpine shrubs, the Horseshoe Basin, and Gordon's Pyramid.
Difficulty: moderate – hard
Distance: 60km return
Duration: 3-5 days
All of the Nelson walks on this list are guaranteed to leave you with unforgettable views and limited space on your phone's camera roll but perhaps none more so than the Abel Tasman Coastal Track. Promising to take you past sparkling beaches and forests full of native bush, and to fascinating natural spots such as Cleopatra's Pool and Falls River, this track (located in the Abel Tasman National Park) has a little something for everyone.
Now, the Abel Tasman Coast Track isn't a short one, but you can choose to walk only a portion of the trail if you also fancy spending time relaxing on the golden sandy beach. To walk the whole thing, it'll take you between 3 to 5 days so be prepared for overnight stops and feet you'll want to put up immediately. There's nothing quite like walking this track though so trust us when we say it'll be one of the best things you ever do.
WALK THE ABEL TASMAN NATIONAL PARK
Difficulty: moderate
Distance: 20km return
Duration: 8+ hours
You'd think that because Lake Rotoiti is one of 16 lakes in the Nelson Lakes National Park that it'd be easy to overlook but just one glimpse of its pristine waters and the surrounding landscape is enough to know that's not the case. Whether you're making the trek in summer with thoughts of stopping along the way to swim in the lake or prefer trudging past frosty beech forests in the middle of winter, this circuit is full of fascinating sights.
Perfect for all ages and abilities, Mother Nature is at her best on this 20km track with manuka and kanuka trees scattered throughout. You can even make a stop at the breathtaking Whisky Falls for a sight of cascading water you'll never forget.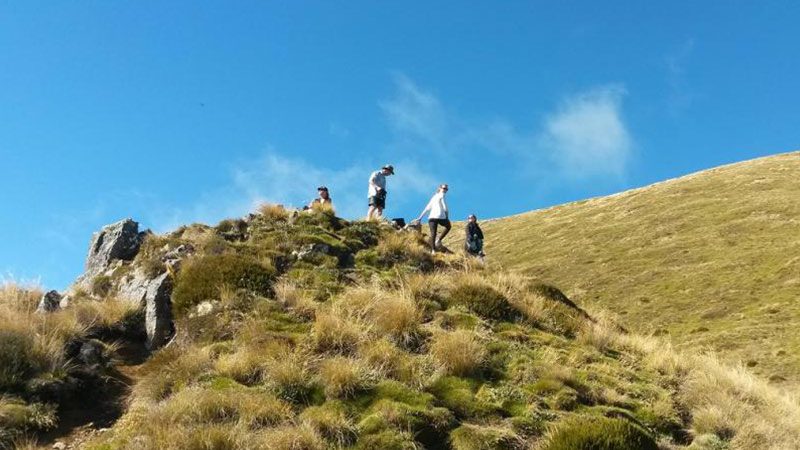 Difficulty: moderate – hard
Distance: 10.5km return
Duration: 4-5 hours
We promise there's a walk on this list that isn't physically demanding but the St. Arnaud Range Track isn't one of them. It may be remarkably steep in some areas but the beautiful sight of red, silver, and mountain beech trees lining the path gives the track a magical atmosphere that's more than worth breaking a sweat over.
With a landscape shaped by glacial activity thousands of years ago, hike past crystal clear lakes and through deep valleys, passing blooming alpine fields as you go, on your way to the top for an unparalleled view of several national parks including Mount Richmond Forest Park and Kahurangi National Park.
Difficulty: easy
Distance: 2km return
Duration: 20 – 60 minutes
Okay, so this walk might not actually be the centre of New Zealand but with Nelson's stunning geography unraveling before you, it certainly feels like it. Perfect for all ages and fitness levels, this is one of those Nelson walks that you simply can't miss thanks to the peaceful surroundings you'll find yourself in while completing the 20–60-minute journey.
Slowly but steadily make your way from the Botanical Reserve towards the top of Botanic Hill for breathtaking views of Nelson's fascinating landscape, stopping to interact with historical information panels along the way for a cultural experience like no other. Steep but short, this walk is iconically New Zealand so no trip to Nelson is complete without it.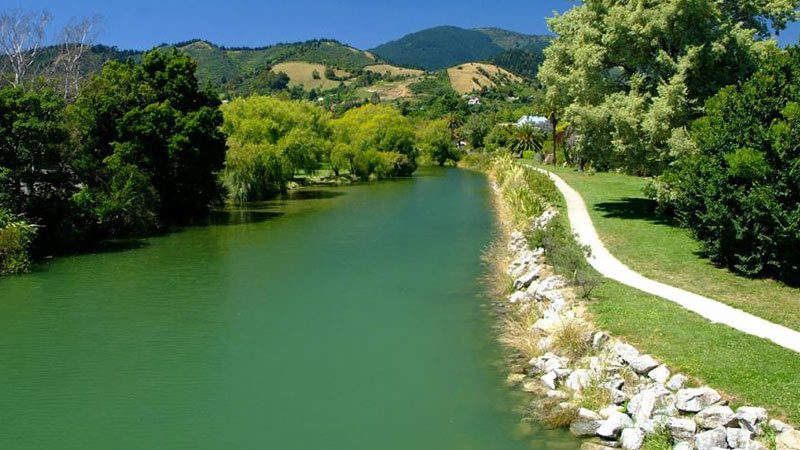 Difficulty: easy
Distance: 7.2km return
Duration: 2 hours, 45 minutes
Nelson is bursting with unforgettable landscapes and the Maitai River is so much more than just another one of them. Snaking its way through the city centre and out towards Tasman Bay, the Maitai River Walkway promises to provide hours of leisurely fun from the many swimming holes you can dip in along the way to the grassy areas alongside the track that makes for a perfect lunch spot.
While it might be one of the easier Nelson walks on this list, the Maitai River Walkway is definitely breathtaking where it counts thanks to the varied mix of urban and natural surroundings, you'll come across on your 2 and a bit hour journey. You don't even have to walk it if your feet are screaming 'no more' with the path also used as a popular cycling route.
Difficult: easy – moderate
Distance: 8km return
Duration: 2-3 hours
Naturally formed over 10,000 years ago from debris due to various landslips off of the Mackay Bluffs, the Boulder Bank (Te Pokohiwi) track follows a natural spit of boulders and is one of the best Nelson walks if you're after a sight that goes above and beyond.
Not only will this track give you an intense workout (we love a good thigh burn), but it'll also give you an insight into the fascinating natural history of the area with a 19th-century lighthouse situated along the track. Climb up the winding internal staircase for a mesmerising view of Nelson's cityscape you're unlikely to ever forget.
Whether you're an experienced hiker looking for a challenge or just a beginner who wants to spend more time outside, these Nelson walks are sure to be your favourite part of your New Zealand getaway.
Feeling inspired?