Can't sleep? Reading up on these abandoned ghost towns won't help……
New Mexico might also be known as the 'Land of Enchantment' but there's nothing magical about 400 forgotten and desolate towns scattered all over the state. In fact, these towns are more creepy than captivating with little more than fire-ravaged buildings, crumbling structures, and ancient relics of a time from long ago on display.
Reading about these ghost towns in New Mexico might give you the heebie-jeebies but that doesn't mean you shouldn't go explore them for yourself, either before your Intrepid trip starts or after it ends. While these ghost towns are eerily quiet and might have you feeling unsettled long after you've left, they also offer an insight into the often hard and harsh livelihoods of those who lived there.
These mining towns were once prosperous with the success of finding silver and gold. Now, they lay decrepit and decaying, simply waiting for you to wander around them. So, get your road trip on and discover just how haunted these 4 ghost towns in New Mexico really are.
After silver was discovered in 1878, Lake Valley quickly became a booming settlement full of saloons, boarding houses, general stores, and over 4,000 people. One of the town's more famous mines named the 'bridal chamber' produced 78 tonnes of silver alone, making Lake Valley both prosperous and successful.
That is until the silver industry collapsed in 1893 in what is now known as the 'silver panic' and thousands left the region in search of work elsewhere. With the last resident passing away in 1974, Lake Valley, located in Sierra County, officially became a ghost town. There are a few buildings still standing today including the chapel, a few houses, and a schoolhouse that allows for an understanding of what schooling looked like over a century ago.
White Oaks is another town that found its fortune (and its eventual demise) in the mining boom of the late 1800s but instead of silver, this settlement was searching for gold. A golden vein was discovered by alleged prison escapee John Wilson in 1879 and from that day on, White Oaks was overrun by those hoping to strike it rich.
Quickly becoming one of the biggest towns in New Mexico (second only behind Santa Fe), houses were built with pitched roofs or in classic Victorian style, one of which you can still marvel at today. The town wasn't without its tragedies though with several mine fires causing death and destruction in the years of 1891 – 1895, and unfortunately, once the gold dried up in the early 1900s, so did White Oaks.
If you get thirsty during your trip, stop in at the only saloon open, the now famous 'No scum Allowed' saloon for a cold beer and a bit of live music. Other notable buildings still standing include a couple of houses and the Cedarvale cemetery.
If you want a real taste of the wild, wild west (or at least get an idea of what it would've looked like in the 1800s) then the little ghost town of Shakespeare is worth a visit. Frequented by some of the west's most notorious outlaws including Billy The Kid, Johnny Ringo, and the Clanton Gang, as well as Russian Bill and Sandy King who were both hanged in the center of town, Shakespeare got its big break when prospectors discovered silver in 1870.
As with all mining towns in the Old West, Shakespeare ran into trouble when the silver dried up and people started fleeing for bigger towns and better opportunities. Shakespeare is now privately owned and was declared a National Historic site in 1970, however, you can still tour the barren town on certain weekends throughout the year.
4. Chloride, Sierra County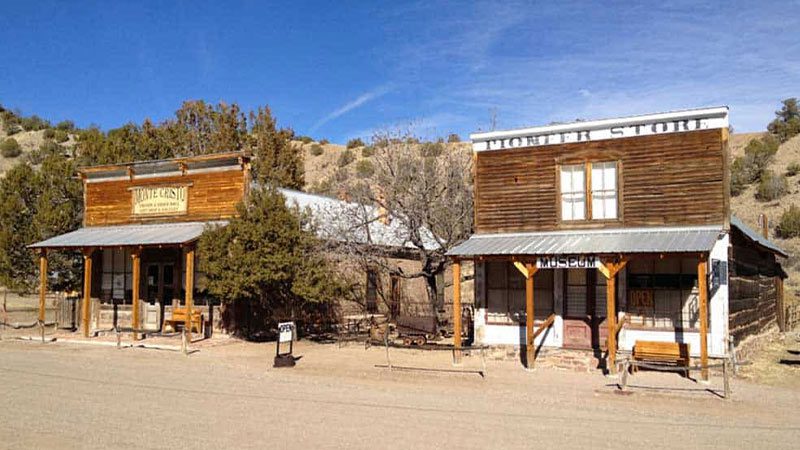 While technically not a ghost town (there are still 11 people who live there today), Chloride presents itself as a booming mining town, frozen in time. With 27 original buildings still standing and a 'hanging tree' that will send shivers down your spine, wandering around this party-lovin' town is like stepping into the past.
Once bustling with saloons, general stores, restaurants, and houses full of gamblers, miners, alcohol-drinkers, and ranchers, this town found its success on the back of silver until the industry's collapse in 1893. Chloride is now mostly deserted but if you look hard enough, you just might be able to imagine it in its heyday with streets and storefronts looking like they're straight out of a classical western film.
EXPLORE THESE GHOST TOWNS IN NEW MEXICO ON OUR NEW MEXICO TOURS
Feeling inspired?