Warming hearts in Russia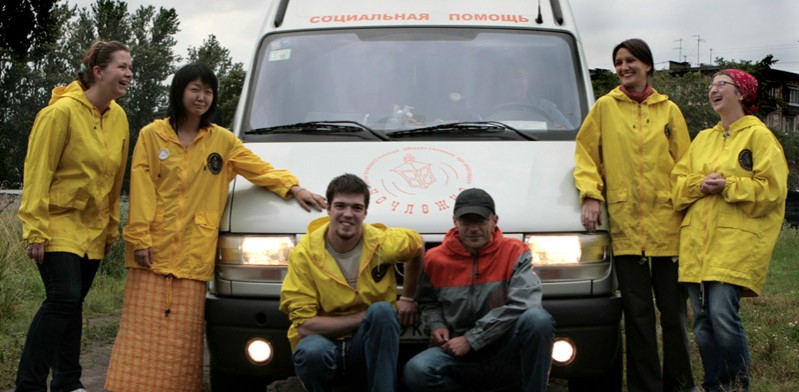 Right now in Russia it's cold. Very cold! A temperature range of -9 to -15 degrees Celsius in St Petersburg is challenging for anyone, let alone the 30,000 homeless people. This is an official estimation, but local experts believe it is more likely that 60-70,000 people in the city are without a safe place to sleep. The Intrepid Foundation is pleased to help bring some warmth to needy Russians through the local charity Nochlezhka. Grigory Sverdlin, their Executive Director sends us an update…
"Thanks very much to all the Intrepid travellers and Intrepid Travel for their support to our Night Bus project. We know this support saves lives. We also know that every winter dozens of people die from cold exposure, and hundreds more are disabled as a result of amputation, so there is so much more we could do.
2011 was not an easy year for Nochlezhka and many other non-profit organizations in Russia. We are again in the situation when it is very difficult to defend your main constitutional rights – the right to vote, to work, to life, to have a home, medical care and freedom of movement. Foreign charity funds continue to reduce support of Russian non-profit organisations, and the traditions of charity in Russia are reviving, albeit very slowly. Despite all government statements, the taxes to non-profit organizations and its donors were not reduсed.
In 2011 we managed to help 'only' several thousand people. To tell the truth, not once were we discouraged. We still think that whatever little you do is better than apathy. This year, in spite of all financial difficulties, we managed to continue all the projects of Nochlezhka – the Shelter, Heating station, Social and Legal consulting, Half way home and the Night Bus.
In 2010 the Night Bus route was shortened from 7 to 4 stops because the bus was very old and broke down frequently and we were short of money. But due to help from St Petersburg citizens, businessmen and donations from France, Switzerland and The Intrepid Foundation, we managed to buy a new bus in 2011. It started working daily from the middle of December.
In 2011 volunteers of the Night Bus gave out 23,789 hot dinners. Via the Night Bus contact with homeless people, we can also make arrangements for offering our other services. Our social workers helped to make the situation better for more than 2600 people. 250 homeless got legal help. We helped people to get policies of obligatory medical insurance, to get jobs, have their children accepted to kindergartens, get pensions and allowances, get a place in old and disabled people's homes, re-establish documents, to get registration and address many other issues.
Nochlezhka staff and volunteers thank everybody who supported the homeless this year. When we are together we can do a lot! We wish you happiness in the new 2012."
Intrepid is very pleased to be able to help such a positive and effective organisation. Grigory tells us that according to their data, within 2011 the number of homeless increased by 500 people. About 30% of them are women. More information is available at www.homeless.ru.
The Intrepid Foundation – travellers making a difference
Please help us help Grigory and his team do more via the Intrepid Foundation. Plus find out how your donation could be doubled* by Intrepid Travel today!
* Donations will be matched by Intrepid Travel up to AU$5000 (or equivalent) per donor and a total of AU$400,000 each financial year.
Photo: Nochlezhka Night Bus