A homestay haven in Borneo
Embarking on a big Borneo adventure, you are likely to have the icons front of mind: orang-utans, turtles, tropical jungle and the magnificent Mt Kinabalu perhaps. But once there and immersed…learning about the spiritual, economic and cultural ties from your local hosts, is when your experience is truly enriched.
Chris Hardy, Intrepid's Operation Manager in Malaysia, tells us about our special Sabah homestay:
"There's always a degree of excited anticipation when groups venture out of the 'big smoke' of Kota Kinabalu, and head for the hills of Sabah. It's under two days until we climb the mighty Mt Kinabalu, and for many travellers, they are still very fresh to the local culture.
Our stay in the community of Taginambur in the Kadamaian River valley, gives us a timely pause to learn about Dusun culture in a tranquil place, that's aptly also known as the 'Valley of Peace'. The community of about 2,000 people is quite spread out amid the river plains and the picturesque hills, and is surrounded by rubber farms, orchards and paddy fields. Above is the spectacular Mt Kinabalu, the highest mountain in SE Asia – wowing us with panoramic views at dawn and dusk.

Robert and Susan are our homestay hosts. Now both retired, Robert was formerly a teacher and a farmer, and his wife Susan worked for the Department of Agriculture. Their home stay income helps to supplement their pension, and they help their children by caring for two of the grandchildren.
The community is predominantly inhabited by Dusun people and 95% are Christians. Dusun is a broad term for the largest ethnic group in Sabah, with many variations on their practices and religions from place to place across Northern Borneo. Originally most Dusun folk had animist beliefs and some animist ideas still prevail, particularly when it comes to the legends of Mt Kinabalu. Robert and his family are Christian and are committed members of the Borneo Evangelical church.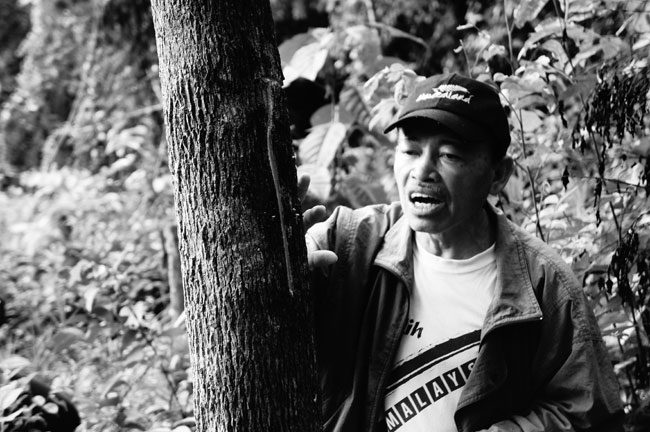 There's lots to see and learn. The people of Taginambur are mostly farmers, entirely deriving their income from rubber tapping, rice farming and fruit trees. Nearly all the families have a small acreage of rubber farm, and we have the opportunity to see a demonstration of rubber tapping. Depending on the season, we may try planting, harvesting or pounding rice or making coconut oil. A swim in the local Kedamaian River, weather willing, is a refreshing option. And the food has been such a highlight, that Susan now conduct cooking classes where we learn how to make delicious dishes like a chicken curry, local fish soup and ginger vegetables.
Another highlight of our stay, is a traditional music and dance performance with a local cultural group. Gongs are played, they may sing some local songs and then invite the group if they would like to sing one of their songs. The dancing and music is full of the community's gentle passion for life.
Robert is a very well respected elder in the village who is proud of the 'old ways'. He's often berating the young participants of the cultural performance, for using their smart phones, believing they're intrusive and anti-social. But recently he bought a smart phone for himself, and now he's just as preoccupied as the youth!"

The Taginambur homestay experience and cooking class is part of Intrepid's 12 day Sabah Adventure, an incredible tour that combines all the best that Sabah has to offer – wildlife, natural beauty, ancient traditions, challenge on a fabulous mountain, hot springs and outstanding hospitality.
* All photos in Taginambur by Chris Hardy.