Going independent, on tour in Cuba
Iain Mallory, a.k.a. @MalloryOnTravel, has just returned from his first Intrepid trip. So how did he cope with being cooped up on a group tour?…
"Taking a tour of Cuba with Intrepid Travel was an eagerly awaited prospect, as it was to be a completely different experience. To date almost all of my travels have been arranged independently with a sprinkling of package holidays just to keep more cautious friends happy. As specialists in small group tours, providing a bespoke, comprehensive service that includes arranging as much as individual travellers require, it seemed a good compromise.
I opted for the Best of Cuba itinerary, the title proving too tempting. I arrived later than most and did not meet my fellow travellers until the morning after landing. 4am the next morning to be exact, just as we were about to catch a flight to Baracoa, our first stop on the tour.
Our tour leader was Rommey, a young Cuban who would prove to be more than just a guide. We all quickly came to value his judgement, advice and his friendship. The rest of our merry band comprised of two mature New Zealand couples, a young newlywed Australian couple, two British guys and a Dutchman. Quite a varied bunch with equally diverse careers – farmers, a nurse, teacher, accountant and even an environmental architect, but this would make for some sparkling conversations.
There is a concern, especially in a small group, that any personal irritations can be magnified. There is nowhere to escape any conflict within the group. Fortunately we had a great group and everybody seemed to enjoy spending time together. Half of the group had travelled with Intrepid before and many were happy to travel with them again, which were good signs.
Rommey had decided to take the flight to Baracoa to avoid a long drive, the early hour wasn't too popular but proved to be an inspired decision. It also turned out to be a feature of his style of guiding, being prepared to change the itinerary if would benefit the group.
He offered advice and options for taking excursions or eating out in each destination we visited. However they were only ever suggestions and this enabled us to make our own informed decisions. We could therefore enjoy each town along the route in our own manner. I opted to do my own thing on numerous occasions and this allowed me to retain some independence on the tour.
This freedom enabled me to really enjoy this tour of Cuba as instead of spending time on a beach I was able to explore each town properly. Those who preferred to top up tans however, were equally free to do so; possibly the perfect recipe for a small group tour?
Flying out to Baracoa meant that the journey through the island was a logical one from east to west. This enabled us to spend several days in the more interesting places and just an overnight stop at others.
There was plenty to keep us occupied, apart from exploring the towns and spending time on the beach we experienced festivals in Camaguey, the Che Guevara Mausoleum at Santa Clara and even swam in the Bay of Pigs. It was a great way to experience the diversity of the island, from the bustling colonial towns to the lush forests and wetlands. White sand beaches to sugar plantations with their connections to the slave trade, signs of which are still partially visible.
This form of tour is a perfect fit for travellers who value their independence, as it encourages group members to immerse themselves in the culture. The main attractions of the island are visited, but by including less touristic locations it provides a more authentic experience. It involves seeing more than just the pretty side of the island, becoming exposed to the poverty and social inequality which is still common here.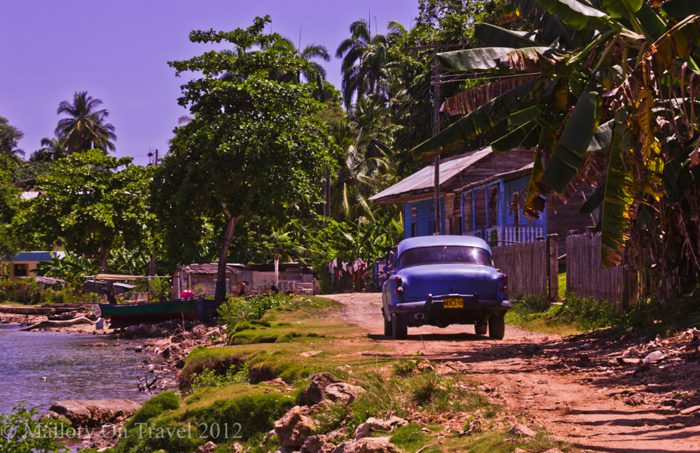 Tourists are not surprisingly regarded as a revenue stream by many of the local population, selling their wares or services is common and prices are usually inflated but negotiable. Begging is also quite common especially amongst children. The company discourages giving them handouts which results in producing a new generation of beggars, a commendable policy.
Our accommodation usually involved staying in casas, homestays; we were also encouraged to eat a meal at or even with our hosts. The benefit of this is that tourism money goes into supporting the local communities, especially as many are heavily taxed. This seemed to be a great example of how responsible tourism can effectively aid the local economy.
The additional bonus was that they were much more personal than large hotels; our hosts were friendly and often could not do enough to make us feel welcome. At our initial homestay we invited our hosts to share dinner with us; they were genuinely taken back and happily accepted our invite. The food was great but the company and atmosphere around the table made it even more enjoyable.
The elegant dereliction of Havana is understandably the city everybody is keen to visit in Cuba. Strolling along the Malécon or through in Old Havana's bustling streets top most visitors 'to do' lists. The restored beauty of the colonial city and the fantastic classic cars known as cacharros hold great appeal, they are prime reasons we want to visit and provide enduring memories after the trip is finished.
Cuba is a diverse island however and although I loved visiting Havana, some of the other towns visited held greater appeal. Colourful houses lining ramshackle streets, markets or shops like stalls selling meat, fruit or vegetables, bici-taxis everywhere and a salsa beat seemingly around every corner in Trinidad, Baracoa or Camaguey are all features of a fascinating country.
The streets are often busy but it is always possible to find a little solitude, a quiet beach or a lush river delta. Excursions are available and with the chance of a swim in the clear waters of the Caribbean, a freshwater lagoon or waterfall they proved popular with our merry band.
I can thoroughly recommend a small group tour as it does not compromise the independence of individual travellers, in fact it probably complements. It is also a good stepping stone for those preparing for future independent travel, it provides the infrastructure and support of an organised tour operator but provides plenty of freedom too.
Like many of my new found friends, I look forward to my next adventure with this company!"
* photos by Iain Mallory, malloryontravel.com