Ignite your spirited side and marvel at some of Mother Nature's best work on a Tassie adventure you'll never forget. 
Boasting the title of one of Australia's most untouched locations, Tasmania's Bay of Fires region is as captivating as it is colourful. Just one glimpse of its orange lichen-covered boulders is enough to have you mystified – and that's before you've even set your sights on its crystal-clear waters and picture-perfect, white sandy beaches. Whether you want to wander the coastline on an epic walk, explore the charming town of St Helens, delight your tastebuds with local wine, or take in the serenity of Binalong Bay, you'll never get bored of discovering this underrated area's natural beauty on our Bay of Fires walks, tours and holidays. 
Bay of Fires walks & tours
Explore Cradle Mountain National Park and the Bay of Fires on this nature-filled...
Get out of town and explore the stunning Bay of Fires region up close on this five-day...
Bay of Fires walking highlights 
Walk the beach of Binalong Bay
Australia might be known for having some of the world's best beaches, but the Bay of Fires area is known to have Tasmania's best beaches and Binalong Bay is the main reason why. Featuring sparkling azure water, pure white sand, and more of those orange, lichen-covered rocks everyone's obsessed with, this paradise-like spot caters for a range of activities promising a whole heap of fun.  
Sip on some delicious, local wine
One of the best things about the Bay of Fires is its beautiful, natural landscape but coming in at a close second is the delicious wine this landscape creates. Whether you're in need of a cheeky beverage after all that exploring or you just want to sip on some of this region's grape-y produce, the Bay of Fires winery offers cellar door tastings that are guaranteed to delight your thirsty tastebuds. 
Explore the quaint town of St Helens
While St Helens may not look like a must-visit destination on the outside, there's actually plenty to discover bubbling just below the surface – literally. With waters boasting lobster, marlin, yellowfin tuna and albacore that are perfect for fishing and deep-sea caves that lure divers with their kelp forests and impressive collection of colourful fish, you simply can't go past this quaint town if you're after an unforgettable adventure, both on land and at sea.  
Wander through the Blue Tier Forest
If you're looking for a one-stop shop full of eye-opening experiences and fascinating adventures, then the Blue Tier Regional Reserve is the perfect place for you. Home to a wide variety of captivating walks (including the Goblin Forest Walk and the Australia Hill Circuit), heart-pumping and leg-burning bike tracks, and historically rich heritage sites left over from the region's mining past, you'll never run out of things to do in this beloved Tasmanian landscape. 
Play among the brightly coloured rocks
Prepare to be utterly entranced the instant you catch sight of the orange-coloured, lichen-covered granite boulders the Bay of Fires is famous for. While the reason for this vibrant phenomenon is scientific, you can't help but believe there's a little magic at play as well when the sun's light dances on each rock's textured surface. Spanning over 50km along the northeastern coast of Tasmania, this brilliant act of nature deserves to be seen and marvelled at. 
Discover the Eddystone Point Lighthouse
There are few manmade structures that bring as much enchanting flair to a landscape as a lighthouse does and once you set your sights on the one in Mount William National Park, you'll know exactly what we mean. Looking like something straight out of a fairytale (Rapunzel anyone?), the Eddystone Point Lighthouse is made up of pinky grey granite slabs to stand at 35 metres tall and acted as a beacon for ships navigating the Bass Strait in the late 1800s. 
Bay of Fires tour reviews
Bay of Fires FAQs
Read more about Tasmania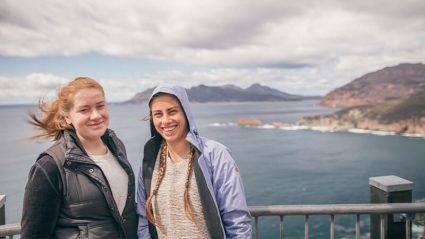 Dec 18, 2021
---
Discover the beauty of Freycinet National Park on these fantastic walking tracks.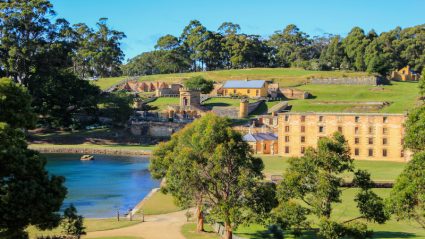 Jun 25, 2021
---
Get your culture on with these cool cultural activities in Australia and New...