Azerbaijan
Think Azerbaijan only holds appeal for travellers looking to tick off every country on the map? Think again.
Imagine an enigmatic country squeezed in between the Caspian Sea and the Caucasus Mountains, scattered with small fishing towns and remote mountain villages far from the tourist trail. Envisage the capital Baku and picture Europe meeting Asia with a Gulf States flair – a brash cosmopolitan metropolis flaunting the latest in futuristic architecture sitting alongside ancient mosques, walled cities and old-world Russian opulence. Think how bemused your friends will be upon hearing of your latest holiday choice. Fascinating, austere and intriguing by turns, this back-of-beyond nation won't fail to charm and perplex.
Travel more, deposit less. Book now with just €50!
Save a space on your 2019 trip with only a €50 deposit until 31 August 2018.
Terms & Conditions
Visit Azerbaijan and Georgia on this Eurasian tour across Baku, Gobustan, the Caucasus...
Join this all-encompassing small group adventure from eccentric Baku, to the lush green...
Travel to Kyrgyzstan, Uzbekistan and Turkey. See the the Terracotta Warriors and...
Travel lightly with Intrepid. We've offset the main sources of carbon emissions from this trip on your behalf, including transport, accommodation & waste.
Read more
Articles on Azerbaijan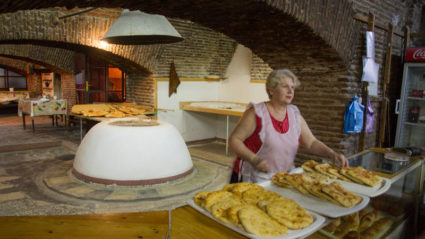 Azerbaijan travel highlights
Baku
Marvel at Baku's World Heritage-listed medieval architecture
Sheki
Marvel at the intricacy of Khan's Palace in Sheki
Gobustan
Visit Gobustan's famed rock art and mud volcanoes
Azerbaijan holiday information
Best time to visit Azerbaijan
Geography and environment
Top 5 Iconic Sights in Azerbaijan
Azerbaijan travel FAQs
Responsible Travel
Intrepid is committed to travelling in a way that is respectful of local people, their culture, local economies and the environment. It's important to remember that what may be acceptable behaviour, dress and language in your own country, may not be appropriate in another. Please keep this in mind while travelling.
Top responsible travel tips for Azerbaijan
Be considerate of Azerbaijan's customs, traditions, religion and culture.
Only use your right hand for eating and passing things to locals. The left is used for 'unhygienic tasks'.
Dress modestly and respectfully. Shoulders to knees should be covered and shoes removed when entering places of worship.
For environmental reasons, try to avoid buying bottled water. Fill a reusable water bottle or canteen with filtered water or use water purification tablets.
Always dispose of litter thoughtfully, including cigarette butts.
When bargaining at markets, stay calm, be reasonable and keep a smile on your face. It's meant to be fun!
Learn some local language and don't be afraid to use it - simple greetings will help break the ice.
Shop for locally made products. Supporting local artisans helps keep traditional crafts alive and supports the local community.
Refrain from supporting businesses that exploit or abuse endangered animals.
Please ask and receive permission before taking photos of people, including children.
When on community visits or homestays, refrain from giving gifts or money to locals.