Are you ready for the trip of lifetime? Because it doesn't get much better than the route from Kathmandu to Delhi. Marvel at the beauty of the Himalaya, spot Bengal tigers and rhinos, float down the Ganges at sunrise and be mesmerised by the Taj Mahal. The road from Kathmandu to Delhi isn't short, but it's bursting with experiences you'll never forget.
Our Kathmandu to Delhi Tours
Get on the road from Kathmandu to Delhi on a trip from Nepal to India, through Pokhara,...
Spend time in Kathmandu and Pokhara and then see where Buddha did his thing. Get active...
Kathmandu to Delhi Tours Reviews
Read more about travel in India and Nepal
Jan 26, 2016
---
Visually stunning and deeply political, Sherpa documents the changing...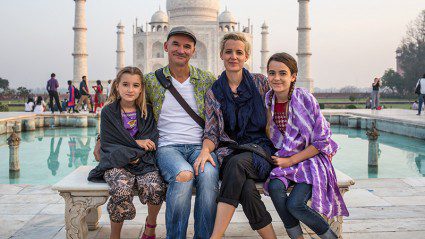 Sep 20, 2015
---
Meet the Bartholomews, aka You Can't be Serious.
Oct 01, 2015
---
Imagine for a moment that it's 1969: Hendrix is shredding Star Spangled Banner at...