Feast on history, culture and seriously delicious food in the Middle East.
From hearty shakshuka and fresh sabich in Israel and the Palestinian Territories to tasty tagine, couscous and pastilla in Morocco, Middle Eastern food is loaded with flavor and made with love. With a local leader by your side, discover crunchy falafels from famous street vendors and learn the secrets of age-old family hummus recipes. Enjoy the ancient ritual of sipping Turkish coffee on a Turkey trip, tuck into zarb (a traditional Bedouin barbeque) under the starry Wadi Rum skies, or enjoy a mezze-style breakfast with a Jordanian shepherd. For these trips, 'food tour' doesn't quite cut it. These are foodie adventures for the culinarily curious.
Our food tours in the Middle East
Middle Eastern food highlights
Morocco – tagine
These stews slow-cooked under a cone-shaped lid are the pride and joy of Berber and Moroccan cuisine. There are endless variations, but chicken, olive and citrus is a well-known favourite, as is lamb or beef with prunes, fish with chermoula, and chicken with apricot. It's almost always served with khobz, or Middle Eastern flatbread, to mop up all the sauce.
Israel and the Palestinian Territories – falafel
Considered to be Israel's national dish, these balls of deliciousness (made with ground chickpeas, herbs and spices) are a must-try plant-based dish. They're usually served on a platter or in a warm pita pocket filled with pickled vegetables, crunchy cabbage salad and generous lashings of creamy tahini sauce.
Jordan – maqluba
Meaning "upside down" in Arabic, maqluba is made in a big pot over a low fire with meat, potatoes and veggies at the bottom, and rice at the top. Once everything is cooked and all the flavours merge together, the pot is flipped onto a big plate and garnished with nuts, fresh herbs and lemon wedges. It looks amazing and tastes even better.
Reviews
Why choose Intrepid
Real, authentic experiences
We love the highlights, but for us the real magic is found off the tourist trails. Our trips combine iconic sites with hidden gems that you'll only discover with Intrepid. We're talking mornings exploring the Taj Mahal, followed by a Mughlai cooking class with a passionate home cook.
Local expertise
Whether you're perusing markets, hunting down the best street food bites or learning how to cook centuries-old family recipes at a homestay, there's no better way to get the inside scoop on a destination – and its culinary traditions – than with an expert local leader by your side.
Small groups
Big coaches and flag-toting tour guides don't cut it for us. With a maximum group size of 12, our groups blend in with the locals and have plenty of opportunities to interact with chefs, street food vendors and group leaders. It also means you can really connect with your fellow foodies.
Stories from the kitchen
Recipes from the Middle East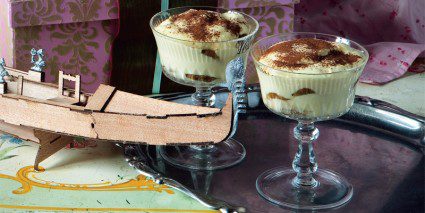 Mar 31, 2015
---
Recipe taken from Venezia: Food & Dreams by Tessa Kiros Tiramisu an be varied...
Nov 21, 2014
---
Make it yourself, then head out on Intrepid's Real Food Adventure Morocco to taste...