Travel with ease to Machu Picchu and give yourself more time to explore Cusco, the ancient capital of the Incas.
Climb aboard the train and wind your way through the Urubamba Valley to Aguas Calientes, the gateway town to Machu Picchu. From the comfort of your seat, notice the changing views as you travel deeper into cloud forests set amidst the Andean mountain peaks. After making the journey from Cusco, (if you're not already excited) the anticipation will set in and you'll be feeling fresh and ready with plenty of time to explore the mother of all Inca ruins – Machu Picchu.
Our Machu Picchu trips via train
Train map

FAQs
Reviews
Meet our team
Paola
"The best part of my job is seeing the emotions of surprise and admiration reflected in the face of travellers when they discover my country. I love Peru for its geography, history and culture, but especially its people."
Giuliano
"My favorite thing about being a leader is that I can show and share my passion for Peru with travellers. The fact that we have so many things to see, try and enjoy makes me feel incredible!"
Fernando
"I like working for Intrepid because their social and environmental philosophy isn't just a slogan to sell more trips, they really do care about it. I have changed my life in so many aspects due to all the learning coming from Intrepid, from recycling to accepting myself, and being proud for who I am."
Life on the rails
To reach Machu Picchu, it's a two hour journey from Cusco to Ollantaytambo, followed by a 90 minute train ride to the gateway town of Aguas Calientes. Depending on your trip, you will spend the night prior in either Ollantaytambo or Cusco – then rise early to arrive for the 30-minute bus ride taking you to the entrance. Once you've arrived at Machu Picchu, your local guide will share the history of the site with plenty of time left to explore at your own pace. Perhaps take the 2-hour return walk up to the Sun Gate or take it all in next to a grazing llama on the terrace. Check out the gallery below to see what the train to Machu Picchu looks like.
Prefer to hike?
If you'd prefer to hike to Machu Picchu, simply let us know at the time of booking whether you'd prefer the Inca Trail or Quarry Trail. We also have a third option to take the Choquequirao Trail.
If you'd prefer not to hike to Machu Picchu, please tell us at the time of booking and we will arrange a train ticket on your behalf. Please check the detailed Essential Trip Information of your chosen tour for more details. 
Read more about the train to Machu Picchu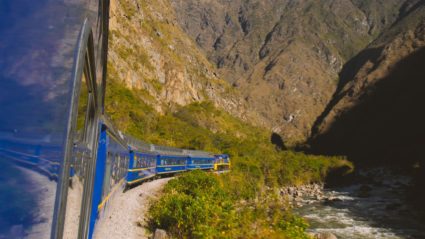 Jan 08, 2018
---
When I read that on my nine-day Classic Peru tour we were taking the train to...