Reading Time:
5
minutes
Travel is life's greatest friendship machine. New friends are forged within it, and existing friends go through it together, coming out that other side that much stronger (provided nobody leaves the passports in the hotel bar).
If you are taking a friend, it can be tricky to decide who to take. We asked our staff here at Intrepid HQ who they'd take. The unanimous decision? There wasn't one.
Dyan Mckie
"My Dad would be my travel partner.
"I took him on my first trip to Vietnam when I started with Intrepid. He had never "backpacked", never travelled without my mum and we had never travelled together in this kind of way. It was an awesome experience until he got drunk on rice wine during the day on our 3 day Mai Chai trek and twisted his ankle…. the words I will never forget from that trip were: "You're starting to sound like your mother!" when I proceeded to tell him off for being so damn stupid.
"Fast-forward 10 years later I was heading to India to do Classic Rajasthan. Dad was keen to come. He took on India like a fish to water. Loved the place! But when we visited Udaipur, home to our leader, my dad proceeded to drink a bottle of local whiskey. I have never seen him so sick…the words from that trip I will never forget were: "Oh it must have been the poppadum's I ate last night!" clearly forgetting about his alcohol consumption." – Dyan.
Olivia Curtis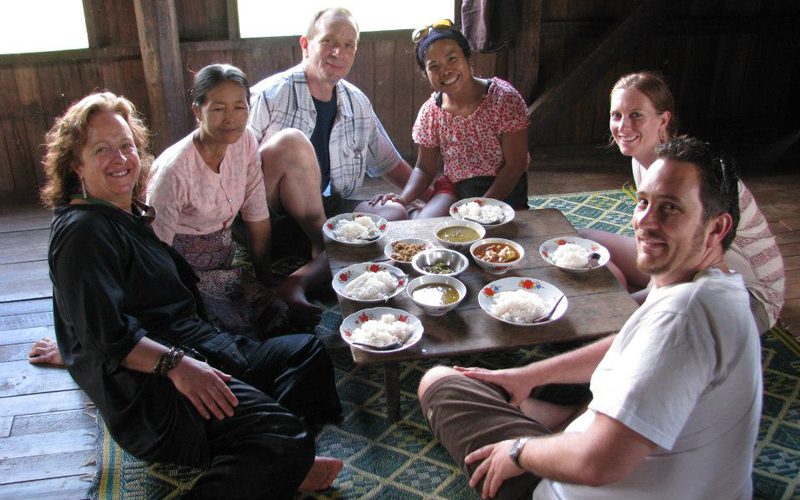 "I'd take my partner. One of my favourite parts about travelling is trying new and delicious food, and he will try anything and he always shares. You know how some people hate you eating food off your plate? I can't handle that when I'm travelling, I want to have a piece of everything.
"He's also sympathetic when new foods go wrong and I end up with inevitable stomach issues. He never says: "Maybe you shouldn't have eaten off a menu you couldn't understand!". He just buys me some lemonade and pretends that bathroom walls are soundproof." – Olivia.
Mikey Sadowski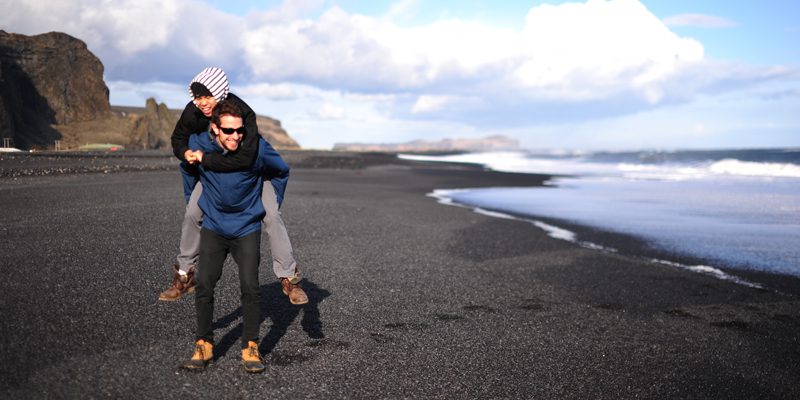 "Whether manning the map in the front seat, taking top bunk in the hostel, or spotting you a few bucks when you're down, there is no better travel companion than your best friend. The person who knows you better than most will make any situation, good or bad, just that much better. I had the privilege of piling in a car with two of best friends and road tripping around Iceland. Every day the plan would change, but we all took it in stride. At one point our car got stuck in a snow storm at the top of mountain, all we could do is laugh uncontrollably at the situation we found ourselves in.
"Your best friends think like you, and in this case, don't stress when things go south. We were taking on every new turn together, and that was more than enough for us. Travel felt effortless, we knew other's travel preferences like the back of our hand. Ali and her vegan diet, Darrin and his propensity to sleep past every piece of incredible scenery. When you are with your best friends you appreciate every experience just that much more, because in the end the best memories are the ones that you share." – Mikey.
[adrotate banner="3″]
Rich McCurdy
"I'd take my partner Toni because although I look happy in this photo, just one hour earlier we had a massive blue whilst navigating tiny French one-way streets in an overly large Peugeot rental car using an out-of-date Sat-Nav.
"She was wise enough to know the only way to revive the mood was to take me to the town square and get me drunk. Bless." – Rich.
Divan Brits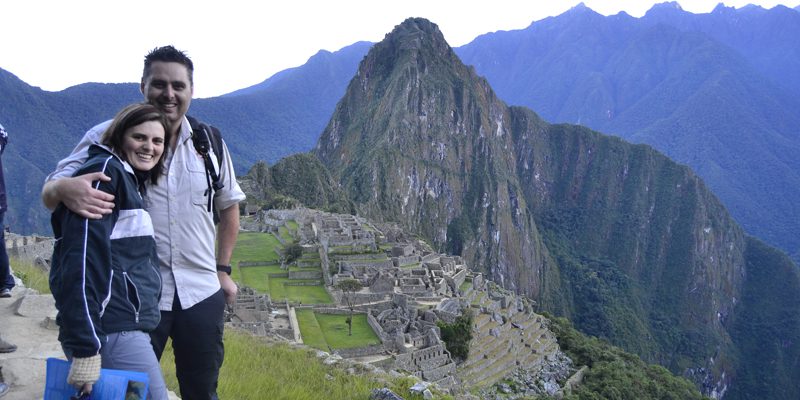 "If I won the trip of a lifetime I would without hesitation take my wife along.
"Life is too short to be boring and that is why the two of us rock out on adventures, born to travel and forced to work we always say. No sooner have we returned from one adventure than began planning for the next Real Life Experience.
"Our goal and passion is doing the seven wonders in seven years but after ticking these off there is still a whole world out there to explore. We like our ABC's of travel – Antarctica, Burma, Chichen Itza….. all the way down to Zambia and everything in between. Luckily for us, with Intrepid we can do it all." – Divan.
Tom Gehrels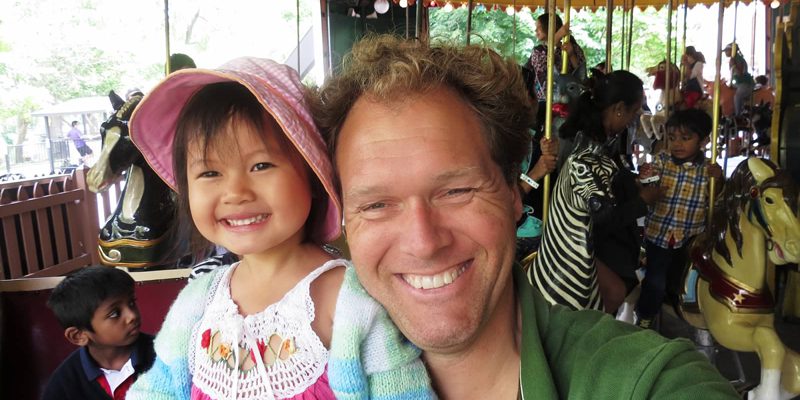 "I would take my 4-year old daughter Amaya along.  She was born in Vietnam, from where we adopted her and she has been the light of our lives ever since.
"Amaya would like to be my companion as she loves horses and puzzles.  But the real reason to travel is that daddy and Amaya don't get to spend nearly as much time together as they would like – school and work get in the way.  And whenever we take a trip together, be it camping in Northern Ontario, to the beach in Cuba, or visiting Europe, I always notice an immediate bonding that takes place." – Tom.
Jared Alster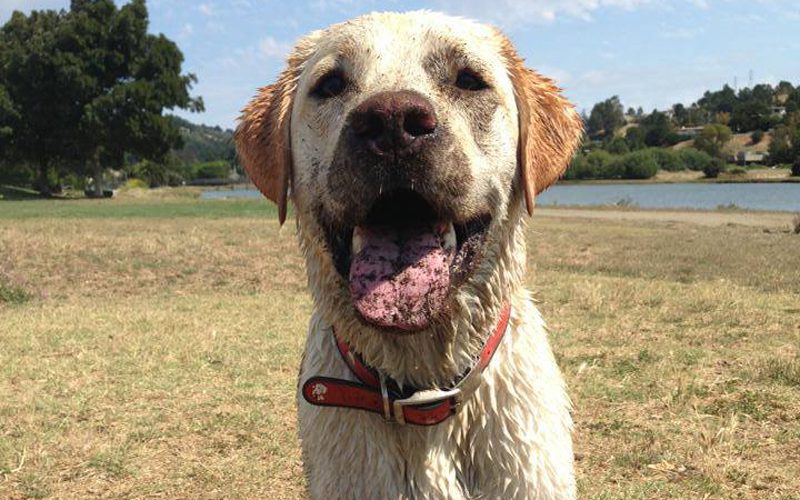 "I would take my dog, Homer, on an adventure because he loves to be active, just like me. He also enjoys a nice meal after a day's activities (and, he's really frickin' cute!)" – Jared.
Skye Gainey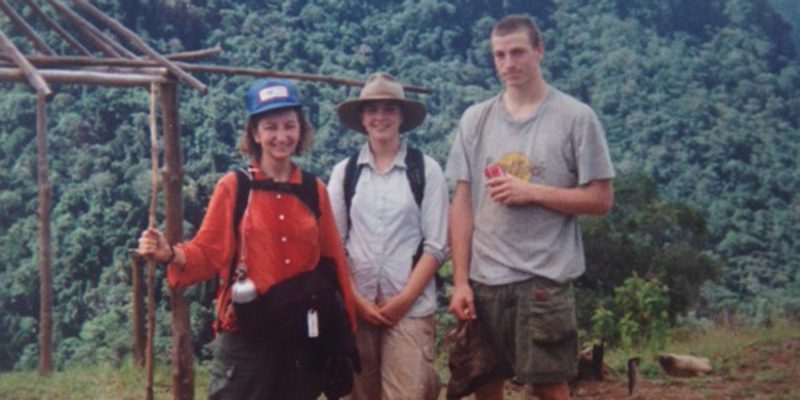 "If I had to choose I'd say my mum because she's the one that gave me the bug of travelling to start with. She did the kombi van trip around Europe with friends in the 70s and we were lucky enough as kids to travel all around the world with our family, to places like Hawaii, New York and Paris.
"Mum even trekked the Kokoda track with my brother and I when I was only 14 and she was in her 40s. A few years later she trekked the Inca Trail with us too! She is an amazing woman and an inspiration all those hoping to age disgracefully!" – Skye.
Inspired to travel the world with some new companions? Enter Intrepid's Take a Friend or Make a Friend competition, and you'll be in with a chance to win up to $20,000 worth of travel!

Feeling inspired?