Exploring Alaska's great outdoors is hungry work. Relax and refuel at these awesome eateries in Anchorage.
When planning a trip to Anchorage, food probably isn't at the forefront of your mind. We bet you're excited about the national parks, the glaciers, the wildlife and all of the amazing outdoor activities you'll be doing. But there's nothing better than kicking back with some good food and drinks at the end of a big day, or drinking your morning coffee with a big ol' glacier staring right at you.
One of the great things about Anchorage is that it has all of the usual culinary comforts you'll find in bigger cities. You'll also find plenty of local fare on the menu such as wild Alaskan salmon, snow crab and reindeer sausage. So, hang up your hiking boots and get yourself down to one of these downtown restaurants for some delicious food.
Moose's Tooth was founded in 1996 by two fresh-faced college buddies. It has rightfully worked its way to local icon status, and if you're looking for a pizza, a cold beer and a bit of a vibe, Moose's Tooth doesn't disappoint. With 36 pizzas on the menu, choosing a pizza can be tricky, although we've definitely had to make worse decisions.
They serve up the usual suspects including margherita and pepperoni, as well some funkier topping combos like Mac N Cheese (reindeer sausage, macaroni noodles, parsley, American cheese, cheddar, mozzarella, Provolone, garlic oil) and Greek Gyro (gyro sausage, feta, cucumber yoghurt, red onions, Roma tomatoes, parsley, garlic oil). You might have to wait a short while for a table as it's always heaving, but we promise it's worth the wait. Plus, there's a solid range of classic and speciality brews from Broken Tooth Brewery (owned by the same crew) to help you pass the time.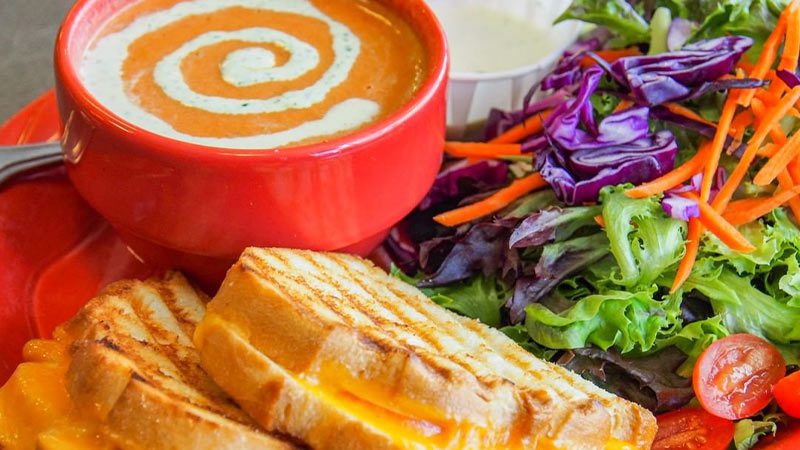 They say breakfast is the most important meal of the day, right? Well, all the more reason to get yourself down to Snow City Cafe for a hearty, home-cooked breakfast or brunch. The guys at Snow City source the freshest local ingredients and make everything from scratch – with a whole lotta love.
Tuck into timeless favourites like eggs benedict, buttery French toast or fluffy buttermilk pancakes. Or try locally-inspired dishes such as snow crab omelette, reindeer sausages and eggs, or Alaskan red king crab cakes topped with poaches eggs. If you have a sweet tooth, you have to try the stuffed French Toast (a warm baguette stuffed with walnut mandarin orange cream cheese, toasted walnuts, raspberry butter and syrup. Now, please excuse us while we wipe the drool from our mouths.
For the film aficionados, this restaurant-cum-movie theatre promises a great night out. Popcorn is great and all, but we're not gonna pass up watching a movie with a proper meal. Simply buy a movie ticket, order your food at the bar, grab a drink and head into the cinema. Every row of seats has a table where your food will be delivered – talk about convenience. If you don't feel like watching a movie, you can pull up a chair in the dining area instead.
The menu features pizzas from Moose's Tooth, the famous Bear Tooth burger, burritos, wraps, tacos and more. There's also a solid snack and appetiser menu if you feel like something lighter such as seven-layer dip and chips, diablo sticks and buffalo breadsticks. We recommend the Figgy Stardust Burger and garlic cilantro fries, a full ribeye dinner with smashed potatoes and blackened blue cheese or a fajita bowl with all the trimmings.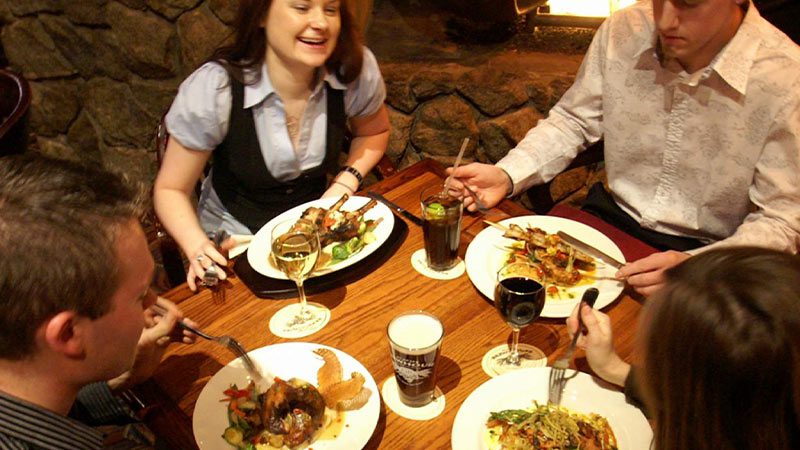 Head over to Glacier Brewhouse for delicious Alaskan seafood, rotisserie roasted meats, and of course, freshly brewed ales and craft beers. With a timber rafted dining room and a roaring log fire, it's the perfect place to cosy up on a cold night. They're open for brunch, lunch and dinner, but you can always pop in for a brew at the bar.
For dinner, start with Alaska salmon dip and grilled artisan bread, ale fondue with pretzels or wagyu beef and roasted horseradish sliders. Then tuck into chilli prawn mac 'n' cheese with a parmesan breadcrumb topping, seared ahi tuna steak with beansprout kimchi and wasabi aïoli, or peppercorn crusted steak with rosemary fries and seasonal greens. Make sure you leave some room for their Original Peanut Butter Pie* and World Famous Bread Pudding*.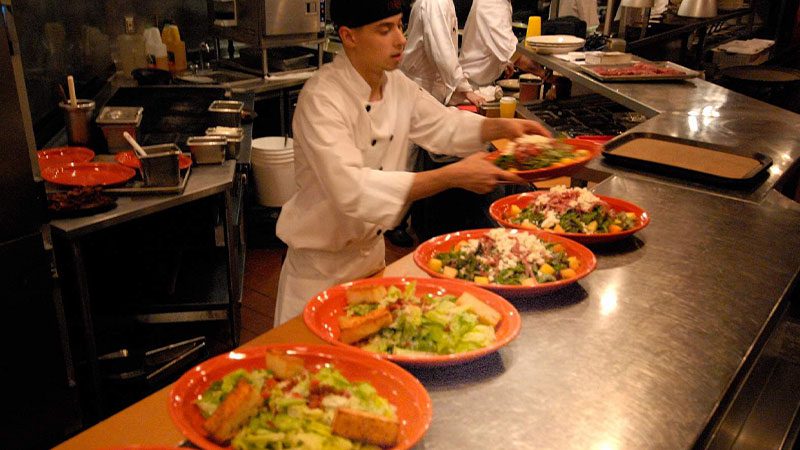 Alaska is known for its rich oceans and abundant seafood. If you love seafood, ORSO is where it's at. You'll see plenty of wild Alaskan seafood dishes on the menu, along with a selection of American favourites. Think crispy buttermilk battered calamari, roasted garlic cambozola or seafood deviled eggs to start, followed by Bering Sea King crab legs, Alaskan sockeye salmon or crab-stuffed Alaskan rockfish. In the warmer months, dishes are served with farm produce grown in Matanuska Valley. The waiters can pair your dishes with wine to complement your fish supper, but they also serve thirst-quenching cocktails and beers from Glacier Brewhouse. ORSO is just across from the performing arts centre – ideal for a pre or post-show dinner.
If you have a hankering for seafood after spending time by the wild Alaskan coast, or fancy a fancier dining experience, book a table at Kinley's. Kinley's was founded by Chicago-born chef Brent Knipmeyer, who was nominated for the prestigious James Beard Award after opening the restaurant. FYI, this award is a huge deal in the US's culinary world.
Get comfortably in the homely dining room and enjoy a lunch or dinner from the a la carte menu. Start with ahi tuna tartare tacos, lobster ravioli in a roasted shallot cream sauce or warm pita and peanut butter hummus with harissa paste (not your usual pairing, but it's good!). For your main, enjoy coconut-crusted rockfish with a green curry sauce, almond-crusted halibut with cherry and apple cider beurre blanc, or filet mignon topped with crispy prosciutto and blue cheese.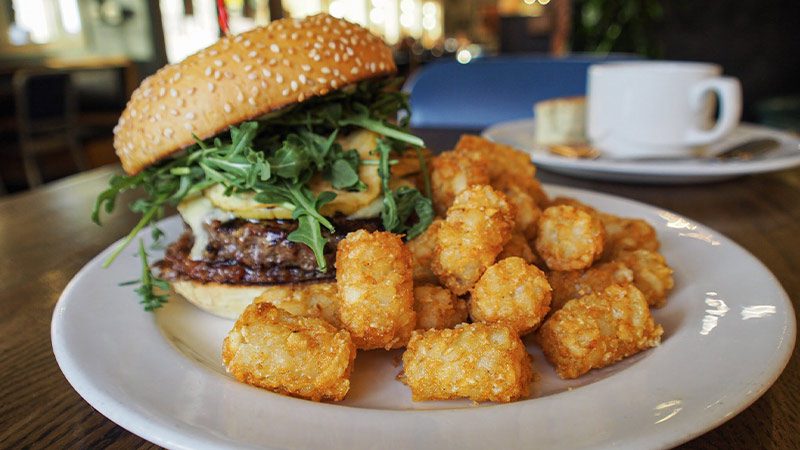 If you're craving comfort food, Spenard Roadhouse is calling your name. Open for breakfast, lunch, dinner and drinks, it's a crowd-pleaser kinda place that's highly rated among locals. The menu features dressed-up American classics. For brunch, tuck into creamy and crunchy cobb salad, the Spenard Stack (smashed tater tots, Havarti, tomato, bacon, spinach and two fried eggs) or the fried chicken sandwich with honey bacon, swiss, lettuce, pickles and housemade mayo.
It's also a hopping place to have dinner. Pop in for delicious hot-honey glazed salmon, bbq back baby ribs, halibut and chips, delicious home-style pizzas and more. The bar specialises in small-batch bourbons and house-infused vodkas (some would say the best selection in Alaska), but you'll also find locally brewed beers, wines and everything else in between.
Fat Ptarmigan prides itself on serving the best pizza in Anchorage. We don't like to have favourites, but the wood fired pizzas here are pretty amazing. They taste even better when you wash it down with a cider from Anchorage Cider House brewed onsite. They do classic topping and some interesting specials. If you like it hot, order the Hot Coppa (spicy tomato sauce, mozzarella and provolone, fennel sausage, red peppers, pepperoni and spicy coppa). For the beer lovers, why not try the Beer Cheese pizza topped with mozzarella and provolone, reindeer sausage, roasted red peppers and applewood smoked bacon. If you fancy something lighter, there's also a wide range of salads, soups and sandwiches to choose from.
Feeling inspired?