Parades, parties and a whole lot of pizzazz. It's time to get your Pride plans in check for 2023.
You can't beat a European summer. Where else can you enjoy balmy evenings eating tapas in cobbled streets, sip wine in ancient squares while listening to local buskers, cruise around cities in water taxis, or listen to jazz in ancient Roman amphitheatres? There are only a few things that could make your European summer adventure even better, and one of them is Pride.
Whether you're a member of the LGBTQIA+ community or you simply want to show your allyship, here's our guide to the best European cities to celebrate Pride next summer.
1. Paris, France
Oh, Paris. The City of Love. Like the smell of coffee and freshly baked croissants, the romance of the French capital is impossible to ignore. So, what better place to celebrate love in all its forms. The Paris Pride parade, known as Marche des Fiertés, will take place on Saturday 24 June 2023. March through famous streets with over half a million people followed by a huge free party in Place de la République. There are heaps of Pride events throughout June in Le Marais, the city's LGBT district, from queer roller skating and bingo to free concerts, exhibitions and debates.
Top trips:
2. Madrid, Spain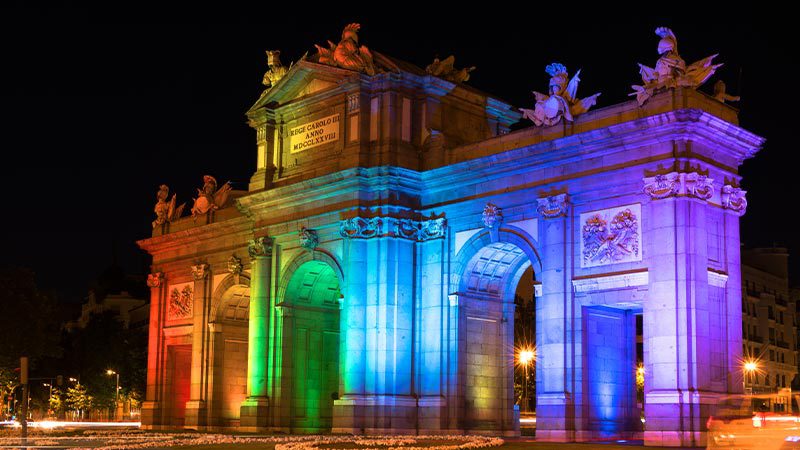 Madrid knows how to throw a fiesta, so expect nothing less for Pride. The Spanish capital will host a series of Pride celebrations from 23 June to 2 July 2023 including free concerts in Plaza del Callao and Plaza del Rey, a high heel race in Calle de Pelayo, and a buzzing parade from Atocha Station to Plaza de Colón. The bustling Chueca neighbourhood, known for its LGBTQIA+ friendly bars, clubs, restaurants and cafes, also transforms into one big party throughout the week, so be sure to check it out.
Top trips:
3. Berlin, Germany
Berlin is one of the most LGBTQIA+ friendly cities in the world, so it's no surprise that the Pride celebrations here are something to rave about. Join hundreds of thousands of people in July to walk or shimmy through Berlin's electric streets at the annual Christopher Street Day (CSD) Pride Parade. The parade started in 1979 in memory of the Stonewall Riots in New York on 27 June, 1969 and has grown to be one of the biggest in Europe. You'll find plenty of other pop-up Pride events across the city from impromptu street parties featuring DJ floats to themed day parties at Berlin's most iconic clubs.
4. London, United Kingdom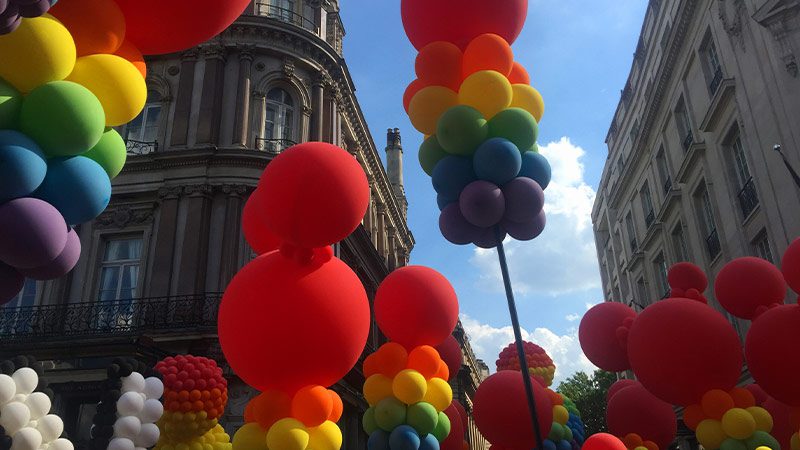 Join thousands of revellers in June at the UK's biggest and boldest Pride celebration. The parade is the main event, but the week leading up to it is crammed with events – think free concerts in Trafalgar Square and the West End, a Pride's Got Talent show featuring some of the country's top emerging queer artists and performers, queer cruises along the River Thames, and countless parties where you can dance until the wee hours.
Top trips:
5. Stockholm, Sweden
Stockholm Pride is the largest Pride celebration in Scandinavia. The week-long celebration will take place in August during the peak of summer and will feature an open-air festival known as Pride Park and a parade of 50,000 people through central Stockholm. There will also be political debates, author talks and workshops at Pride House – an annual pop-up platform where people, businesses and political parties can talk and exchange ideas.
Top trips:
6. Brussels, Belgium
The Belgian Pride includes parades and plenty of parties, but you'll also find lots of political events covering the whole gamut of LGBTQIA+ issues – to be expected really when Brussels is the capital of the European Union. It's a great time to walk around the city as the streets, buildings and shop windows transform into a rainbow of colour thanks to the RainbowCity.Brussels project which aims to promote the message of diversity, inclusion and solidarity. Amen. Brussels Pride will take place in May 2023.
7. Amsterdam, Netherlands
Amsterdam is a cracker of a city, and even more so during Pride. The 2023 theme is yet to be confirmed, but last year's was 'My Gender, My Pride' to broaden the conversations and amplify the voices around gender identities and everyone's right to self-determination. The highlight is undoubtedly the famous Canal Parade where a convoy of elaborately decorated boats and barges (in every theme imaginable!) cruise through the city's (usually) peaceful canals. There's also the annual Pride Walk and the Pride Park festival in the gorgeous Vondelpark. Amsterdam Pride will take place in August 2023.
Top trips:
8. Prague, Czech Republic
It might only be in its 12th year, but Prague knows how to celebrate Pride. Prague Pride is one of the most LGBTQIA+ friendly events in Central and Eastern Europe with a whole week of debates, parties, exhibitions, free concerts and its very own Pride Village on Střelecký Island. The star of the show is the parade where you can waltz through the historic city centre followed by an open-air party in Letna Park overlooking the River Vltava.
Top trips:
What's the meaning of the rainbow flag?
Most people recognise the bright colours of the rainbow flags as a symbol of LGBTQIA+ Pride. While there are many variations of the flag to represent different groups within the community – like the bisexual flag, the lesbian flag, the pansexual flag, etc. – all flags use the same colours to symbolise certain values. Red represents life, orange is healing, yellow is sunshine, green is nature, blue is harmony, purple is spirit, black and brown represent the BIPOC community, and light blue and pink for the trans community.
Check out our Europe tours to combine a summer adventure with one of these amazing Pride celebrations.
Feeling inspired?