Take it from us, people; hiking Nepal's Annapurna range is not a simple walk in the park (pun intended).
While it's super tempting just to turn up, hire your sleeping bag and take off, there are a few more things you need to consider before commencing Nepal's pre-eminent hike. Lucky for you, we've got your back.
Here's what you need to know before taking the long walk through Annapurna:
You need to be fit, but not super fit
While you don't need to be super fit to complete Annapurna, it's definitely worthwhile putting in some hard yards at the gym, in the mountains or around the block before you leave.
CHECK OUT OUR RANGE OF SMALL GROUP TREKS IN THE ANNAPURNA REGION NOW
For the most part, the days are manageable; 5-6 hours and 10-15 kilometres, with plenty of rest, long lunch breaks and a few rest days in between. BUT. Some days on your trek will be 16 hours at high altitude starting at 4 am. Other days can be over 20 kilometres through the Nepali flats or in the snow. And then there's the final day from Muktinath to Jomsom (you can discover all about that yourself!).
Build your general cardio (the fun stuff!) and get a few consecutive days of long-distance walking in. You'll be grateful you did when the time comes to lace up those boots up again for the sixth day in a row.
It pays to prepare so if you're committed to doing the trek successfully, commit to training before you leave.
RELATED: 10 THINGS I WISH I KNEW BEFORE HIKING THE ANNAPURNA CIRCUIT
It's long, hard and tough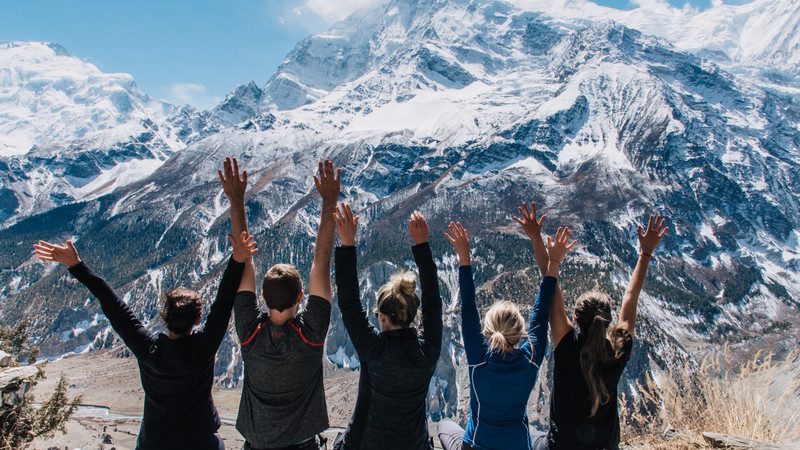 It's always further than it looks. It's always taller than it looks. And it's always harder than it looks.
That's a quote about the 'three rules of mountaineering'. We're not really sure who came up with it, but they're pretty spot on except for one detail: it's also always completely worth it.
We're going to get all tough love on you here: the Annapurna trek is long, tiring and physically and mentally tough. Depending on which route you take you're going to be hiking for 13+ days – probably longer than your first high school romance.
Some days will be really physically tough. You'll be living out of a backpack with a very limited supply of clothing, sleeping on some rock hard beds, eating only carbs (we didn't say it was all bad), drinking chlorinated or steri-penned water, all while having no internet access.
Sound daunting? Well yeah, maybe it is. But trust us, when you're standing in awe of the peaks around you, bonding with your group over a cup of hot chocolate, or celebrating crossing the Thorong La Pass, these challenges become so insignificant you'll wonder why they got you down in the first place.
The scenery is incredible
You know that feeling you get when you lock eyes with someone across the dancefloor for the first time? The hairs stand up on the back of your neck, your heart pounds like a kick drum, and you have this existential crisis about being so very small in this universe and how could all this amazingness actually even exist. Well, this happens Every. Single. Day. in the Annapurna region.
With every step, the scenery in front of you changes and the mountains reveal something new; rolling clouds, the breathtaking terrain, the towering mountains or the smiling locals.
It's literally the definition of awe-inspiring. Them feels are good for the soul and you'll leave feeling all giddy about the world.
RELATED: ANNAPURNA VS EVEREST: YOUR DEFINITIVE TREKKING GUIDE
Bring only what you need
There are legends in Nepal of super strong guys gliding up and down mountains carrying all your stuff on their shoulders and neck. They're called Porters, and they do this so you can concentrate on accomplishing your goal without extra baggage.
While their feats are super-human, they are quite human, with real human muscles and backs that are also prone to injury.
Help them out here by only bringing what you really need (10 kilograms max), so ditch the hair straightener, the three pairs of jeans and the full makeup bag as you won't need it. Bare essentials include:
A pair of good quality, waterproof hiking boots, plus a spare pair of 'inside' shoes
6 pairs of underwear and four pairs of socks (you can wash them as you go)
2 pairs of hiking pants
1 pair of shorts
2 jumpers (fleece or woolen)
2 thermal tops and bottoms
1 goose-down jacket (you really need this)
1 Gore Tex jacket
1 pair of waterproof pants
1 beanie and 1 buff
1 pair of thick gloves
Personal hygiene essentials
Medical essentials
Your porters (and their spines) will thank you later.
Prepare for four seasons in one trek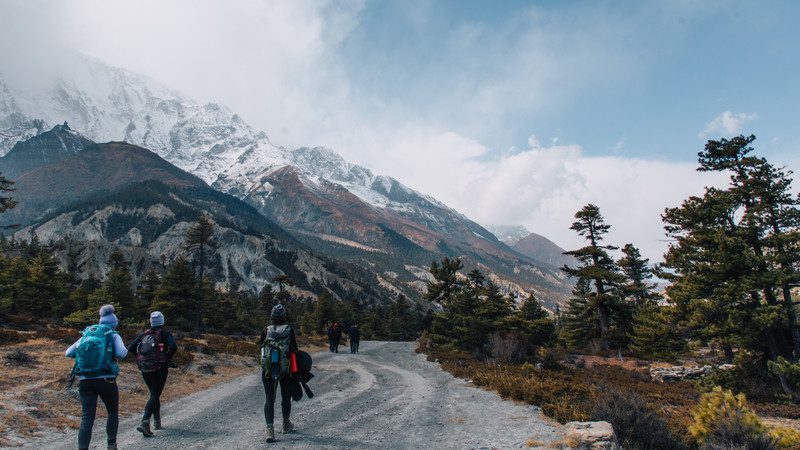 Trekking through your tropical first day, you'll probably be asking yourself what the heck you brought all these warm clothes for. You'll realise why when you get to 3,000 metres.
The Annapurna trek covers everything from tropical to alpine climatic zones. Some days you'll be hiking in shorts and t-shirts, consuming your fourth litre of water on yet another water break. Other days you'll be wearing all of your clothes as the brutally cold -15 Celsius degree wind freezes your water.
The range of climatic zones you pass through is awesome, and makes for some epic views. Just be prepared every day: ask your guide what temperatures to expect and which essentials to throw in your daypack and you'll be ready to face it all.
RELATED: HOW TO PREPARE FOR YOUR TREKKING ADVENTURE: OUR 10-STEP TRAINING GUIDE
Food
As your mind wanders while trudging through the snow on your way to Thorong La pass, you'll dream of your favourite meal; a chicken parma, killer veggie curry, or Fro-Yo with all the toppings you like.
You don't need to fear for your taste buds; the food in the Annapurna region is actually really good, and pretty varied. Expect a lot of carbs and seasonal veggies, soups, momos and the most famous mountain meal of all, Dal Bhat.
Dal Bhat is a traditional Nepali meal consisting of rice, a lentil-based soup and other condiments, and it's generally all you can eat so you'll never go hungry. As they say on the mountain: 'Dal Bhat Power!'
Costs
While the hike may break your leg muscles, it certainly won't break your bank balance.
Budget about $20 USD per day and you'll be able to grab all the goodies you're likely to need, including meals, drinks and some snacks. Make sure you also have some money set aside for tips to thank your guides and porters for their awesome service.
Altitude sickness is for real
Run the London Marathon? Completed the Hawaiian Ironman? Smash out spin classes four times a week? We commend you for being so awesome in your active wear, but it won't help you with altitude sickness.
Altitude sickness can affect anyone, including the fittest athletes alive (and Sir Edmund Hillary – the first summit of Everest!) so make sure you take all the necessary precautions after 3000 metres. That includes taking Diamox (if you wish), staying hydrated, fueling up and getting adequate rest. If you feel symptoms, let your guide know and take action.
This is serious stuff; we've even had some nasty experiences with it ourselves during a trek through Kilimanjaro in Africa, so we recommend reading up on altitude sickness before you leave.
Ready to tackle Nepal's incredible Annapurna range? Check out our range of small group adventures there now.
—
All images by The Common Wanderer, unless otherwise stated.
Feeling inspired?