From the sparkling blue waters of Bora Bora to the lush and vibrant jungle of Huahine, explore each of these French Polynesian Islands for a holiday you'll never forget.
One of the best things about French Polynesia, and one that makes it such a sought-after tropical destination, is that there is more than one island to adventure through, swim around, and have fun on. With a staggering 118 islands and atolls in total, you'll never run out of breathtaking places to discover and fascinating things to spend your time doing.
Detailing why you should visit each and every one of those islands would likely take us all year, so instead, we've put together a guide on 6 equally beautiful and equally enchanting islands for you to traverse. Whether you fancy snorkelling the barrier reefs alongside lemon sharks in Tahiti or eating a fresh watermelon straight from the field in Taha'a, uncover the magic of the French Polynesian Islands and make some memories that you'll remember forever.
1. Bora Bora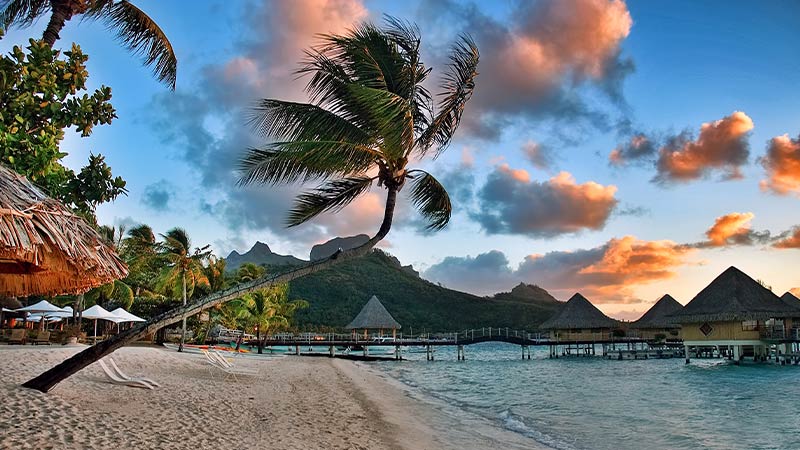 We know it's a bit too early on this list to start throwing around sayings like 'Bora Bora is the most beautiful island in the world' but we also recognize absolute tropical perfection when we see it. With its one-of-a-kind geography thanks to the island's volcanic past and the sparkling turquoise lagoon that surrounds the remnants of said past (Mt Otemanu), Bora Bora is a truly unique destination.
From hiking up the hard-to-miss volcanic peaks and visiting the Bora Bora Turtle Centre to paddleboarding from Matira Beach and swimming in water that's 50 different shades of blue, this getaway spot will have you wondering whether you've (prematurely) entered paradise.
2. Tahiti
If the too-good-to-be-true island of Tahiti isn't already on your travel bucket list, then it surely will be after reading this paragraph. No, seriously, it's that spectacular. While Tahiti might initially conjure up images of honeymooning lovebirds and over-the-water bungalows, this extraordinary island is actually so much more than that with its volcanic-shaped landscape and abundance of culture.
Whether you want to treat your senses to a traditional and hypnotic Tahitian dance, take a trek to the powerfully captivating Faarumai Waterfalls, watch the sunset from Point Venus, or swim with lemon sharks and manta rays, Tahiti offers a little something to entice everyone to its golden, sandy shores.
3. Taha'a
Just when you thought the French Polynesian islands couldn't get any more bewitching, the vibrant and extremely fertile Taha'a is here to change your mind. Not only is this wonderland-like island bursting with banana fields, watermelon plantations, and coconut groves, but its landscapes range from stunning sloping hillsides to picturesque valleys full of vanilla.
As if you needed any more proof that Mother Nature did some of her best work on Taha'a, the alluring island itself is actually shaped like a flower, offering an unforgettable sight to those who travel to the island via air.
ADVENTURE THROUGH TAHA'A ON OUR TAHITI & THE PEARLS OF FRENCH POLYNESIA TOUR
4. Huahine
From its unspoiled landscapes brimming with verdant vegetation to the enchanting shades of blue that make up its lagoons, tropical islands don't get any better than the less crowded and close-to-nature feel of Huahine. With a slower atmosphere than the bigger and more populated French Polynesian islands on this list, Huahine can only be described as a rugged yet loveable wilderness where jungles meet fruit plantations and endless beaches provide views of the Pacific you'll want to look at for the rest of your life.
Perfectly entrancing, this island is not only bursting with more rich greens and lush plant life than you'll have ever seen but it also boasts a community proud of its culture and traditional ways of life. From visiting the fascinating Huahine Pearl Farm and wandering through small, charming villages to marveling at traditional artwork and discovering ancient sites from long ago, Huahine is like heaven on earth.
5. Makatea
Once a prosperous phosphate mining town until the 1960s, Makatea is now largely uninhabited with less than a hundred people still living there today. But what this island lacks in population, it makes up for in natural beauty. With the jungle reclaiming the land where the mining structures once stood, Makatea provides the ultimate secluded yet wondrous holiday of your dreams.
Accessible only by boat ride from Tahiti, this perfect-for-a-day-trip island is made up of sheer cliff faces and rock formations you can climb if you want to get your adrenaline on. If you're after a more relaxed activity, you can snorkel with the millions of multi-coloured fish, swim alongside lazy turtles, or get up close and personal with the occasional shark in the crystal-clear waters that surround the island.
EXPLORE MAKATEA ON OUR TAHITI, THE SOCIETY, AND TUAMOTU ISLANDS TOUR
6. Moorea
Another day, another magnificent island to explore but make sure you keep your heart in a safe place because Moorea will surely steal it. Close in proximity to its sister island Tahiti, Moorea is not only spectacularly unique in its beauty but is also welcoming in its nature. With a calming atmosphere that steers itself away from the polished sophistication of other French Polynesian islands, Moorea instead aims to showcase the true laidback lifestyle of its Polynesian people in a way that'll make you never want to leave.
Whether you feel like wandering through the Moorea Tropical Garden, laying out on the white sand of Tamae Beach, cooling off in the tranquil waves of various lagoons, or feeling like the king of the world from Toatea Lookout, this magical island is a must-see.
EXPLORE THESE ISLANDS FOR YOURSELF ON OUR FRENCH POLYNESIAN TOURS AND HOLIDAYS
Feeling inspired?