One of the highlights of any trip to Bali is time spent in lush, serene Ubud. While Kuta, Canggu and Seminyak are tourist meccas for their shopping, Western-style cafés and bars, Ubud attracts a more spiritually curious, nature-loving crowd.
Ubud is home to ancient holy sites, waterfalls, and volcanoes, and also to modern, vegan-friendly restaurants, and yoga studios renowned internationally for the calibre of their teachers and facilities. Like Bali generally, many of the activities, dining options, massage and other wellness treatments are comparably much cheaper than elsewhere, though Ubud can be a little pricier than Kuta and Seminyak.
EXPLORE UBUD ON A SMALL-GROUP ADVENTURE WITH INTREPID NOW. CHECK OUT OUR RANGE OF TOURS HERE
Ubud is easily explored on foot, or by scooter, taxi or bus. Locals and the many expats who live here are friendly and happy to help if you find yourself lost and in need of directions.
Here are my recommendations, having been a regular visitor to Ubud for the last five years. I always find myself returning to Australia, invigorated by eating well, doing yoga twice daily, walking through the forests, meeting other travellers, and feeling sun and warmth doing some healing good to my insides and out.
EXPLORE OUR FULL RANGE OF BALI ADVENTURES HERE
Where to: Yoga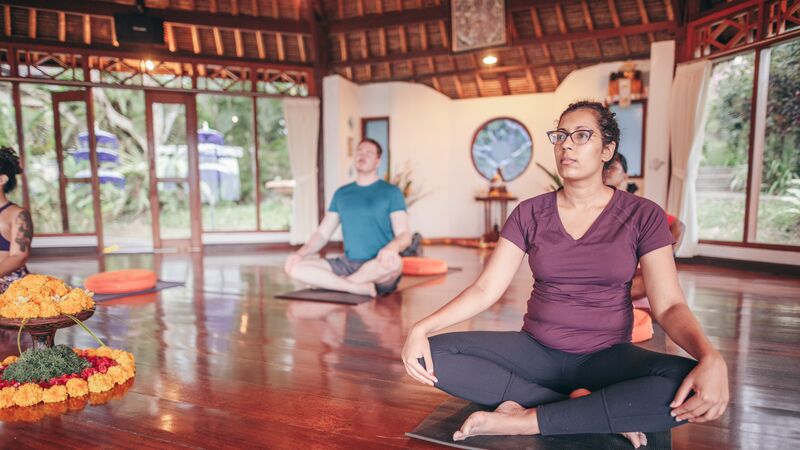 Yoga Barn
Easily the most popular yoga destination in Ubud, Yoga Barn holds classes almost non-stop all day, as well as having a café on site. The classes are designed to appeal to all experience levels, so beginners through to long-time yoga practitioners will find something that suits. I've done vinyasa, power yoga, beginner's yoga, meditation with Tibetan bowls, and the Ecstatic Dance. Ecstatic Dance is very popular, so if you want to attend, you'll need to buy tickets at least an hour before the event.
Like Yoga Barn, you'll be looking out over ferns, palms and lush greenery as far as the eye can see very time you come into an Upward Facing Dog. There's over 80 classes a month so you'll find a variety of options daily.
Founded by musician Michael Franti, Soulshine combines accommodation with yoga, so it's more of a retreat than a drop-in. This is a great option if you've got a few days so that you can really immerse yourself. There's a monthly pool party with live DJs called "Soul Sessions"; keep an eye on their social media for updates on events.
Where to: Eat
Ask locals and expats for their favourite warungs and be pointed in the right direction. "Dine on a nasi campur of champions that features roasted or slow-simmered Balinese chicken, with chopped beans and roasted coconut, crunchy chicken bits, egg, rice and sambal in the family compound. It's friendly, authentic and totally delicious!" says Janet De Neefe, founder of the Ubud Writers & Readers Festival, and the newer Ubud Food Festival. For those who want a delicious plant-based meal, the following cafes are my favourites:
This raw, vegan, plant-based dining venue is located just outside the hubbub of Ubud central, which is ideal if you prefer to go for a walk to find your next meal. Rather than take a scooter or taxi, walk from the central area to really build an appetite. Karma House, nearby, is a vegan tattoo studio if you're so inclined.
This gorgeous café not far from Yoga Barn is a must-do. It attracts yogis, foodies and travellers, and the menu has something for everyone. There's chicken- and fish-based meals but the majority of options are vegetarian, vegan and gluten free. Leave room for the dessert bar.
A two-level venue that offers views over Ubud's township if you sit upstairs, Seeds of Life run workshops and Raw Food Chef courses for those who are spending a little longer in town. Their expertise is in raw food, which is both creative and totally delicious (even if you don't expect it to be). Make sure you try the flavour-packed Raw Lasagne and Raw Pizza; you'll feel like you're totally indulging yourself.
RELATED: WHERE TO FIND UBUD'S BEST VEGETARIAN AND VEGAN EATS
Where to: Explore
Campuhan Ridge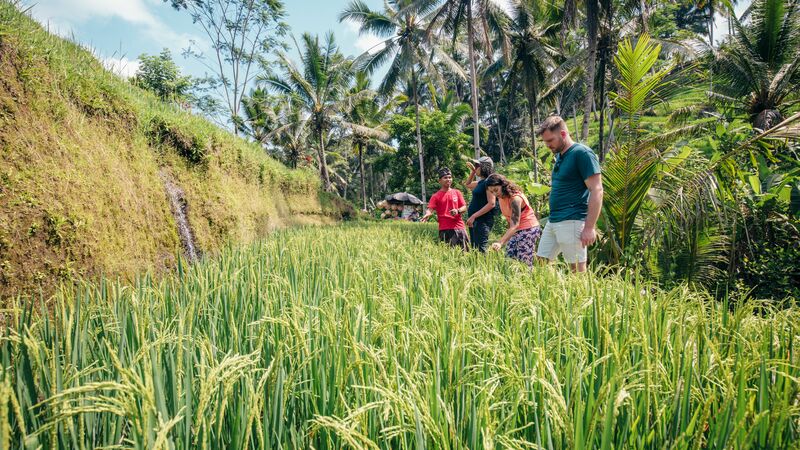 Campuhan Ridge offers a hiking trail through the mountainous region of Ubud, away from the bustling town centre. The hilly track through villages and rice paddies is nine kilometres, with access from the main road in Ubud (signs will direct you from the road). Along the track and over the sacred Campuhan River, you'll find the Pura Gunung Lebah temple complex; the structures are beautiful with their carved artwork details.
RELATED: 8 MUST-DO EXPERIENCES IN UBUD
Ubud Palace
Puri Saren Agung, or Ubud Royal Palace, holds literature, arts and dance events throughout the year (including events as part of the Ubud Writers & Readers Festival). Seeing traditional Balinese dancers performing their stories to the entrancing soundS of the gamelan is a must-do whether you're in Bali for the first time or the zillionth.
Hire a bike and go cycling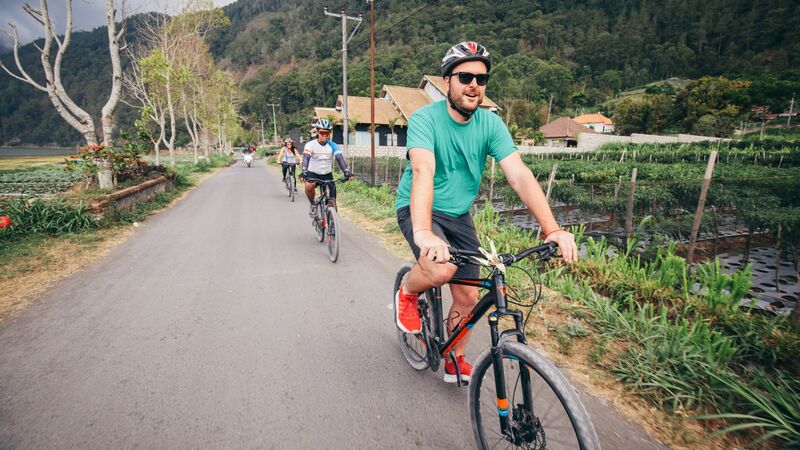 Make your way around the town and the rice fields to the sound of birds and laughter from fellow walkers and cyclists as they admire Ubud's lush scenery, as far as the eye can see.
Whether it's a day, a couple of days, or your full Bali trip dedicated to Ubud, there are plenty of things to do to fill your days. Equally, go without any plans simply enjoy wandering the town and choosing where to eat, yoga and explore as you go.
Explore Ubud now on a small-group adventure around Bali with Intrepid. Check out our range of trips now. 
All images C/O Intrepid Travel. 
Feeling inspired?