Reading Time:
8
minutes
Is it too clichéd to say that one of the best presents around is the gift of travel?
Probably, but we'll say it anyway.
Because the festive season doesn't just have to be about cheesy music, sweet holiday drinks and exchanging presents with colleagues, friends and family.
It can be about ending one year with adventure, and starting the next one with even more of it. It can be about meeting a bunch of like-minded strangers at the beginning of a trip and becoming firm friends by the end of it. It can be sipping cocktails on a beach, hiking to that awe-inspiring mountain peak, visiting Cambodian temples and Russian villages, exploring deserts in Bolivia and waterfalls in Ecuador.
In other words, the holiday season is a great excuse to tick off any number of bucket list destinations and experiences. And even though it's November already, we'll all for a cheeky last-minute trip. So, if you're feeling tempted to travel during late December or early January, we've compiled 10 trips that will let you do exactly that. They all have availability on holiday departures and they're basically calling your name…
There's never a bad time to visit Southeast Asia, but we think that December in Vietnam is particularly unforgettable. Although the weather can get chilly up north (in Hanoi and Sapa), temperatures are pleasant in the center and south of the country. So, whether you're strolling through the bustle of Ho Chi Minh City or enjoying the scenic delights of Hoi An, you'll be glad you made the journey.
Intrepid's 10-day Vietnam Express Southbound trip is the perfect way to see the country's highlights. On-tour wonders range from the ever-iconic Halong Bay to the historic Hue (once the imperial capital). And rest assured that it compiles a bunch of unmissable experiences: overnight trains, motorbike adventures, Mekong Delta river cruises, and as much Vietnamese coffee as is humanely possible to consume.
There are trips still available departing on December 26th and December 27th. Find them here.
Central America never disappoints. Picture a secluded Caribbean island with no roads or cars, but all the white sandy beaches (and turtles!) you could possibly want. Yes, that's Isla Bastimentos in a nutshell – one of many highlights on this 13-day Costa Rica and Panama trip. What about the other must-dos in these two picturesque nations? Well, spotting sloths in Cahuita National Park, enjoying hot springs and waterfalls aplenty in Boquete, and gazing in awe at the masterpiece that is the Panama Canal.
And that's just for starters. December equals dry season in this region and this means there's nothing stopping you from making the most of both countries. Want even more ideas to whet your appetite? Try surfing in small fishing villages (Santa Catalina), snorkeling for hours on end (Bocas del Toro) and lapping up all the museums and markets of Costa Rica's capital, San Jose.
There are trips still available departing December 22nd and 2nd Jan. Find them here.
Cambodia is so much more than the mighty Angkor Wat, but the largest religious monument in the world might still make for the highlight of your 2017. And if you don't have much time, there's no better way of taking it all in on this Cambodian Traveller trip. Starting in Ho Chi Minh City and ending in Bangkok, it fits in 3 (yes 3!) countries in just 9 days.
There's oh so much to enjoy in this underrated country. Not only is the cuisine something you're going to hear about increasingly, the city of Battambang offers up an authentic slice of Cambodian life, while the capital city of Phnom Penh offers temples, markets, street food and more. The trip features all sorts of cool and unique experiences, too. From a Tonle Sap Lake boat trip to a Santuk Silk Farm visit, it's not a destinations you'll forget in a hurry. Thank the 3-day Angkor Pass.
There are trips still available departing December 22nd, December 25th, December 29th and more. Find them here.
Now, this is one for the bucket lists. Because who doesn't want to spend the festive season surrounded by the delights of a Russian winter wonderland? We're not exaggerating when we say that this 11-day trip is brimming with fascinating inclusions. We're talking a tea party with a local family in St Petersburg, a walking tour of Yaroslavl (a UNESCO site that's one of the country's best preserved Russian cities), and an opportunity to meet Father Frost, the Russian Santa Claus.
The below-zero temperatures might be harsh and cold, but the warmth and hospitality you'll be greeted with are anything but. And the insight you'll gain into the Russian Orthodox faith will be simply unparalleled. And the drink, ah the drinks. Vodka-toast the old year out with a Russian family, then toast the New Year in with champagne. Also, just imagine Moscow's famous Red Square and St Basil's Cathedral under a layer of snow. Simply magical.
There are trips still available departing 29th December. Find them here. And read more about Russian New Year here.
South America is home to some of the world's most dramatic landscapes and evocative cities – and nowhere is this more obvious than in beautiful Chile and Argentina. Starting in Santiago and ending in Buenos Aires, this 8-day trip is a great way to enjoy the holiday season in style. And by style, we mean with wine. The tour includes a full-day winery tour (plus lunch!) in Mendoza.
And it's not all big cities and partying it up. You'll also spent two nights staying at a traditional estancia (ranch) in Argentina. Activities here include horse riding, cooking classes, barcbecue deliciousness and, of course, lazing by the pool. And when you're ready to be on the move again then steak and tango await in the country's vibrant capital city.
There are still trips available departing 23rd December. Find them here.
Amazing wildlife, both on land and underwater, is what this precious region is all about. Remote and incredibly beautiful, there's nowhere like the Galapagos Islands. And if you want to experience its magic by boat, foot and bike then look no further than this 10-day adventure. Starting and ending in the lovely city of Quito, other highlights include the giant tortoises on Santa Cruz Island, scaling a volcano on Isabela Island, and kayaking in stunning Isabela Bay.
But it's hard to really put the magic of the Galapagos into words. It's about staying in locally-owned hotels where you can interact with locals and it's about fitting in as much snorkeling and hiking as you possibly can. In fact, the only way to really do the Galapagos justice is by looking at this photo essay and then considering the trip of a lifetime…
There are still trips available departing 23rd December and 28th December. Find them here.
If you hear the phrases 'taco crawl', 'Mezcaleria visit' and 'ceviche breakfast' and don't feel extreme levels of joy, then maybe this isn't for you. But if you can think of nothing better than stuffing your face with Mexico's incredible cuisine then this 9-day trip is pretty much heaven on Earth. Starting and ending in Mexico City, the tour also takes you through Puebla, Oaxaca and Mazunte.
And, obviously, it's about the foodie (and other) experiences as well as the destinations. The phrases mentioned above are all realities on the trip, and other must-dos include a Lucha Libre show in Puebla, a Mitla ruins visit in Oaxaca and a fishing expedition in Zipolite, too. From tacos to chapulines (grasshoppers) to mole and more, this is a gastronomic adventure that'll leave you full of happiness (and food).
There are still trips available departing 23rd December and 30th December. Find them here. And for some of our favourite Mexican street foods, read this blog.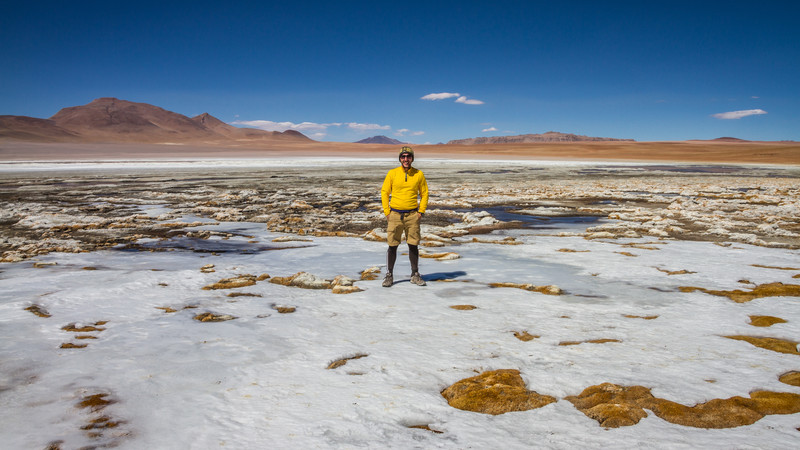 Bolivia is simply beautiful, there's no two ways about it. The surreal salt flats of Salar de Uyuni are like nothing you've ever seen, the Spanish colonial architecture of Potosi is unmissable, and the Andean Desert is one of the world's most incredible. And that's without even mentioning two fantastic cities – La Paz, the capital, and Sucre, a Unesco World Heritage site.
How best to experience all the above, and more? We might be biased, but we think this 12-day Bolivia Highlights tour is a pretty excellent option. We have so many reasons why Bolivia should be on your bucket list (10, in fact! read 'em here), but if you Google 'Laguna Colorada', it'll be oh so obvious. This red salt lake surrounded by rolling mountains is representative of just how special the country is.
There are still trips available departing 24th December. Find them here. And to see what it's really like on an Intrepid tour to Bolivia, read one traveller's story here.
This is the second time Ecuador has cropped up on this list – a testament to how spectacular this South American gem is. But it's not all about the Galapagos. This 8-day trip showcases the sights and delights of the mainland. For starters, you visit Banos, the country's outdoor centre (rent a bike and explore the nearby waterfalls and natural baths). You also journey to Otavalo for its famous market and authentic souvenirs.
The highlight, however, has to be spending 2 nights in a lodge in the Amazon Jungle (read all about it here). Not only do you learn about the local indigenous people, you also get to roast, grind and conch chocolate beans to make a dessert from scratch! Oh, and you also get to tube down the river. What a different and special holiday season that all makes for!
There are still trips available departing December 23rd. Find out about it here. And read more about the trip and mainland Ecuador's attractions here.
We had to save the most iconic until last. Machu Picchu's wonders don't have to be covered in detail. After all, who doesn't want to visit the Incan citadel? This 8-day trip, however, lets you get to it via various different and exciting ways. There's the classic Inca Trail (permit dependent), the much-less-crowded Quarry Trail, and then the train also (a really underrated way to see the region's beauty).
Whichever version you go for, the adventures don't stop there. The tour includes lunch with a community in the majestic Sacred Valley, plus the opportunity to visit both the foodie mecca of Lima (the capital) and the architectural wonder that is Cusco. Both cities are beautiful, but with just over a week in the country, it's fair to say that it's Machu Picchu's splendour that will stay with you for life. Treat yourself to a trip there and it'll be a vacation to remember.
There are still trips available departing December 26th and December 28th (look here). There are also trip departures available for the shortened, 7-day version of this trip, Inca Trail Express. Click here to see the tour availability.
Still looking for more travel inspiration? Check out Intrepid's top travel destinations and trips.
Feeling inspired?