Travel. It's all in the timing. If you've managed to narrow down your ideal destination from the endless possibilities on offer (and if you have, could you please tell us how you did it?), the next question is: when do you go? For some countries it's easy. Just avoid the monsoon/endless night/sub-zero temperatures/tourist hoards. For other destinations, there really isn't a bad time.
So how do you narrow it down? Enter our handy travel season guide. These are our favourite times to visit some of our favourite destinations. Good weather, cool local festivals or a blissful lack of crowds: you'll find them all in the suggestions below.
JAPAN – April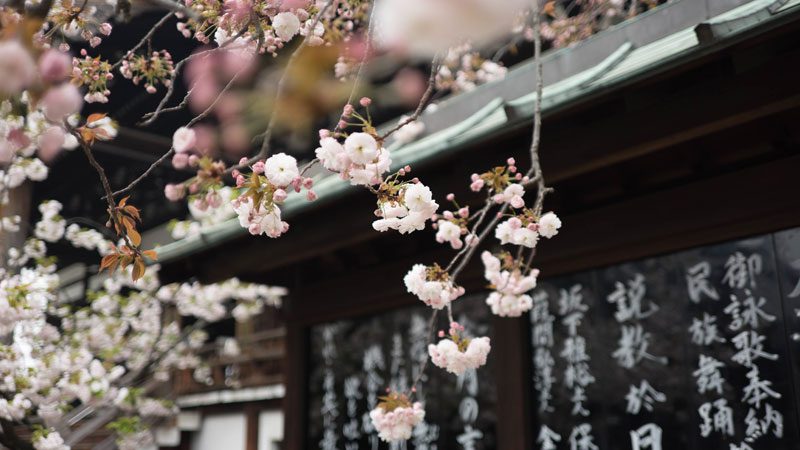 Why April: Cherry Blossom season, it is the most popular and busiest time to travel to Japan but if you can stand the crowds the beauty of the blossoms trees are well worth it. Even if you're not big on nature, this is something you've got to see. Hanami (花見?, lit. "flower viewing") is the Japanese traditional custom of enjoying the transient beauty of flowers. Japan is a beautiful country regardless, but during cherry blossom it doubles in beauty, watch cities disappear under canopies of colour and national parks transform into spaces so surreal, you'll think last night's sake got the better of you. Typically, the blossoms bloom somewhere between late March and early May. Part of their magic is that they're only in bloom for a week or two – less if there are strong winds or heavy rain. For a short magical period the cherry blossoms are everywhere.
You'll find all sorts of celebrations wrapped up in the blooming of the cherry blossom. The collective shindig is known as Hanami, which translates literally to 'viewing flowers'. It encompasses all sorts of things: tea ceremonies, picnics, barbeques, sports and performing arts, all under canopies of blossom. Over one thousand years old, this celebration is very much a highlight on the calendar – and one you won't want to miss. Blossoms vary slightly depending on the tree variety. The most common is a small white flower with five delicate petals. You'll also find yellow, pink and green blossoms throughout the country. Trees in the south typically bloom before the north.
Don't miss: Besides checking out the blossoms, the three 'must-dos' are 1) an overnight stay at a traditional Ryokan in Koya San 2) A naked dip in Japan's traditional Onsen (Hot Bath/Showers) and 3) our Tokyo After 5 Urban Adventure and eat and drink your way around some local bars and restaurants.
Insider tip: Don't leave home without slip-on shoes, hole-less socks (you'll have your shoes off a lot). There's also no need to tip in Japan. It's not really the custom.
BORNEO – August
Why August: Borneo's climate is typical for a tropical region: generally hot and humid all year-round. Temperatures are usually in the high 20s for most of the year, dropping back to the low 20s at night. Rainfall tends to be in short, heavy bursts followed by glorious sunshine. Generally August and September are considered the best time to visit, with the east coast getting wetter in October, while the lands around Kota Kinabalu get drier. The trees fruit at this time too, which means orangutans can be seen grazing closer to the ground. Always a bonus.
Don't miss:
A Mount Kinabalu climb. Mount Kinabalu is special. At the summit, climbers are walking over mostly granite rock that has been shaped over thousands of years by wind, water and glaciers to create sweeping panoramas framed by craggy spires and an impossibly blue sky. You can't climb Kinabalu without feeling there is something magical about the mountain. The climb up Kinabalu itself is challenging. Although it's an accessible climb, compared to some other mountain treks around the world, the physical agility and mental strength required to both summit and descend Mt Kinabalu is intense. Because of this, and because you start summiting in complete darkness around 2am, guides become more than guides – they are coaches, mentors, protectors, motivators. They keep you calm and focused, hand you their gloves and coats if you are cold and keep you entertained and energised when you think you will never make it to the top. The challenge is worth it – seeing sunrise from the top of Mount Kinabalu is an unforgettable experience.
The wildlife. Meeting the gentle orangutans of Sepilok is a must-do for visitors to Borneo. These orange-tinged creatures are captivating, entertaining and cheeky – and watching them play, eat and interact in the jungle of Sepilok is a privilege not to be missed. It's also worth visiting Turtle Island, just north of Sandakan, Turtle Island Park is a haven for endangered green and hawksbill turtles. Seeing turtles land onshore at dusk, or baby turtles hatching, is a properly unforgettable moment.
Community Village stay. Borneo was our second destination ever. Sapinggi Ladsou has been Intrepid's main guide on Mt Kinabalu since we started running trips in Borneo twenty-five years ago. Over the years, Sapinggi and his wife, along with their ten children, have also welcomed Intrepid travellers into their home as part of a community village stay in Borneo. The whole family has been overwhelmingly generous with their hospitality, and they are well known and loved by the past travellers and staff who have visited them.
Insider tip: The Poring Hot Springs are steaming hot pools of water near Mt Kinabalu, and a relaxing place to unwind after trekking the mountain. Sliding into the open-air baths is a therapeutic way to soothe your muscles. A nice outdoor reward for completing the climb.
The via ferrata: Following 2015's devastating earthquake, the operator of the via ferrata (Mountain Torq) had completely rebuilt the trail and Intrepid now includes guided ascents of Kinabalu on our Borneo – Hike, Bike and Kayak adventure. The Mt Kinabalu via ferrata (or 'iron road' in Italian) is devised to give climbers with little or no climbing experience access to rock faces normally reached by mountaineers and rock climbers. Kinabalua's via ferrata is the highest via ferrata in the world at 3776M, and the only via ferrata in South East Asia.

CUBA – December
Cuba's subtropical climate is ideal for travelling, with most places catching the cool trade winds that blow from the coast. This gives Cuba pleasant temperatures year-round. June, July and August are usually the hottest months, the dry season runs from November to April and the wet season from May to October. Even in the rainy season, downpours are short and heavy and shouldn't hinder travel plans. Tropical storms and hurricanes are more prevalent in September and October but rarely cause problems for travellers.
Why December: When it comes to Cuba, our advice is simple: go as soon as you can. Cuba has been in a time capsule: when Castro pressed pause on economic progress in the 60s, he also inadvertently pressed pause on Cuba. Visiting Cuba has been like stepping back in time – there's almost no internet and ancient Chevrolets driving down cobblestone streets. All that is changing quickly with new American travel laws, and that's why Cuba it's best to get there as soon as possible. In December, the weather will be at its very best, too.
Don't miss:
Classic cars and cocktails in Havana. Classic cars and cool cocktails sum up Cuba to a T, so we married them together on this Havana tour straight from the mid-century. Cruise at low altitude through the faded elegance of Havana's grand, old suburbs, then stop for a sundowner at the swinging Hotel Nacional.
Music & Dance. Cubans love to dance, and trust us, they'll help even the most uncoordinated traveller find their rhythm. Try some Salsa, Rumba, or Afro-Cuban Conga moves. There are open-air street parties and jazz clubs, so it's best to embrace it all and just revel in the infectious beats and lively atmosphere of Cuba's legendary nightlife.
Trinidad. Havana may have gotten the reputation for being Cuba's delightfully colourful city, but it's Trinidad that's Cuba's real star. Located on the south side of the country's centre with just over 73,000 inhabitants, Trinidad offers stunning views of the surrounding mountains. The town has a more relaxed energy and the brick roofs, cobblestone, and peeling paint further add to its charm. Getting out and taking a hike is definitely recommended, especially through El Cubano National Park up to the gorgeous Javira waterfall. Jump in and swim up to a cave for some bat-watching, bathe in the shallow waters for the ultimate post-hike cooldown. One of the best beaches in the world, Playa Ancón is just a short drive outside Trinidad. White sand, turquoise water, few people – the winning combo? Sip from a rum-filled coconut courtesy of a man with a horse-drawn cart, then kick things up a few notches with a beach BBQ organized by your guide.
Insider tip: Cuba's much bigger than it looks, and the public transport is generally slow, complicated and subject to frequent cancellations and delays. We use private transport to get around, but if you're looking for plenty of beach time you might prefer our Cuba sailing holiday. Or we also have cycling trips in Cuba.
SRI LANKA – January
Sri Lanka has a tropical climate, with temperatures remaining in the high 20s throughout most of the year. The dry seasons are June – August and December – March.
January is the busiest time for our best-selling trip – Circle Sri Lanka. It's the best time to visit the south and south west beaches as well as the hill country. Dry, sunny, and not too humid. Sri Lanka is a hot destination in more ways than one. Due to rising demand, last year we launched a Real Food Adventure in Sri Lanka, and this year we launched Sensational Sri Lanka, which goes to Jaffna in the north of the country. It's the first time we've visited this area of the country since the civil war.

Sri Lanka is a hot destination because it really does have it all – food, culture, wildlife and beaches. It's also an easy destination for Australians to explore in 2-3 weeks, and it offers great value for money so you won't blow the budget.
The cultural triangle is a major drawcard for our travellers. All of our itineraries visit Kandy, Anuradhapura, spend time in Sigiriya to visit and climb Lion Rock, and in Polonnurawru we ride bikes through the ancient city.
Sri Lankan food is also a massive drawcard – that's why we launched our Real Food Aventure which includes flavour-filled curries and sweet desserts, the amazing Sri Lankan seafood on offer at the Negombo seafood market, and the tea plantations of Bandarawela. The elephants of Udawalawe National Park are also a highlight, and our Sri Lanka Family Adventure includes a visit to the Elephant Transit Home to learn about the organisation's work with orphaned or abandoned baby elephants
Sri Lanka is still an emerging tourism destination, so even the main sites don't feel too touristy. It's also relatively small and easy to get around – but packs a punch with a huge variety. The culture of Kandy, hiking and village homestays in the jungle highlands, safaris in Yalla National Park, the southern beaches around Unawatuna, or the Northern town of Jaffna – it's all pretty special.
Want more tips on seasonality? Have a browse through the countries on our website – you'll find all the practical info you need to get started.

Feeling inspired?