Last November, I found myself soaked to the bone, furiously cycling through Myanmar's Inle Valley while being drenched in the most epic rain I have ever encountered. Worried that I couldn't be seen, and struggling to see through the rain, I stopped under a palm tree to clad myself in reflective clothes. A group of Burmese tribesmen passed me on their tuk tuk, hysterically laughing and pointing at my fluorescent yellow get-up. They ushered me back onto the road and sweetly rode alongside me in the rain until I reached the rest of the group. I learnt two things from this experience: 1) Wearing florescent clothes in a rural village in what they describe as a 'gentle shower' will make strangers laugh at you, and 2) Burmese people are incredibly kind.
Prior to cycling through Myanmar on a tour, I realized my group's collective knowledge of Myanmar was pitiful. But as the country's cultural identity and personality was somewhat of an enigma, we were both excited and apprehensive about visiting such an unfamiliar place. Going in 'blind' ended up being a blessing, as we were able to form an opinion of the country through our experience, without being tainted by pre-existing expectations or biases.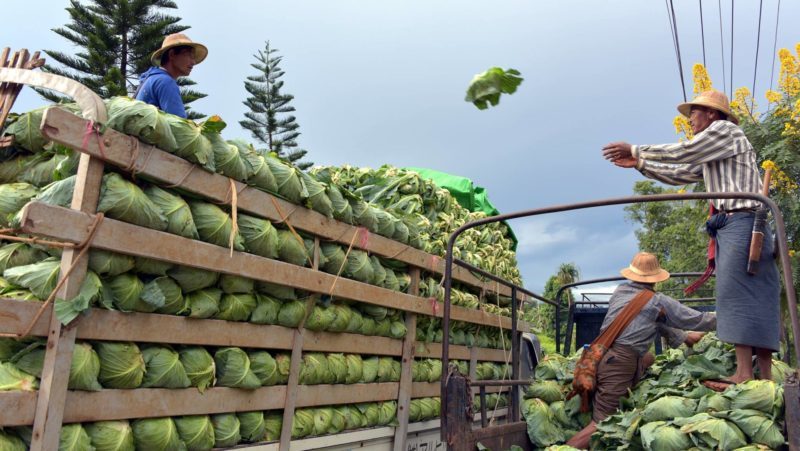 Though frequent run-ins with animals and unfinished dirt roads proved a slight challenge, cycling through Myanmar was a unique journey through a world relatively untouched by Western influence. And discovering it by bike allowed us to control the pace – we had the freedom to park on the side of the road to chat to a local, to take a moment to appreciate the beautiful countryside at a moment's notice.
RELATED: CYCLE THROUGH MAGICAL MYANMAR ON THIS 13-DAY TRIP
We spent six days in high humidity, covering over 250 miles of undulating landscape, following dirt trails and visiting (arguably one too) many a temple. We cycled from Bagan and Mandalay to Yangon through a country that felt preserved in time. Local folk traveled the dirt tracks by ox carts and mopeds, making our mountain bikes and florescent sweat bands feel almost futuristic.
After tackling the palm tree-dotted roads on our first day, we quickly learnt that the Burmese were also keen cyclists – whether school children pedaling off to lessons in the morning, or farmers carrying huge loads on their heads. The atmosphere proved contagious, and us lycra-clad foreigners were instantly made to feel part of the daily hustle and bustle of the villages.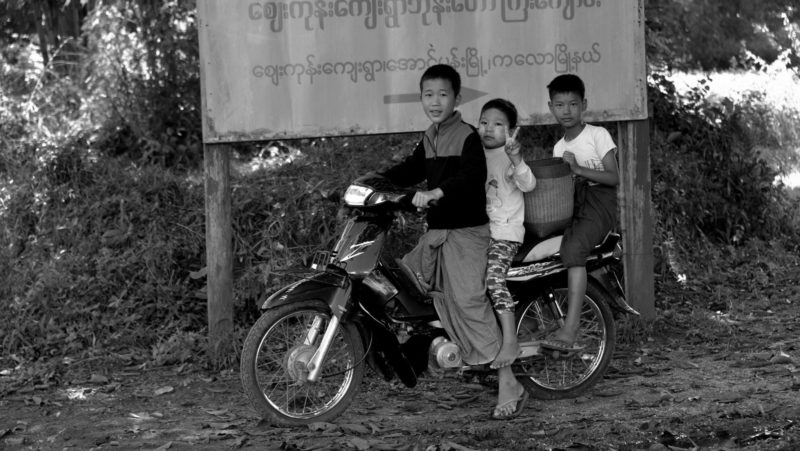 The landscape was diverse as it was breathtaking – we cycled through lush vegetation, colonial splendor and all manners of rural villages. From Bagan we cycled to Popa on the banks of the Irrawaddy river. We stopped for snacks at rustic palm sugar workshops where farmers harvested fresh nectar for us to drink in our tea. On the road to Mandalay, we rode through the ancient court of Ava, the former royal capital, which varied between ancient, crumbling city walls to newer houses of bamboo.
Our final ride from Pinaya to Yangon was a sustained climb that took us out of rural towns and on towards rolling hills. We were greeted with patchwork fields as far as the eye could see.
Despite the country's beauty, it wasn't the spectacular views and vibrant colors that caused Myanmar to capture our hearts, but the unrelenting friendliness of the Burmese people. Despite years of political hardships, every single man, women and child we cycled pasted greeted us with a giant smile and a chorus of 'Mingalaba', the Burmese word for hello.
We learnt that the people of Myanmar live very simple lives; the majority really are poor, yet their spirit and kindness was inspiring. This was a vast departure from urban life, and gave us a glimpse of what life might have been in a pre-technological era. Children entertained themselves in the streets for hours with no technology, water buffalo are valued higher than TVs, and before 2009, only one percent of the 50 million Burmese people had either a smartphone or home internet.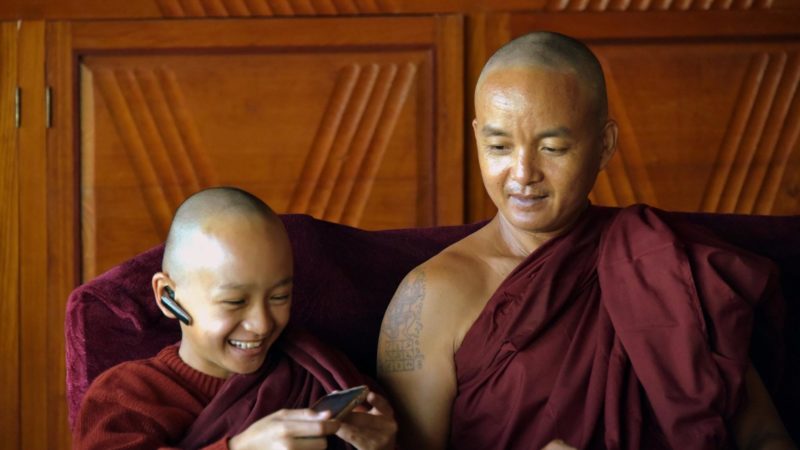 The lack of Wi-Fi was a breath of fresh air, our team spent our evenings in constant conversation because there was nothing else to do other than cycle and eat. And boy did we eat – the cuisine was a mixture of Chinese and Vietnamese; vegetable-heavy, full of fresh produce and swimming in flavor.

The lack of attention that this country has received from the Western world means that Burmese cuisine is hard to come by at home. But it's only a matter of time before it becomes a fashionable food trend; the ingredients are modest and healthy, every dish perfectly balances sour and savory with an emphasis on strong, pungent flavors. Although a few other members of the group grew tired of rice or noodles as the only available options, I would have happily continued eating the food for breakfast, lunch and dinner.
The cuisine itself is largely influenced by the country's strong Buddhist identity. The country is predominantly Buddhist and, as a consequence, there was a highly-spiritual vibe in every place we visited. This mystic, peaceful and ethereal feel really did make our journey quite the experience.
In terms of the cycling itself, our group ranged from under-prepared novices (myself) to seasoned professionals, and I was frequently overtaken by men far older than me. The main challenge was the difficult and inconsistent terrain – we cycled through dusty tracks, muddy fields and gravelly steep hills. The roads are in various states of disrepair; with potholes on nearly every corner. (Worth a mention: Intrepid cycle trips in Myanmar have a support vehicle on hand at all times – if you need a break, then no problem!)
A quality bike is really the only choice when dealing with the streets of Myanmar. They give you confidence on the roads and enable you to detour through the luscious fields with relative ease. I'd also recommend getting shock resistors – a blessing for saddle sores! But even in the face of these (mild) difficulties, Myanmar by bike was pure magic. The undulating hills made for excellent cycling, we all felt the cadence of the landscape give our journey a rhythmic quality.
SOLO TRAVELER? FIND OUT WHY MYANMAR IS PERFECT FOR YOU
Remember, not all activities need to be done on a bike – getting lost by boat on the floating markets of Inle Lake, an entire town built on still water, was a fascinating insight into Burmese culture. We marveled at how residents thought it ordinary to grow vegetables in water and float to lessons on a 'school boat'. Getting off the bike was such welcome break that our whole group actually fell asleep while floating on the peaceful waves!
I can't recommend cycling through this beautiful country enough. Rolling through Myanmar's gentle hills with the sense that we were participating in native life was a memorable experience. I feel privileged to have had the opportunity to visit such a special, tranquil country. Before Myanmar inevitably loses its identity to hordes of tourists, I urge you – get on your bike and immerse yourself in the culture of rural Myanmar.
Newly passionate about cycling through Myanmar? Check out 13-day small group tour there.
(And then check out these tips for booking your first cycling trip!)
Image Credits from top to bottom: Daniel Clarke, Ziv Keidar x2, iStock, Ziv Keidar x2, iStock, Ziv Keidar x2. (For more of Ziv Keidar's photography, check out his website.)
Feeling inspired?