To help us all feel a bit closer while we're physically apart, we're sharing letters to and from those who made their adventures extra special. Today, we're celebrating friendship – and the beauty of connections created and deepened through travel. #BeTogether
—
Dear Rani,
We met on Valentine's Day 2015 in Kathmandu – the day before our Intrepid adventure to Base Camp Everest began. We have been best friends ever since.
I never would've thought my (randomly chosen!) roommate would be born in the same year and be from the same city.
We both booked the trip only weeks prior and had no idea of the adventures and memories we were about to share. I still wouldn't be able to point out Everest in a mountain line-up but it doesn't matter because neither could you.
Marie
—
Dear Matt,
Lone travel can be a wonderful thing, but it can also get a bit lonely sometimes. Enter room buddy of the year, Matt Goward. We were always destined to get on, if I'm honest – the bald and bearded stick together. It's no wonder we were crowned the "naughty twins".
After a (very) tearful goodbye after our Tibet trip ended, we travelled together a month later through south east Asia with Intrepid on what became the trip of a lifetime. In the space of two months you went from being a roommate to a brother.
You've been my drinking buddy, emotional support system when the only toilets are open air ones (long story) and a source of amusement when you somehow managed to sunburn a stripe across his forehead high up in the Himalayas.
Just goes to show it's not all about where you travel and what you see, its who you experience those things with. Thanks buddy, for the laughs and for being you.
Keith
—
Dear Thea and Bhakti,
What an amazing adventure Intrepid's three-week China trip was! I been travelling solo and missing my husband who couldn't come, so it was great to join the group. Because of the group dynamics we three, ranging in age from 26 to 76, naturally fell together. I so enjoyed hanging out with you both.
I really missed my husband, and you two, in a way you probably didn't even realise, gave me shelter, a place to be, friends to share the experience with.
Bhakti, I will never forget your kindness in agreeing to swap bunks with me on the train. Thank you! My husband said that even he wouldn't have done that! And I remember you, extrovert that you are, doing Tai Chi with the woman at the station, and wearing the conductor's hat on the train!
I remember us eating street food together in Chengdu and you, Thea, offering me a taste of your spiralled potato that took me right back to my childhood in Melbourne. And of course being my companion for those two spectacular shows we went to together. And walking together down to the harbour to watch the Hong Kong light show. Thank you.
I feel so lucky to have met you both, and I hope I get to see you again one day! In so many ways you made the trip more special for me.
Alison
—
Dear Hil,
Back in December 1992, when I met you and your husband Col on a day trip from Sydney to the Blue Mountains, we had no idea of the deep and lasting friendship that would ensue. Of the extreme highs and lows that lay ahead.
But when we three met again two weeks later on a trip from Byron Bay to Nimbin, it seemed like fate had conspired to bring us together. A further five weeks of fun, travelling the length and breadth of Australia together as The Pommie Posse, was one of the best times of my life.
Back home, visiting each other, welcoming your two lovely children into the world and having more fun times just cemented that friendship.
Ten years later, with Col terminally ill with cancer, it was time for us to return to Australia together and show the kids where we had first met. Losing Col just one month short of our 10th 'anniversary', at such a young age, was so cruel. But our friendship never faltered and just grew stronger.
Now the kids are grown up and you have another lovely partner, but you're still my most marvellous mate.
Love you loads,
Fliss xx
—
To Stacy and Denise,
To the two self-appointed anti-social people who saw a solo traveller eating alone at the buffet, and asked her to join them for dinner.
Thank you for reaching out a hand and adopting me for the week. We had such a great time and I feel like I have made great new friends, even though we are from the opposite sides of the world.
I hope we get to do it all over again one day. I'm forever grateful!
Louise
—
Dear Dawn,
I don't know what I can say that hasn't been said over the course of our 20-year friendship. Brought together by ugly yellow polo shirts and late nights at The Backer, little did we know back then how far our adventures and shenanigans would take us.
Thank you for the backpacking through Europe, for making us wear dirndls at Oktoberfest, for 'suggesting' we go to Everest Base Camp with Intrepid, for being persuaded to go back to Annapurna. For dancing atop Dead Woman's Pass in Peru with @haliwins, biking (or, rather, walking our bikes) up the hills of Ireland, and drinking all the fancy tea and mint juleps with me (whilst wearing fancy hats).
There's no one with whom I'd rather see the world, and no other friend I'd be happier to have as my bells and whistles.
Chrissy
—
Hi Brooke!
I've been thinking about you tons! You're on the other side of the world in Australia, but I know you're equally feeling the impact of this pandemic, especially since we both work in (and are passionate about) the travel industry.
I'm replaying our first day in Amman, when we met and were both so excited to be rooming with someone just as adventurous and open-minded to the Middle Eastern culture – something our family and friends couldn't fully understand, but made perfect sense to us. Our nightly chats made navigating the initial culture shock easier to bear, and cemented our newfound love of Jordan and Egypt and fellow travelers (the BEST combination of people imaginable).
What I would do to sit around a big table dipping pitas in baba ganoush, laughing hysterically at everyone's crazy stories, then piling back into our van to do an Arabic roll call led by Yazan.
Stay safe and healthy! I'm looking forward to a time when we can meet up in NYC, Brisbane or the next spot on our lists, and continue traversing the globe!
Love,
Mariah
—
Dear Mish,
It was life affirming and wonderful to meet someone from the other end of the earth, be the only two people on an Intrepid tour, be worried about how you will share your life ambition journey with a stranger… and then find them to be a wonderful, funny, like-minded and kindred spirit.
Sharing this with you was so much fun. We both took delight and joy in the many sights and sounds of India, the valleys of Nepal and the amazing safari. We shared a naughty streak and sense of humour that I still laugh and smile about. I now can't imaging having done it with anyone else.
Thanks Mish, you made my travels a lifetime memory that wont be forgotten and will always make me smile.
Donna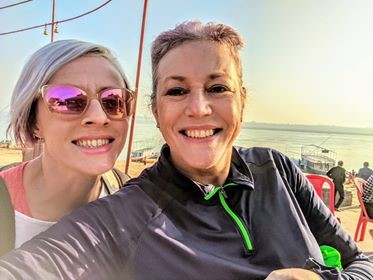 —

Feeling inspired?