Confession. For years I dreamed of going to the Galapagos Islands, but I had no idea what country it was in. 
But as I was planning my first-ever completely solo trip on Intrepid Travel's Galapagos Encounter, I started researching the city where the trip started — Quito, Ecuador — and quickly learned that while many people pass through as a launching point for their island adventures, the capital city is quite a destination of its own.
While I was nervous about being alone on a continent where I didn't know a single soul, my curiosity won out — and I added on a few nights to experience the sites in and around the Andean city.
EXPLORE OUR FULL RANGE OF SMALL GROUP ADVENTURES IN ECUADOR NOW
1. Discovering the City of Quito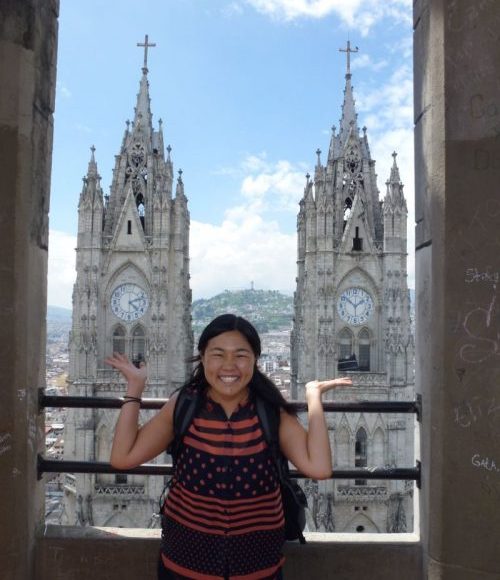 Admittedly, as soon as I landed in Quito, my head started spinning. Not only was everything in a language I didn't speak, but sitting in between peaks of the Andes Mountains, the city was at a whopping 9,350-foot-high elevation, making it a bit tough to breathe. I stocked up on water and took things slowly.
I decided to ease into the city via my favorite way to get my bearings in a new place: a free walking tour. As a solo traveler, walking tours are especially useful, not just to get a sense of the geography, but to connect with fellow single travelers.
Our first stop was the largest neo-Gothic church in the Americas, the Basílica del Voto Nacional, which was started in 1892 and is technically still incomplete (legend has it the world will end once it's finished!). While its little details, like the tortoises and iguanas instead of gargoyles, delighted our group, it was the climb up a rickety ladder to the towers that truly impressed. We all encouraged one another as we reached the top and were rewarded with sprawling views of the churches' towers and cityscape.
RELATED: 15 WAYS TO EXPERIENCE ECUADOR LIKE A LOCAL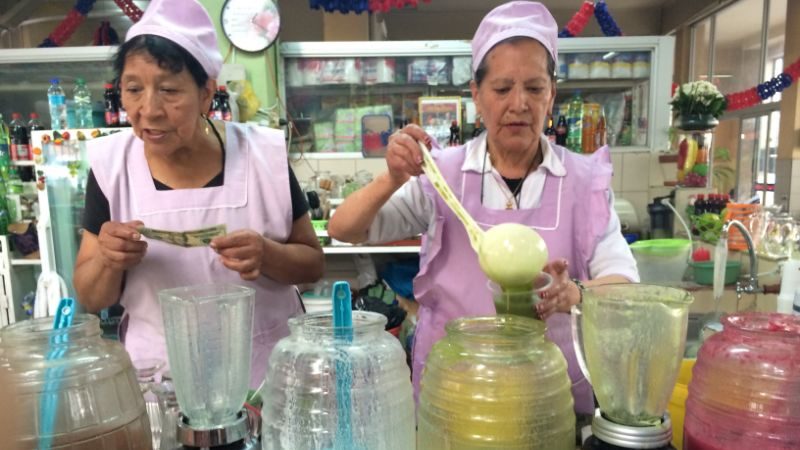 After winding through the city, including stops at Confeiteira El Gato for some traditional snacks, Mercado Central for naranjilla juice with coco for a mere $2, and the lively colonial La Ronda street, we ended in the city center at Plaza de la Independencia. 
I quickly broke off from the group, because of my obsession to see everything from true heights, to go to the TelefériQo gondola. The cab dropped me off on an isolated street, but as soon as I started walking up the winding road, I found my way to the cable car (the afternoon is a good time to avoid crowds!) and soared up the 18-minute ride to the top, 12,949 feet above sea level. 
The only thing that could bring me back down to earth was a good meal, so I looked at a list from a friend who knew Quito well and chose one of the top-rated restaurants, Zazu. At first, I was supremely awkward about entering such an upscale establishment on my own, but the wait staff were so friendly and welcoming that it ended up being like dining with old friends, as I indulged in stone crab ceviche, asparagus roquefort salad and pork taquitos. And with the exchange rate, the fine-dining adventure seemed like a bargain!
RELATED: EXPLORING QUITO, SOUTH AMERICA'S LESSER-KNOWN CAPITAL OF COOL
2. Relaxing in the Termas Papallacta Hot Springs
As soon as I read about the hot springs outside of Quito, I knew I had to go to Termas Papallacta. Located about 50 miles southeast of the city in the Andean highlands en route to the Amazon rainforests, it's not exactly a common day trip from the city.
Fortunately, my Intrepid tour leader connected me with a local driver who would take me there, wait for me and drive me back. Though it felt like a lot of pressure to have him wait for me while I was relaxing and enjoying the hot springs, I was assured that it was his job and he didn't mind. I bought him a drink and pastry from a little bakery and joined him in the front seat as we set off on our journey.
The only problem? We didn't share a common language. He endlessly tried to point out certain sites to me and I tried to ask questions, but we didn't get very far. In the end, we sat in silence, but with a mutual respect and understanding of the beauty of our surroundings.  
CHECK OUT OUR FULL RANGE OF ADVENTURES IN THE GALAPAGOS ISLANDS NOW
While I had been to plenty of other hot springs around the world, I had never quite been to a setting as stunning as Termas Papallacta. The privately owned facility was conceived in 1994 by a group of six Ecuadorians who wanted to both preserve the location and bring a high-quality spa experience to area's natural waters, containing beneficial sulfates, sodium, calcium, chloride and bits of magnesium.
I put my things in the assigned locker, slipped on the provided swim cap and stepped out into a paradise of calm. Before me was a land of relaxation: five thermal pools with varying hydrojets and a polar pool, all tucked within the landscape mixing the majestic ridges and the lush rainforest. It was exactly what I pictured Eden to look like.
So I did what anyone would do when they enter paradise — I went crazy. I scheduled a relaxing massage, had the best meal at the on-site restaurant and spent time in every single one of the pools, meditating with my eyes open in this idyllic slice of the world.
3. Venturing to the equator – and beyond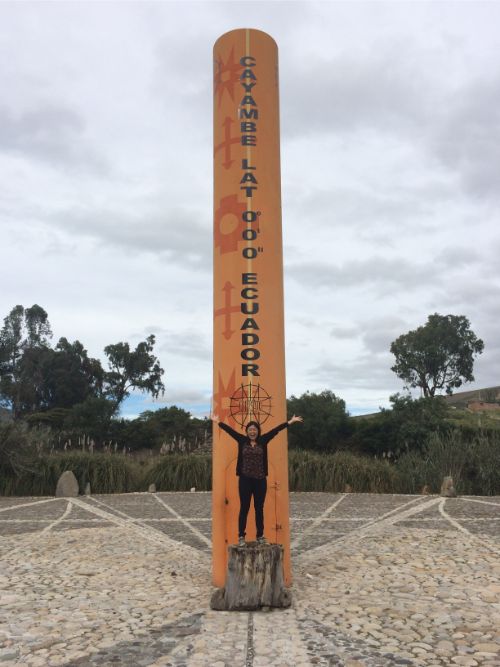 One of the geographical wonders of Quito is its proximity to the equator. But such a hefty responsibility comes a serious debate over where the actual equator line sits. The largest monument is called Mitad del Mundo (Middle of the World), however it's not exactly where the equator sits. 
RELATED: 8 REASONS YOUR NEXT ADVENTURE SHOULD BE IN ECUADOR
Built in 1979, the monument was constructed where scientists marked it in 1736, but in actuality, it's not located there. Of course I wanted to see the equator — the real one — so I opted for a day trip that went to an alternative.
When we arrived, the lack of tourists at this spot in Cayambe definitely made it feel like this might be the real deal, but it was still questionable. Turns out, we were at Quitsato, a large sundial that also celebrates zero latitude. We posed with the giant yellow marker and did all the necessary Instagram-friendly poses on both sides of the line. While the debate continues as to where the actual spot is, some say that the entire region is the equator.
We then moved on to a series of diverse yet delightful sites in the area. We visited a biscuit factory to see how they make traditional Ecuadorian treats, shopped in the Otavalo Market (which has been called South America's biggest market) and hiked around Cuicocha Lake, a volcanic crater in Cotacachi Cayapas Ecological Reserve.
Mixing geographical, cultural and natural highlights in a day provided a deeper picture into the surroundings outside of Quito's city limits. 
While it was seeing unique animals in their natural settings that drew me to the Galapagos, I went home with a deeper understanding of Ecuador and its rich culture among such natural beauties. 
Interesting in finding out more about Ecuador? Explore our full range of small group adventures in the region now. 
Feature photo by Alessandro Pinto, Shutterstock. All other photos by Rachel Chang. 
Feeling inspired?