Whether you're after a fun and quirky spot for a pint or a regal and glamorous place to enjoy a cocktail, these bars in Glasgow are the best of the best.
Glasgow might be known for its stunning architecture and impressive history, but this vibrant and bustling city also knows how to have a good time when the sun goes down. It's believed that whisky-making started in Scotland hundreds of years ago so it's no surprise that Glasgow has a wide variety of trendy bars to choose from, whether you're having a wee glass of amber liquid or something else.
From the neon signs and electric vibe of Hillhead Bookclub to the sophisticated and pretty décor of The Ivy (and everything in between), sit down after a long day exploring and relax with a drink of your favourite alcoholic beverage at one of these top bars in Glasgow. Cheers!
Nice 'n' Sleazy's is not your average bar and even that's an understatement. Located in the heart of Glasgow's city centre, this eclectic and electric bar is the perfect place to enjoy the live music this city is famous for. Featuring gigs, parties, and events that are sure to have you out of your seat and onto the dancefloor, this bar is truly something else.
Just because Nice 'n' Sleazy's décor is dark and grungy doesn't mean a trip to this iconic Glasgow bar won't be the brightest part of your day (or night). With a menu full of burgers, burritos, and loaded fries, as well as a drinks menu overflowing with ciders, beers, whisky, and cocktails, there's no better place to spend a few hours. And that's a promise.
2. Stereo, Renfield Lane
Perhaps a little tamer than the last bar but not any less fun to drink in, Stereo prides itself on offering great vegan food, even better drinks, and a welcoming and warm atmosphere. With a seasonal food menu that focuses on highlighting local produce and a drinks list that goes on for days, we couldn't think of a better place to put your feet up after a long day exploring.
As if that wasn't enough, Stereo also features live events so you can get your groove on while listening to some of the best musicians this pulsating city has to offer.
Food, liquor, and music = match made in heaven, and that's exactly what you'll get at Chinaski's. With a speakeasy-type feel and a theme that almost invites debauchery, Chinaski's promises to be unlike any other you've ever been to. With a décor of dark wood, green leather, shelves of liquor bottles, and Charles Bukowski quotes, this bar remains a hidden gem for those who love their alcohol.
Featuring a bar area, a terrace, and a garden so you can have your pick of the atmosphere that'll suit your rendezvous the best, Chinaski's provides a seasonal menu full of burgers and steaks with cocktails and wine on offer to wash your food down with.
We can't write up a 'best bars in Glasgow' list and not include a brewery, especially one as inviting as Drygate Brewing Co. Originally built in 1964 as a screen-printing factory, this magnificent structure is now home to one of the best breweries in Glasgow but has been perfectly restored to reflect its interesting past.
With original details such as the concrete floor, exposed brickwork, and the peaked, saw-toothed roof, this drinking spot is not only historically beautiful but it's also a great place to relax and unwind after an epic day out. Featuring 23 rotating taps, a specially curated selection of other beverages, and a viewing window so you can see where all the magic happens, you might never want to leave this fascinating brewery.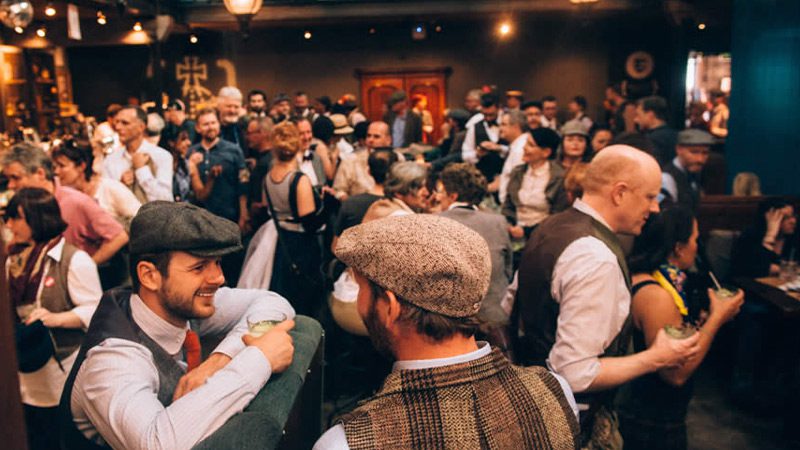 Eclectic and quirky are adjectives that don't even begin to describe the vibe and personality of Hillhead Bookclub. Priding themselves on being a 'venue where left and right-handers can exist in harmony without fear of persecution', this funky drinking spot promises good times and even better memories.
If you're after a classier way of getting tipsy then opt for the passionfruit-y 'pornstar martini' or the Hillhead signature of a 'bookclub bloody mary'. If that's not your thing, try out a house wine or a liqueur and pair your drink with a flavourful burger or homecooked-style fish and chips.
6. BrewDog, Hutcheson Street
Another brewing spot that celebrates beer at every turn, Brewdog offers 25 taps of craft beer from BrewDog and other fine breweries alongside a menu boasting good ol' barbecue food. With its comfy décor of aged leather seats and wood details, this eating and drinking den is the perfect place to spend a few hours.
From tucking into a monster burger or a plate of the delicious buffalo wings to slowly sipping on a draught beer or fruity cider, Brewdog won't disappoint, especially if you sit outside in their bespoke seating area in summer.
7. Inn Deep, Great Western Road
First off, who doesn't love a good pun? That was a trick question – the answer is no one. Inn Deep is another drinking den that specialises in good beer (no 'crap' in sight), aiming to provide the perfect place to enjoy a cold one with your friends and family. With 6 in-house taps, 3 guest kegs, and 3 guest casks, there's a beer for everyone to enjoy.
But that's not all Inn Deep prides itself on. While you're there, why not dig into their food menu and try one of their famous pizzas? Or nibble on some nachos with a side of chicken tenders? Regardless of what you end up eating (you really can't go wrong), Inn Deep is sure to put the cherry on top of a great day exploring Glasgow.
Looking like it belongs more in a Harry Potter or Lord of the Rings novel than on a Glasgow street, Waxy O'Connor's needs to be seen to be believed. Infused with magic and grandeur, this maze-like pub features 6 different bars over 3 levels, boasting a décor fit for a family of hobbits or talking animals.
Beautifully designed with intricate wooden details, you might never want to leave this cozy drinking spot, especially with its fantastic bar menu and extensive drinks list. Dig into a steak and guinness pie or sip on your favourite draught and get lost in the wonder of Waxy's.
10. The Ivy, Argyle Street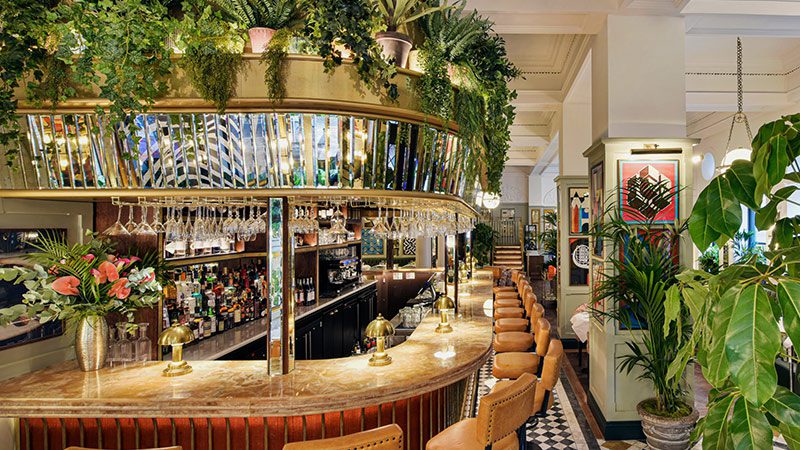 Take your happy hour up a level by drinking at The Ivy, a beautifully designed restaurant and bar centrally situated on Argyle Street. Nothing says opulence quite like polished marble and rich colours and The Ivy certainly knows how to do it best. Without being stuffy or pretentious, this drinking spot is both sophisticated yet casual with a warm and welcoming atmosphere that'll have you going back for Negroni after Negroni.
With a few different areas to relax in, this bar will take you away from the hustle and bustle of Glasgow and transport you into a pretty place full of good food, even better drinks, and live music on weekends. Bars just don't get much better than this.
Making a strong case to be the best bars to get a drink in Glasgow (we'll let you decide), The Corinthian Club offers a stylish respite from the bustling city streets and promises to relax you instantly with its calming yet stylish interior. Centrally located on Ingram Street in one of Glasgow's most impressive buildings, this iconic institution showcases grandeur as you've never seen it before.
Keeping all the building's original and intricate details over a whopping 5 different levels, explore everything from private dining rooms to world-class restaurants and trendy bars at this absolute gem of a place. Whether you want to stop off for brunch, lunch, afternoon tea, or after-dinner drinks, marvel at the domed ceilings and stand-out service of The Corinthian Club for an hour or two you'll never forget.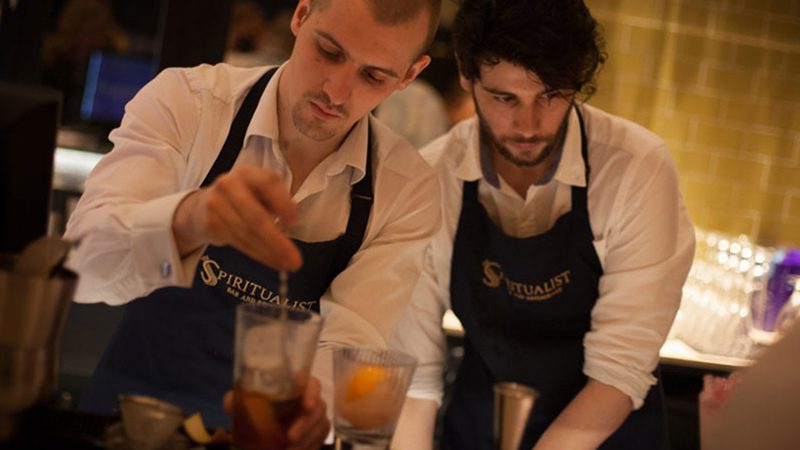 Step out of the ordinary and into The Spiritualist. Priding themselves on their 'inspirational cocktails and quality food', this trendy bar is definitely worth a visit if you've got a spare afternoon or evening. From enjoying a quiet moment away from the chaos of the bustling Glasgow streets to celebrating the joy of travel with your loved ones, The Spiritualist is perfect for any occasion.
Designed to be enticingly elegant yet still welcoming and full of comfort, this upmarket spot promises to deliver a social experience like no other through its moody and magnificent décor, as well as its extensive food and drinks menu. Boasting Scotland's greatest bar gantry, have the liquor world at your fingertips and delight in the creative cocktail list and classic choices on offer. If you are visiting the capital as well, check out the best bars in Edinburgh
Feeling inspired?