Hot off the red dirt roads with dust still speckled on my hiking boots and a gazillion photos to sort through, I've gathered up all the important stuff to know before you travel to Uluru.
I recently returned from Intrepid's Best of Uluru & Kings Canyon trip. It was everything I imagined it would be and so much more. Nothing can prepare you for the vastness of the Outback, the shifting colours of a Red Centre sunset or the feeling of seeing a 500-million-year-old monolith for the first time.
But as remarkable as the Red Centre is, it's not a place you can just rock up to (pardon the pun). The desert terrain and heat can be unforgiving, shops and amenities are few and far between and you'll often spend hours driving without seeing another soul.
From connecting with First Nations cultures to much-needed fly nets, here's everything you need to know before you go to Uluru-Kata Tjuta National Park.
1. Uluru's just the tip of the rock
No, seriously, the 348-metre-tall rock is merely the tip of a giant formation extending up to six kilometres underground. Uluru and Kata Tjuta started to form in the Petermann Ranges around 500 million years ago. Rain flowed down the mountains, eroding sand and rock into large fan shapes. The ocean then covered the area, and the weight of the seabed transformed the fans into sandstone (Uluru) and rock (Kata Tjuta). The sea disappeared, tectonic plates shifted and softer rocks eroded, resulting in the natural spectacle you see today. Nature's wild, right?
2. Uluru's the heart of Australia in more ways than one
As fascinating as the geology is, Uluru and Kata Tjuta are so much more than cool rocks—they're the spiritual heart of one of the oldest living cultures on earth. Mind-blowingly, they're also the geographical heart of Australia. Coinkydink? I think not.
The Anangu people (pronounced: arn-ung-oo) are the traditional owners of Uluru and Kata Tjuta, with 60,000 years of knowledge, stories and traditions. They believe the formations are physical evidence of the ancestral beings who created the world. Uluru is so much more than a rock, and when you take the time to listen and learn about Anangu culture, the formations come alive and there's a palpable sacredness to it all.
It's impossible to uncover 60,000 years of history in a few days, but I walked away with a much deeper understanding and appreciation of the land and the stories they hold. So yes, get the money shot of Uluru glaring in the golden hour sun, but don't forget to pause and reflect on where you are.
Read more: So much more than a rock – Spoonful of Sarah's Uluru adventure
3. The Red Centre is greener than you imagine
With a name like the Red Centre, you'd expect everything to be very, well, red. But I was surprised at how green it was! We went in late May after a wetter-than-usual summer, so the desert flora was thriving. Bush tomatoes were growing on the sides of the road, desert roses were in bloom in Kings Canyon, and the fuzzy flower of the witchetty bush added a splash of yellow to the rusty-red landscape.
4. You can't climb Uluru
Climbing was banned in 2019 after years of campaigning to respect the Anangu people. It was essentially akin to climbing onto a church altar or holy shrine. Hundreds of thousands of people scaled Uluru every year, and you can still see the old climbing route, which locals now call the 'scar of Uluru'.
There are so many more meaningful ways to experience Uluru, anyway. Listen to Anangu creation stories at the tranquil Mutitjulu Waterhole, learn about caves reserved for sacred men's and women's business or see ancient rock paintings up close.
5. Don't miss the opportunity to engage with First Nations peoples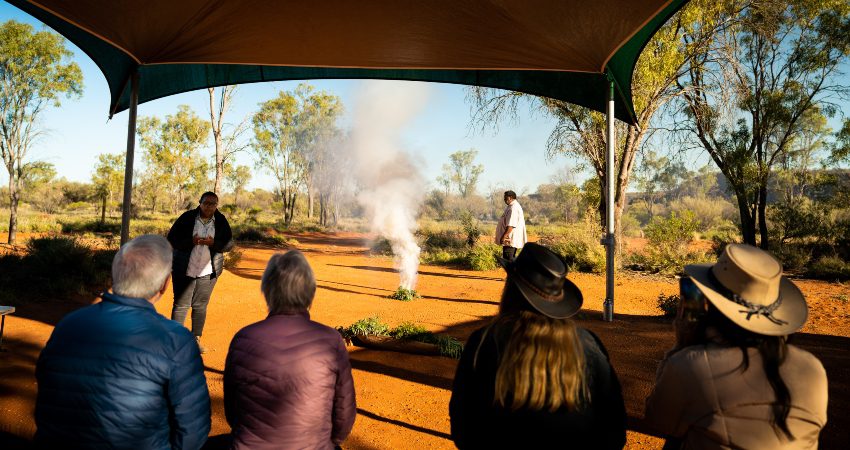 A highlight of the trip was the Karrke Aboriginal Cultural Experience just outside of Watarrka National Park. Our guides, Peter and Natasha, were Western Aranda/Pertame (Southern Aranda) people and the experience took place on Country near where they live in a small community of just 10 people; it felt very intimate.
We were welcomed to Country with a smoking ceremony, a custom practised for tens of thousands of years. Peter and Natasha called upon their ancestors in their language to protect us on our journey and then invited us to walk through the smoke to cleanse and restore our energy. This is an experience I'll never forget. They also taught us the beautiful word, "Palya!" which is spoken across the Central Desert region. Natasha explained that it can mean 'hello', 'bye', 'okay', 'good', 'lovely', 'wonderful' or any other positive feeling from your spirit.
They were so generous with their knowledge; we learned about bush tucker and medicine, ancient ways of communicating with sand drawings, ceremonial ochre painting, the stories behind Aboriginal dot art, hunting weapons and more. We were even introduced to a live witchetty grub (a traditional protein source) that supposedly tastes like peanut butter, popcorn or scrambled egg when cooked; I expected it to be wet and slimy, but it was surprisingly soft and dry. 
Related: 5 of Australia's best First Nations bush food experiences
6. It's worth staying for a few days if you have time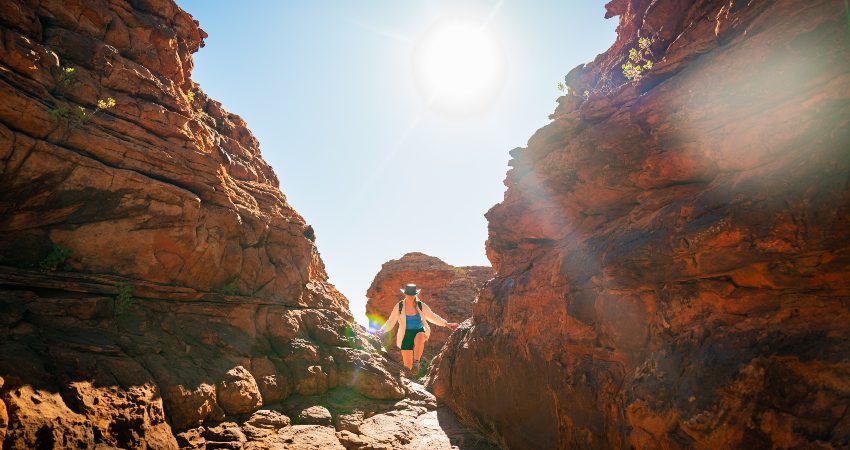 Uluru's the star of the show, but if you're thinking of dashing in and out for sunset and sunrise, you might want to rethink your plans. There's so much to see and do in the Red Centre, so it would be a shame not to stay for a few days if you can.
We started in Alice Springs and drove to Yulara (the closest town to Uluru-Kata Tjuta National Park) over a few days. We explored the stunning Simpsons Gap and swam in the dreamy Ormiston Gorge (even if it was fffresh) in the West MacDonnell Ranges. We also did the Kings Canyon Rim Walk which was easily one of the best hikes I've done in Australia. It's a steep climb to the plateau, but I was blown away by the layers of sunbaked colours, sweeping desert views and otherworldly boulders known as the Lost City.
7. You'll spend many hours driving
You know when you see that squiggly line between Yulara and Alice Springs on Google Maps? It turns out it's a five-hour journey. The Outback is vast. Like really vast. And the reality is that you'll spend many hours on the road.
Central Australia is one of the most remote places on earth and you'll often drive for hours without seeing another soul. There aren't many places like this, so sit back and take it all in; download a few podcasts, bring a good book (or don't if it makes you car sick like me), or get to know your fellow travellers. After a few days, you'll be well acquainted with each other's pretty catching-flies-face (you know the one).
8. Toilet stops and shops are few and far between
You won't find your usual creature comforts in the Outback, but you'll stumble on a roadhouse every couple hundred kilometres. They're pretty basic with a fuel station, cafe and motel, but they provide respite for tired and hungry truckies and travellers. Some advice: toilets on the highway are scarce, so even if you don't need to use the bathroom when you get to a roadhouse, it's always worth popping in. But hey, with views like these, it's not that bad if you need to pull over.
9. You can start/finish in Alice Springs or Yulara
If you don't want to use an extra week of annual leave to drive to and from Uluru (it can take a few days each way depending on where you're starting), you'll need to fly. We had the option to finish in Yulara or get dropped off in Alice Springs at no extra cost. This was handy as it opened more options for flights which aren't as regular as other destinations in Australia.
10. Layer up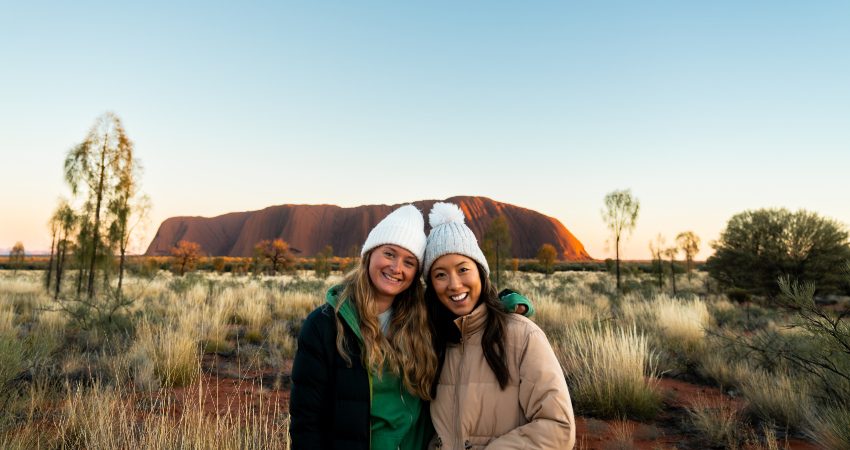 If you close your eyes and think of the Outback, you probably don't imagine down jackets and beanies. While the days are warm or hot throughout the year, it can get surprisingly chilly after sunset, even in summer. In winter (June to August) it's not uncommon for temperatures to drop below freezing overnight, or to wake up to ground frost. When it comes to packing, layering is key. Think shorts/leggings, t-shirts and a mid-layer to wrap around your waist in the day, and a warm jacket, long pants and a woolly hat for sunrise. If you're camping, thermals wouldn't go amiss!
11. Bring snacks and supplies (especially if you have dietaries)
Food options are limited in the roadhouses (think sandwiches, toasties and deep-fried snacks), which isn't surprising when you're in the middle of nowhere. I'd recommend grabbing supplies from a supermarket in Alice Springs or Yulara if you're vegan, gluten-intolerant or have other dietary requirements. Our leader had an esky (translation: cooler, coolbox) on the mini bus and was happy for us to store our fresh food in there.
12. Get ready to switch off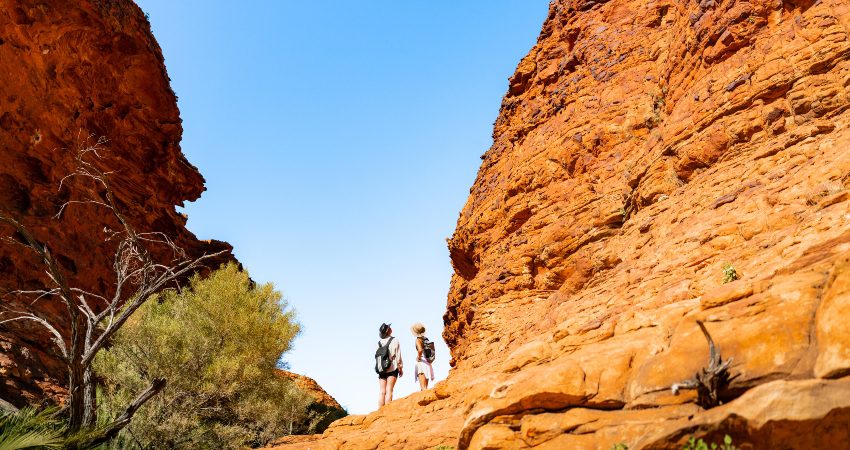 I know it's tempting to spam your friends with endless Uluru sunset pics on the 'Gram, but why not use the patchy phone signal as a rare opportunity to switch off and take a breather from the blue light and notifications. Mobile coverage is poor or non-existent on the Outback roads. You can usually pick up a few bars at higher elevations or in the roadhouses, or wait until you get to the resorts in Kings Canyon and Yulara where the reception is good.
13. It's handy to have cash
Cash… what's that? I know it's old school, but it's handy to have a few notes with you – just in case a roadhouse card machine is down for whatever reason and you could really do with that extra coffee. Local First Nations artists also sell hand-painted tapestries in Ayers Rock Resort and the Uluru sunset viewing area, and it's easier to pay with cash. I bought a beautiful piece from a local man after we did the Kuniya Walk, and I love that I now have a little bit of Uluru hanging up in my living room.
14. You'll meet people from all over the world
One of the amazing things about the Outback is that it attracts people from all corners of the world. You'll be in a roadhouse – in the middle of nowhere – ordering a cuppa, yet you'll hear all sorts of languages and accents. Our guide shared many stories of local icons who visited the Red Centre and never left; there's an allure to it, and I get why.
15. Don't forget a head net
If you want to avoid looking like you're making hopeless attempts at the dab, get yourself a fly net. Flies are rife in the Northern Territory, especially in the hot and sticky summer months. They're not as bad in the cooler months, but you might still want to cover your face if bugs bother you. You can buy a head net in most roadhouses or at the Uluru-Kata Tjuta National Park Cultural Centre.
16. Uluru is the traditional name of the monolith
The Anangu people have always called it Uluru, but you may also have heard it being called Ayers Rock. That's because of an explorer named William Gosse, who was the first non-Aboriginal person to see Uluru in 1873. He named it Ayers Rock after his superior Sir Henry Ayers, the Chief Secretary of South Australia.
The monolith was officially renamed Ayers Rock / Uluru in 1993, but was then renamed again in 2002 to Uluru / Ayers Rock to show respect for the Anangu people. It's best to call Uluru by its traditional name to respect and acknowledge the Anangu's custodianship of the land.
Check out Intrepid's 5-day Best of Uluru & Kings Canyon trip or other adventures in the Red Centre.