"But isn't it just a rock?" If we're gonna get technical about it, Uluru is a sandstone monolith which is defined as a single giant rock. But places like this don't fall within dictionary definitions—not when there are 500 million years of geological history and 60,000 years of First Nations culture to uncover.
I recently returned from Intrepid's Best of Uluru & Kings Canyon trip with self-proclaimed lawyer-turned-funtrepreneur Sarah Davidson – aka Spoonful of Sarah. Sarah's most recent Intrepid adventures were to Antarctica, Morocco and Egypt, so this trip was much closer to home. (Australia's massive, so when I say 'closer', I mean there's *only* 2,300 kilometres between Melbourne and Uluru.) But sometimes exploring your own backyard is just as, if not more, eye-opening than jetting off to far-flung destinations.
I sat down with Sarah to chat about her experience travelling to the heart of Australia.
You've done a fair bit of global travel, so what made you choose the Red Centre?
I've had the privilege of doing loads of global travel, but I realised I've not spent nearly enough time exploring our incredible country. I had the attitude that Australia will always be here, and I can see it whenever. Domestic travel was the only option for a little while during the pandemic, and it was a big wake-up call to what's on our doorstep. It's so beautiful and diverse, and we're missing a huge opportunity by jetting off overseas.
My identity beforehand was very much Melbournian, and the more domestic travel I do, particularly to places like the Red Centre with deep historical and cultural significance, the more I understand and appreciate what it means to be Australian.
Why hadn't you been to Uluru until recently?
I kept saying I would do it later, but that's a non-productive way to approach travel (and life in general). I'd been to the Northern Territory before and I always thought I could go via Uluru, as if it was just a short train ride away. Every time I'd been close, I was still so far away that I would've only been able to do it in a cursory way. It's easy to forget how big Australia is!
The last time I was in Alice Springs, I decided I would plan a dedicated trip to Uluru to give it the credit, appreciation and headspace it deserved. While it's possible to fly in and out for a day or two, I wanted a deeper experience.
What was it like seeing Uluru for the first time?
I was awestruck. I literally had to catch my breath. There are a lot of beautiful places that are grand in scale, but then there are places that are magnetically or energetically different – and Uluru's one of them. I felt quite emotional thinking about the all-knowingness of it and the things it must've witnessed throughout history.
Photos can't capture the scale and how it feels to be there. They're often focused on Uluru itself, but if you zoomed out, you'd see the surrounding terrain is completely flat aside from the neighbouring (and equally impressive) Kata Tjuta—a collection of 36 giant rock domes which are even wider and taller than Uluru. I remember thinking, "How on earth did this gigantic thing get here, and how does it happen to be in the geographical heart of Australia?!" It's mind-boggling. Driving to Uluru from Alice Springs also made me more aware of how random it is.
I've got a photo of people standing at the base like ants with Uluru towering into the heavens above them; I don't think anyone can experience this and not feel amazed.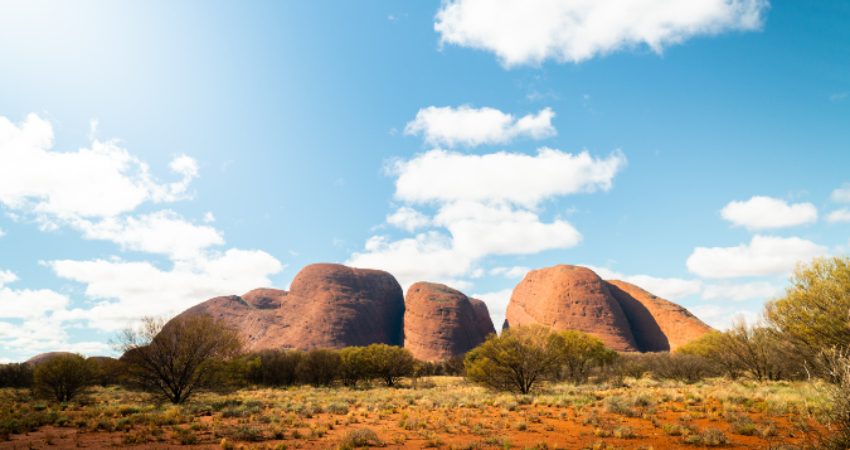 What were some of your highlights of the Red Centre?
It was all so special, but the wow moment was sunset at Uluru. We'd spent the day walking around the base and learning about Anangu creation stories, so I didn't think I could feel more awe inspired. But nothing can prepare you for that red glow. Sometimes things aren't as colourful in real life because cameras can pick up different refractions of colour or photos are brightened up with filters, so it took me by total surprise.
It was brown for ages, and I remember thinking how the red colour on people's photos must've been edited. But then, in a split second, it turned fluorescent red. It was like someone had flicked a switch. We only got a few moments to appreciate it before it turned brown again; the fleetingness of it made it even more special.
Another highlight was the people – not only the other travellers on our Intrepid trip but also those who live and work in the roadhouses and the remote Outback communities. It's fascinating how there are people whose entire world revolves around this mighty rock.
Was there anything that surprised or shocked you?
Most Australians grow up seeing photos and videos of Uluru so we're a bit desensitised to it. We know where it is and (we think we know) what it looks like, so it doesn't feel mysterious. You expect an element of familiarity when you get there which might impact your initial reaction, but I couldn't have been more captivated.
The Outback looks like it's always sweltering, so the cold was unexpected. Even if you've been to the desert before and you know it's chilly in the mornings and evenings, it's weird to wake up and change into your down jacket and a beanie; I almost didn't pack these, but I'm so glad I did!
I was also shocked by the remoteness of the communities that live in the Red Centre. For us city dwellers, 'remote' is usually a country town a couple of hours from Melbourne. But in this case, we'd taken a three-hour flight, driven for two days, and that's where they live.
Why did you go to Uluru with Intrepid instead of organising it yourself?
Immersion is the word that comes to mind. Uluru's one of those places that deserves to be done properly; respectfully. Otherwise you'll rob yourself of the opportunity to really engage with the history, local knowledge and stories passed down through the generations. It could end up being just a rock if you landed, looked and left.
Having a guide who'd lived in the region for 30 years was reassuring. He knew what time we'd need to arrive to see the light reflecting in a certain way or how to reshuffle things so we didn't miss out on anything—the kind of stuff you can't Google. Driving for hours every day also takes up a lot of energy and headspace, so it was nice to sit back and let Graeme, our leader, take care of everything.
I also loved connecting with the other people in our group and seeing Uluru through non-Australian travellers' eyes. This lovely Canadian couple, Jean and Pierette, had travelled across the world to be there, which reaffirmed how it's a pretty big deal.
You could do Uluru yourself if you wanted to, but my favourite parts of all the trips I've done have only been possible because we've been with Intrepid.
Read about Spoonful of Sarah's Egyptian honeymoon with Intrepid
What would you say to other travellers who haven't yet been to Uluru?
It's impossible to know what you're missing until you go, so just do it. I'd be surprised for anyone – particularly Australians – not to feel moved by Uluru in some capacity. Travelling to Uluru felt like the cultural equivalent of a pilgrimage; it connects you to the place we live and our history beyond what we're taught. I doubt many people return from Uluru thinking, 'It's just a rock', but even if you did, it'd still be the most impressive rock you've ever seen.
Sarah travelled as a guest of Intrepid on our Best of Uluru & Kings Canyon trip. If you're keen to discover the heart of Australia, check out Intrepid's full range of Uluru adventures.