On 25 April 2015, Tony Hill was mid-way through an Intrepid Nepal trip – some 2000ft above Namche Bazaar – when the earthquake struck. All of a sudden Tony, who by his own admission is "not particularly well-travelled" and his companions found themselves deep inside a disaster zone.
Tony is a writer from England. He lives in the old coal fields of Nottinghamshire ("where DH Lawrence lived and set many of his books, near Lord Byron's Gothic Newstead Abbey and Robin Hood's Sherwood Forest," says Tony) . He says he's reached a stage in his life where he's become aware of his bucket list, and trekking to Everest was on that bucket list. So he made the spontaneous decision to cross it off.
Last week, Tony left a comment on one of our articles about Nepal that made us think he had a story to tell. We got in touch with him and asked if he'd mind if we sent him some questions about his experiences. He was glad to oblige. Usually with these things, we'd edit the responses down in an attempt to make the piece a more digestible read. But Tony came back with such eloquent replies that we've hardly touched his account at all. And here it is, in all its moving, (almost) unedited splendour:
Tony – what made you want to visit Nepal? Had you visited before?
Everest was the draw; I love walking, nature, the breathtaking scenery of mountainous landscapes, places on earth of power, beauty and majesty that make humans insignificant little clusters of space dust blowing around on their surface.
But I love human history, culture and achievements too, so all in all, spending a few days in Kathmandu, visiting the ancient squares, Hindu and Buddhist temples and shrines and statues, and holy people, before trekking up through the Himalayan valleys to Everest Base Camp seemed like the ultimate adventure to me.
I chose April for my trek as the lower valleys would be Mother Nature decorated with rhododendrons (the national flower of Nepal) this appealed to me, as simple as that.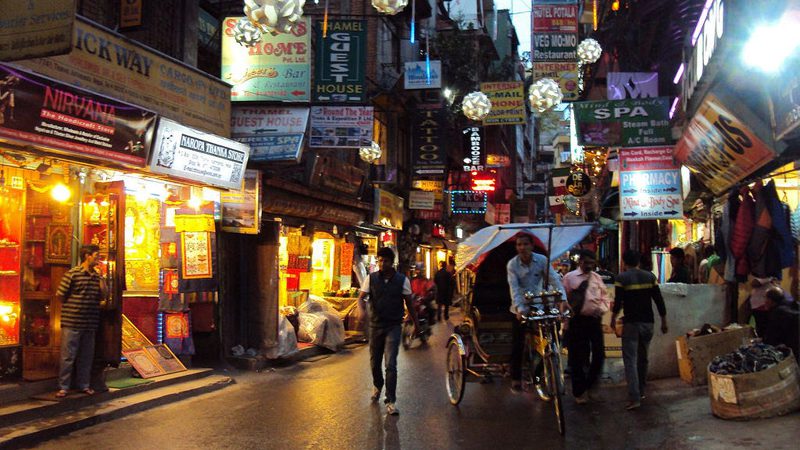 Were you travelling with anyone, or on your own?
I travelled over there alone but knew I'd be meeting up with fellow trekkers from all over the world who'd booked with Intrepid, so was looking forward to that. It turned out that – apart from 2 Thai women, Gae and Suntana – all the group were solo travellers. We all bonded brilliantly within hours of meeting up, and now, after the earthquake, I have a special bond with them, many of us have linked up on Facebook.
When you arrived, what were your first impressions of Nepal?
To be honest, when you drive from the airport into Kathmandu, the first impressions you have is that there is no doubt Nepal is a poor country, you see people living in poverty. Then there's the chaotic weave of vehicles (mainly motorbikes). Yet there is a vibrancy, colour and character to the people that adheres to your heart. And as you head into the city centre and the shops of a myriad wares, and glimpse temples and stupas, amongst hotels and ancient squares, you feel the heartbeat, sight and sounds of a city rich in culture, spirituality and history.
The following day I visited the ancient temples and palace of the old Kings in Durbar Square. A guide told me the incredible history of each building, including the 11th century wooden Kathmandu house; this and many of the others were destroyed in the earthquake just a few days later. I'm haunted about the fate of the people I saw who would have been there every day; like my guide, a little lad feeding the pigeons and the holy man sat in a temple with his wife, he gave me a blessing.
I had a glimpse too of the living goddess, the Kumari (she luckily escaped the earthquake).
Next I went up to the Swayambhunath 'monkey temple,' one of the oldest holiest places in Nepal. There was a moment up there when I was sat in the sunshine, near a golden topped stupa with the eyes of Buddha staring out, and I looked out over Kathmandu and felt a sense of nirvana. That was at around the same time the earthquake struck 3 days later and buried people in buildings up at Swayambhunath.
How many days were you travelling for before the quake struck, and how were you liking Nepal?
On Thurs April 23rd we flew out of Kathmandu to Lukla in the Himalayas, the view from the plane of the mountains is spectacular. There we were introduced to our Sherpa guides, some had walked up to 4 days to join up with us! One, Phurba, a Manchester United fan like me, told me his team also walk for days to play matches.
Following the route of the exquisite, turquoise and frothy white coloured Dudh Koshi river 'the milky river', along an ancient trading route from Tibet, down and up the side of high wooded valley sides, mountains peering down, I was already in paradise; this section alone would suffice as a class walking holiday. The first big wow moment was when a gap appeared in the clouds and I looked up and there was a mountain way on up there. Then we visited a tiny tumbledown monastery up in the valley, on a plateau, and these child monks appeared, magical. So all in all I was already falling in love with Nepal and its people.
You've talked in your comment on the blog about what happened when the quake hit. Would you mind talking about that a bit more? How did you feel when you realised what was happening?
The day had an eerie feel from the off: we went on an acclimatisation walk, about 2000ft above Namche. You're supposed to get the first breathtaking view of the Himalayan giants from up there, including Everest for the first time, but there was a grey blanket of cloud, wet snow was falling. Up on the tops, with spongy rolling grass and wind bent bushes and surrounded by a grey shroud, it felt more like Wuthering Heights moorland in England than being in the Himalayas (it's usually clear in the mornings in April in the Himalayas). We descended back into the mist and were on the outskirts of Namche, and began to walk down a passageway between two high stone buildings when….at first it sounded like the tarpaulin in the grounds of one building was flapping noisily in the wind, but a wind that wasn't there, all our puzzled attention was drawn to it. Then there was a rumble, and the ground began to shake violently.
The two buildings above began to sway and crack, like paper being torn, rubble rained down, it seemed like in slow motion, a film scene. Luckily a small open camping field was directly ahead of us, but the stone side of the café/bar at the edge of this collapsed, a pile of boulders crashing like they were nothing more than sugar grains spilling out from a knocked over bowl (luckily no one was in there at the time), terrifying.
Soldiers from a small nearby garrison ran passed us. Our group had become stretched out up in the hills, so we had an anxious wait not knowing if they were safe. There was great relief when they showed up minutes later. Then we walked back through rubble strewn paths to our teahouse, several buildings were damaged but there was huge relief again that Namche had escaped major destruction, and that no one had been killed. We further realised how lucky we'd been on arriving back at out teahouse, a pile of huge boulders had crashed through the ceiling and were on the beds of two women in our group. If the quake had happened in the night or a few hours earlier or later they would have been killed or badly injured, a chill ran down everyone's spine. At this stage we didn't know of the extent of the devastation in the rest of Nepal.
Our trek leader, Lalit, soon started giving us news of this, around 100 dead in Kathmandu and 1 dead at Everest. I was at the Hillsborough Disaster in England, on that day, as we walked back from the stadium, we heard 6 were confirmed dead at first, by the time we reached the city centre 50 were dead, so I knew that if this was already the death toll, only a few hours after the earthquake, then the number of deaths would be much greater, it felt like ice water had been injected into my veins.
Several of our group also had friends and loved ones out there, Lalit's family lived in Kathmandu, Paul, from Australia, had left his wife and sister at Kopan Monastery in Kathmandu, his sister is a nun there. The Sherpa's families, and Dr Mel had friends in Nepal too. A very worrying time for several hours until connections were made and all were safe, Lalit's home had been badly cracked however.
After the dust settled, so to speak, what was the mood on the ground like?
The fear factor never left us – there were 3 aftershocks in the first 15 hours after the major quake, and on several occasions rumours of an even bigger earthquake than the first was about to happen – but the spirit and bonding in our group was tremendous, Lalit never stopped making phone calls on our behalf, and our Sherpa guides never stopped looking out for us.
The strength, resourcefulness, resilience, and spirituality of the Nepalese people was evident within hours of the earthquake happening. The water was off but Sherpas ran down to the Dudh Koshi river to fill up sizable containers; prayers were said for our teahouse and protection of us staying there; they helped each other out by setting up tented communities. And their kindness and friendship to strangers was always on show. I remember a Nepalese man – who was now living in a tent with his family – started talking to me, he asked where I was from, when I said England, his face lit up, he shook my hand. 'I've trained with the Ghurkhas and the British paratroopers,' he said proudly with enthusiasm. And he was the one who shook my hand, it should have been the other way around.
The children of Nepal always made us smile, so cute, funny and full of life, even after the earthquake. The following day we were all up at the Everest view point, on a small grass bank facing the statue of Sherpa Tenzing, a Nepalese family were down there, they had a little boy, a tiny dynamo dynamite of energy and fun; he ran, jumped, tumbled and rolled in circles around Tenzing, before plonking himself down between and me and a guy called Paul, also from England. Paul has 4 kids and was missing them badly, this little lad starting playing a simple game of flicking stones with him and never stopped laughing, and lifted Paul's spirit, we all fell in love with him.
What were the days following the quake like?
A rollercoaster of incidents and emotions. Things I'll never ever forget. The day after the earthquake, sat up at the Everest viewpoint, watching vultures circling where yaks had been swept off the path by a landslide, the helicopters going up and down the huge valleys to and from Everest all afternoon, bringing back the bodies and injured, then a big aftershock, 6.5, shaking the earth again, a resounding crack up the mountains the far side of the valley as snow and ice crashed down, this happened 3 times.
The sadness and horror of hearing the daily updates about the rising death toll and destruction.
Intrepid organised it for us to be helicoptered out of Namche: the run up to the landing platform, then the helicopter nose diving down into the valley and flying down the valleys back to Lukla. No white knuckle theme park ride will ever match that!
Gae, Suntana and me coming across a little ceremony going on in Lukla, with monks and local people. We asked what was going on and were told that it was a service for a local 17-year-old lad who had been killed in the earthquake. We felt we we're being intrusive and began to walk away, but a woman with a big kettle of fruit tea came over, offered us a cup each and said we were welcome to stay and pay our respects, it was impossible not for the tears to well up, I was deeply moved by that.
The return to Kathmandu: the organised chaos, piles of aid and huge cargo planes coming into land and taking off at the airport; the pockets of destruction, people living in tents everywhere, the sad stories. But also already seeing shops back open and trading, people engaging in light hearted banter, laughing again, and thinking nothing will stop these amazing people in getting back on their feet.
Then temporarily experiencing spiritual healing: Aussie Paul was being reunited with his nun sister and wife up at Kopan Monastery and kindly asked if I would like to visit. Whilst I was there I met the visiting Lama Zopa Rimpoche, he took me by the hands, giving a blessing. Then I watched him sat under a tree in the illuminated gardens, with monks, young and old, gathered around him, as he lead prayers, mantras and chants for those lost in the earthquake, the moon and stars shining above and down below the lights of Kathmandu were back on after days of power-cuts. That was a beautiful and heart wrenching moment.
On returning home you must have felt relieved, emotional and, I imagine, a bit helpless. But out of it all, what were some of the most important lessons you learned through the experience?
I found it difficult adjusting to life back home for a while, guilt at not being out there helping out in some way. I had a kind of shell-shock for several weeks. People don't realise how many aftershocks there have been, this has a psychological effect, but I was out of that and the people of Nepal were having to continue living with it, with the monsoons approaching. The second big quake on May 12th galvanised me into action, Lukla was badly damaged this time and the home of the family of one of our Sherpas, so I started a fund raising campaign, the least I could do. All of our group raised money for the earthquake appeal and spread awareness of the disaster, in the best way they could.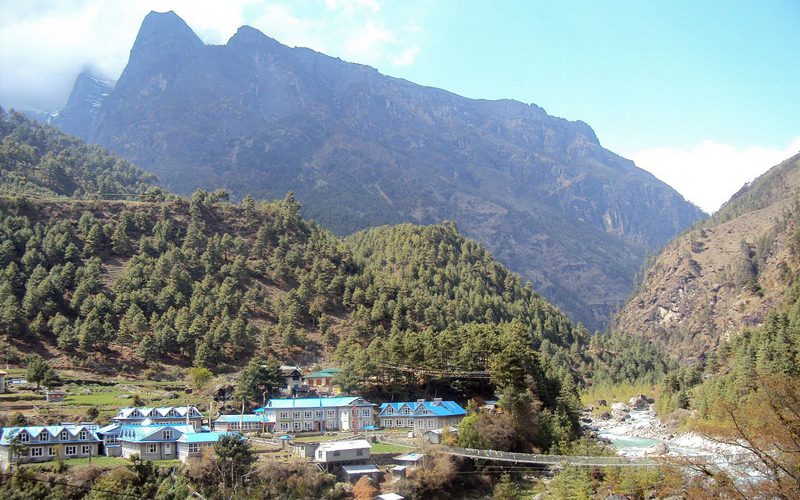 What lessons have I learned? That human life is beautiful but fragile, transient, a game of chance, we're in the hands of fate, or some god if that is your belief, that Mother Nature, and not humans, has the real power, the Gaia Theory. We're lucky to spend a short amount of time on a precious blue jewel spinning is the vast void of space, so why are we still killing each other and ruining the planet? Why does it take a disaster for United Nations to become just that? But this message from the Dalai Lama on a wall at Kopan Monastery says it better than me:
'We are visitors on this planet. We are here for one hundred years at the very most. During that period we must try to do something good, something useful, with our lives. If you contribute to other people's happiness, you will find the true meaning of life.'
Do you have any plans to return to Nepal in the future? And what advice would you give to those who are considering a trip to Nepal now?
I would love to return to Nepal and would have no hesitation in doing so. The country needs tourism so the economy can thrive and the people can rebuild their lives. The paths in the Everest region weren't too bad even in the days after the earthquake and are now cleared. If you want to experience breathtaking beauty, in terms of landscape, go to Nepal, if you want enlightenment and an example of human nature at its best, go to Nepal.
Feature image c/o Edward Dalmuder, all other images c/o Tony Hill.
Feeling inspired?