I came to Europe for Dubrovnik but I left with my heart in Sarajevo.
Sorry for the travel cliché – believe me, I'm not normally one to use them (at least not out loud). Sarajevo just gave me such a profound travel experience, I think a little "cheese" is only fair.
The capital of Bosnia and Herzegovina is so much more than just that. It's where East meets West, where mountains meet city and where tradition meets modernity. But it's the tragic parts of its past that have shaped how Sarajevo is today. It's these qualities – like Sarajevan's dark sense of humour – I came to learn and appreciate on my 15-day Balkan Adventure tour.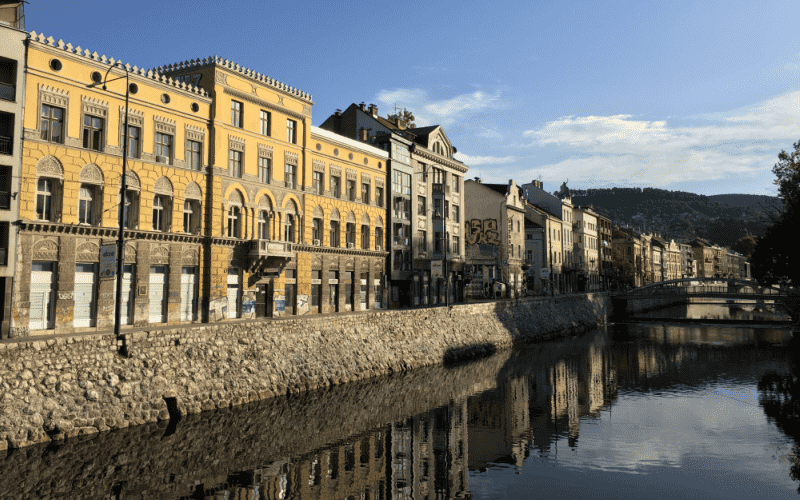 And so, I developed a teenage-like crush on Sarajevo that I don't think I'll ever get over. Here are 5 reasons why I think you'll love it too.
RELATED READ: 4 BENEFITS OF VISITING THE BALKANS ON AN INTREPID TOUR 
East meets West charm
Our guide in Sarajevo, Muhamed, stopped and told us to look down. We were standing on the "Meeting of Cultures", the spot where the Austro-Hungarian and Ottoman cultural influences merge. The west's tall, pastel-hued buildings abruptly end and east's short buildings with red-tiled roofs begin – contrasting yet harmonious.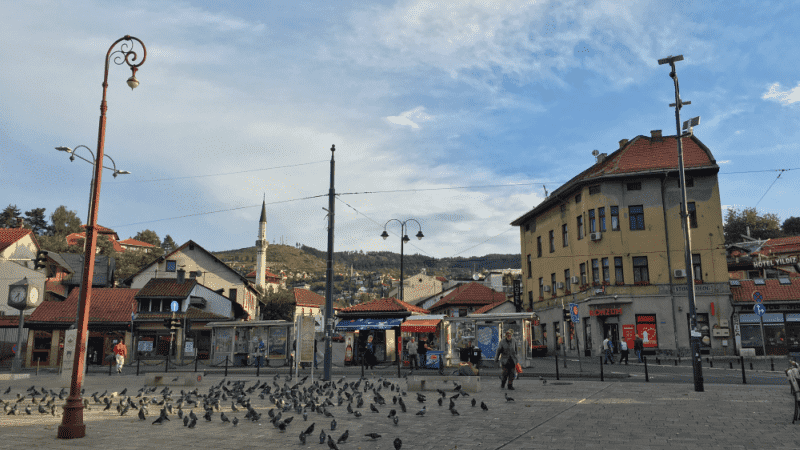 Sarajevo is one of few cities you can walk to a Catholic church, Orthodox church, synagogue and mosque in a day. There are hookah bars and craft breweries, Turkish coffee and vanilla lattes, 500-year-old markets and modern shopping malls. Sarajevo has the best of both worlds (literally).
VISIT SARAJEVO ON OUR CLASSIC BALKAN ADVENTURE TOUR 
Eat seriously delicious food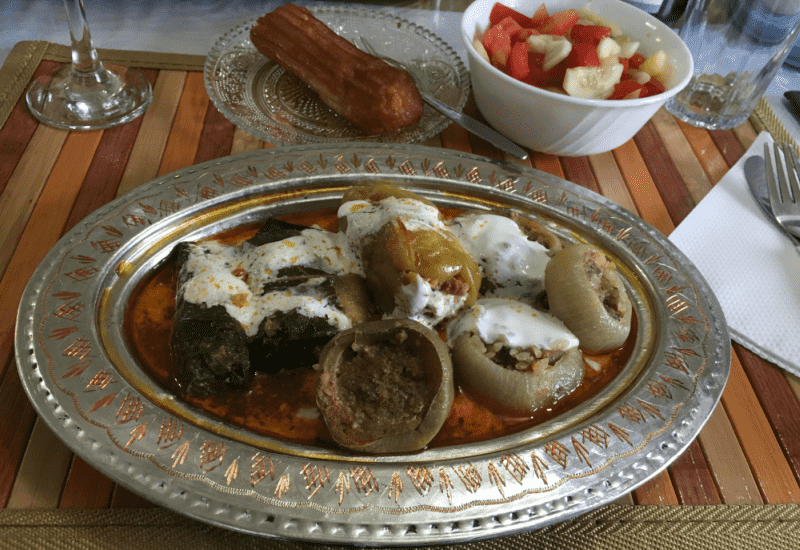 If you're travelling in Sarajevo, you'll never go to bed hungry – trust me. There are just so many delicious things to eat, from hearty ćevapi to flaky burek.
My Intrepid group stayed in a guesthouse – something I highly recommend doing if you're in Bosnia & Herzegovina – and we were treated to delicious breakfasts and a cooking class ran by the wonderful women who were hosting us. We made sarma (stuffed cabbage rolls) and punjena paprika (stuffed peppers), and it was one of the tastiest meals I've ever eaten. And I've eaten a lot in my lifetime.
CHECK OUT OUR 12-DAY FOOD TOUR IN THE BALKANS 
History that even non-history buffs will get into
Where are my fellow history nerds? Sarajevo is our paradise. As if the clashing Ottoman and Austro-Hungarian empires isn't interesting enough, Sarajevo is where World War I all began. Well, sort of. It's where Bosnian-Serb Gavrilo Princip assassinated Archduke Franz Ferdinand of Austria. (A.k.a. what sparked a domino effect that led to Austria-Hungary declaring war). And yes, I was absolutely elated to visit that fateful intersection.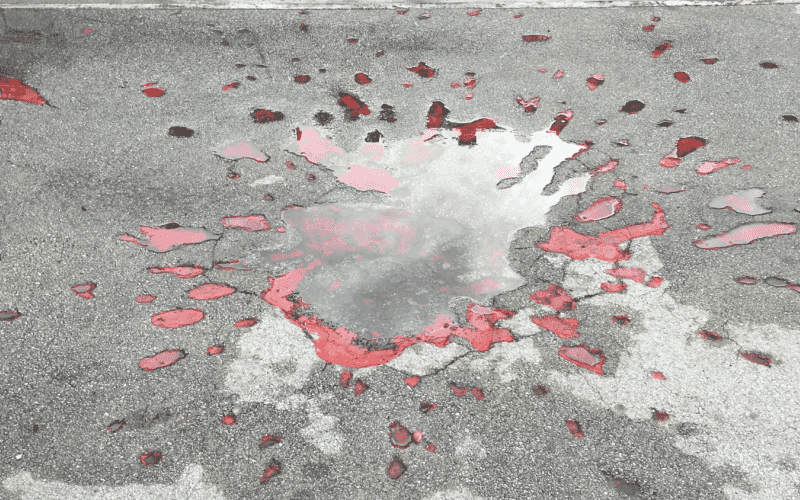 But Sarajevo also harbours some darker memories of war, including WWII, and more recently, a 4-year siege during the war in the 1990s. On an Urban Adventures day trip, we had the honour of hearing Muhamed's personal experience when he was only 10-years-old during this time. It was so much more impactful learning about it firsthand.
While Sarajevans have kept their spirits high through the tragedies, they kept reminders around the city like "Sarejevo Roses" (see above), a concrete scar from a motar shelling and the Eternal Flame, an ever-burning flame in memorial to the victims of WWII.
SUBSCRIBE TO INTREPID'S NEWSLETTER FOR TRAVEL TIPS, COMPETITIONS, GIVEAWAYS & MORE
Be welcomed with open arms
As a solo traveller, safety is an important consideration for me. Well, it's mainly for my mom's peace of mind (classic parent, right?). During my time in Sarajevo, I felt safe the entire time. Travelling with a group contributed to that sense of comfort, of course.
Having both my Intrepid leader, Dinko, and my Sarajevo guide, Muhamed, able to share their language, street sense and expertise was great to start me off on the right foot. But much of my free time exploring there, I did alone. From our kind-hearted guesthouse host to friendly staff that chatted with me at a local café, I felt a sense of hospitality in Sarajevo that was just so pure and genuine.
RELATED READ: 7 REASONS WHY YOU SHOULD VISIT BOSNIA & HERZEGOVINA 
Hub for exciting day trips
To be honest, I could spend my lifetime in Sarajevo – just sitting in cafes, wandering its peaceful streets and eating my bodyweight in burek. But why would I anyways when I could also explore some of the incredible spots nearby too?
Here are some of the awesome trips I did from Sarajevo:
Explore Mostar – About a 2-hour drive from Sarajevo is the enchanting town of Mostar. Known for its immense Ottoman-empire bridge, Stari Most, you'll also find Bosnian restaurants, trinket shops, mosques and incredible scenery. And if you're lucky, you may even see Mostar's famous divers. I visited Mostar on my Intrepid tour, where my leader showed us the best spot to get that perfect bridge shot (see above).
Visit the Tunnel Museum – Just outside the city centre is a museum that offers an intimate look into life during the Siege of Sarajevo. A tunnel was built to carry supplies into the city for civilians, and today, you can visit the house used literally as its cover. Though the actual tunnel ran underground for about 960m/3,150ft, visitors can experience a small section of it, all while learning about the events that surrounded this historic site.
RELATED READ: 14 UNDERRATED NATIONAL PARKS YOU SHOULD VISIT IN EUROPE
Walk the abandoned bobsled track of '84 Olympics – This was one of the coolest things I did on my entire trip in the Balkans thanks to my local leader, Dinko, who took us on this impromptu pit-stop. In a few short words, Sarajevo hosted the Olympics in 1984, the Bosnian Serbs used the grounds as a hub during the siege and today it's covered in an epic stretch of graffiti art.
Watch some football (soccer for us, North Americas) – So this one was technically within the city but we did have to take a cab there! Muhamed and Dinko brought us to a game played by two national leagues of Bosnia and Herzegovina. It was such a fun outing with my Intrepid group. Can't get much more local than a good ol' fashioned sporting event, right?
Want to have as dreamy a trip to Sarajevo as I did? Check out our 15-day Balkan Adventure tour. 
—
(Image credits: All photos taken by Libby Shabada.) 
Feeling inspired?