When you hear the phrase 'Russian food', the next thought isn't exactly 'haute cuisine'.
In fact, before I went to Russia myself, the extent of my experience with Russian cuisine was pretty much relegated to the stereotypical visions of borscht, caviar and vodka; the stuff that 1980's Cold War spy movies are made of.  But that's not the Russia of today.
Today you see much more diversity where what you can find to eat is strongly influenced by a combination of tradition, climate, and neighboring ex-soviet states, therefore providing you with a much richer tapestry of culinary delights than what you may normally expect.
JOIN US ON A 10-DAY REAL FOOD ADVENTURE AROUND RUSSIA NOW – DETAILS HERE
Arriving into Moscow before meeting my Intrepid Travel group for a 10-day Real Food Adventure, I was taken by the sheer size of the city. This modern giant was cool, sleek and went on for miles in every direction. I was taken in immediately by the limitless opportunities of this megalithic and opulent city. European, Ukrainian, and Georgian restaurants dotted the street corners, but for our first meal, we opted for traditional Russian: dumplings, including a black cherry-filled chocolate variety. It was only scientific to try them all – no dumpling left behind.
As with any big city on the world's stage, Moscow doesn't disappoint. The wide boulevards are European in feel, and littered with people from all over the world; everything is just so – from the manicured parks and building facades, to the vast network of underground palaces disguised as metro stations. Everywhere you look in Moscow, you're surrounded by larger-than-life splendor.
EXPLORE OUR FULL RANGE OF SMALL GROUP ADVENTURES AROUND RUSSIA
Making the journey from Moscow to Suzdal was like stepping back in time. As one of Russia's oldest towns, it was bypassed by the Trans-Siberian Railway in favor of neighboring Vladimir and, as a result, has still kept its bucolic charm. It's home to charming wooden houses, UNESCO-protected churches and monasteries, and a sense of traditionalism that's reflected in the local food and drink.
Russian mead, or medovukha, has a long-standing history in Suzdal. It's a fermented honey drink (with the approximate alcohol content of wine), that's flavored with a variety of local fruits and herbs. A litre will set you back about $2. Walking through the central market in town, you're confronted with babushka-laden grandmothers selling their cloudy home brews.
Instead of playing gastronomic roulette in the square, we tried a variety of flavors at a local mead hall instead. I had expected an overly sweet, cloying taste but was pleasantly surprised to find that the flavor was more sour-sweet and refreshing than anything else. And while spending the afternoon with the mead-making ladies – who enthusiastically poured us tasters of every flavor – sounded like a great idea, we needed to make our way to a home-cooked meal with a local family. With an extra bottle in hand to give our hostess as a gift, our group departed for dinner.
Our Intrepid leader told us to come hungry, and it was a good thing we did, because a feast of grandma's home cooking awaited us. The table was laid with homemade pickled vegetables from the back garden, freshly baked breads and pots upon pots of bubbling soups and gravies to adorn our plates of rustic, stick-to-your-ribs comfort foods, next to the three bottles of home-made flavored vodkas meant to wash it all down.
RELATED: WHAT TO EXPECT ON A REAL FOOD ADVENTURE AROUND JAPAN
And just when you were ready to fall into a lazy food coma, grandma swept us all up and onto our feet for an impromptu dessert-making lesson. She had us cutting and rolling pastries, slathering them with butter and sugar, before puffing them up in the oven. She laid the hot pastries out in front of us, covered in a snowy blanket of powdered sugar, and at that moment I understood how people survived the cold winters in Russia.
From the quaint streets of Suzdal, we returned to the bustle of Moscow to catch our overnight train to Novgorod. With our limited time in Moscow, we hit the local markets to stock up on treats for the 12 hour journey that awaited us. So we did what any self-respecting traveler would do – we looked for the weirdest versions of Western food we could find, and the local shops did not disappoint. Laden with burrito-flavored potato chips, peculiar meat nubs that vaguely resembled beef jerky, and pots of pizza-flavored noodles (along with a few 'healthy' granola bars), we made our way aboard.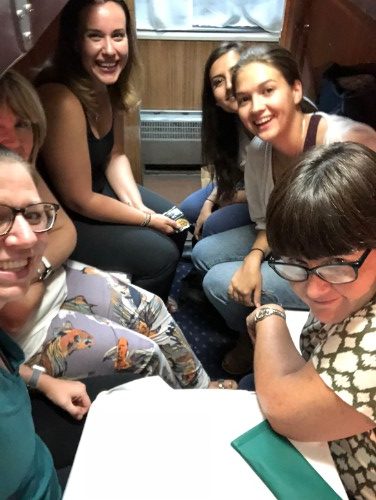 A TRAVELLER'S STORY: ALL ABOARD THE TRANS-SIBERIAN EXPRESS
After being lulled to sleep by the constant rocking of the train, we pulled into Novgorod at first light for a quick stop in the city that was the birthplace of Russia. Following a quick stop at a local banya (a Russian sauna), we headed north to the jewel of Russia: St Petersburg.
Walking down the streets and canals of St Petersburg, you immediately forget that you are in Russia. It feels like you're in Venice, and Paris, and Amsterdam. There are canal boats everywhere, giving the city a different sort of hustle and bustle, with a softer imperial backdrop than Moscow has to offer. After a leisurely afternoon stroll along the canals and through the Summer Gardens (which were, as legend has it, personally designed by Peter the Great after a visit to Versailles), we had worked up quite an appetite, making it the perfect time to have a Russian Tea Party with a local family in their home just outside the city.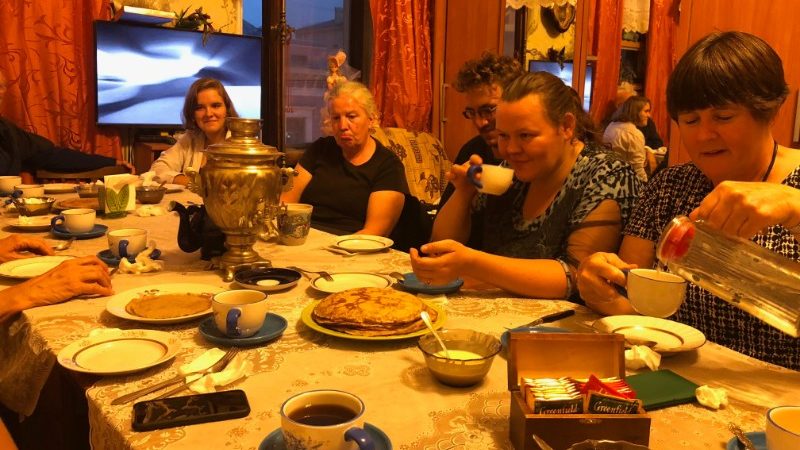 We made our way to our hosts' kommunalka flat, harkening back to the traditional Soviet-Russian way of living after the 1917 Revolution. The flats used to be elegant, single family dwellings, but now house up to five individual families who share their cooking and bathroom facilities. In the recent past, these families have been given the opportunity to purchase their "rooms" to either expand their footprint within the flat itself, or to rent out and use as another source of income. Our hosts did just that.
SUBSCRIBE TO INTREPID'S NEWSLETTER FOR TRAVEL TIPS, COMPETITIONS, GIVEAWAYS & MORE
In addition to her "day job" as a seamstress, Svetlana and her husband Alexander are able to use their second room as a rental property, until their teenaged daughter was old enough to occupy it with an eventual family of her own. She explained this to us as she was laying out an endless stack of pancakes and tea that she prepared for us in the flat's communal kitchen. In a room with only four burners, Svetlana was able to fill the table with tasty, traditional treats. While her husband poured piping hot tea, Svetlana and her daughter taught us to roll the thin crepe-like pancakes like the locals did, filling them with homemade lime jam, tangy yogurt or condensed milk. We stumbled home, our bellies full, with the thought of a "proper" dinner far in the distance.
Our last and final day in St Petersburg was filled with canals and art, churches and mosaics, Faberge eggs and ballet; all of the things one would expect to be part of a "must see" list for the city. However, the real highlight was our final meal together – the tasting menu at Cococo (please note, this is not included in the tour). As a mecca for modern Russian cuisine, the most interesting part of Cococo's story is that it was one of Russia's first "farm to table" restaurants, founded by a local punk band's frontman and his wife. I'd be lying if I said that I had heard of it myself but can only credit the late-great Anthony Bourdain for its discovery. When we mentioned this to our local leader, she was taken aback that we knew so much about this legendary local restaurant.
And while the ingredients used are commonly known and used throughout Russia, the preparations are what have made people take note. Not every day do you begin your meal with a salmon ice cream cone, followed by pickled cucumber soup with chicken hearts. Or eat a deconstructed, broken edible flowerpot constructed of various dessert items. It was a unique experience, truly encompassing the wide net that St Petersburg casts, from traditional homemade pancakes that every family eats, to a very modern interpretation of those same every day ingredients.
Visiting Russia isn't just about the history, or the food, or the art, or the people. It's about how all of those things, and much more, weave into a complex tapestry that makes Russia what you see, smell, taste and experience. Looking back on my time there, I'm not reminded of the miles upon miles I walked every day, or the fascinating historical tales, but about how everything in Russia is interconnected – the churches, the art, and the food are all rooted in tradition that is still evident, from the shiny streets of Moscow, to the quaint roads of rural Suzdal, making a visit to the world's largest country as rich and multi layered as possible.
Ready to eat your way around Russia? Join us on our 10-day Russia Real Food Adventure now. 
All images by Carolyn Okon. 
Feeling inspired?