From vintage cars to hand-rolled cigars, Cuba is a country with as many icons as it has gems to explore. Unfortunately, it's also a country that's often misunderstood. Many travelers don't get the chance to delve into the real Cuba.
But upon visiting Cuba with Intrepid, I feel like I was able to really discover its magic for myself. To meet the people, to experience the culture, to see why it's so unlike anywhere else. And so I've put together this handy guide to the top places to visit there so you can get a snapshot of Cuban life and a feel for what the country is really like.
1. Havana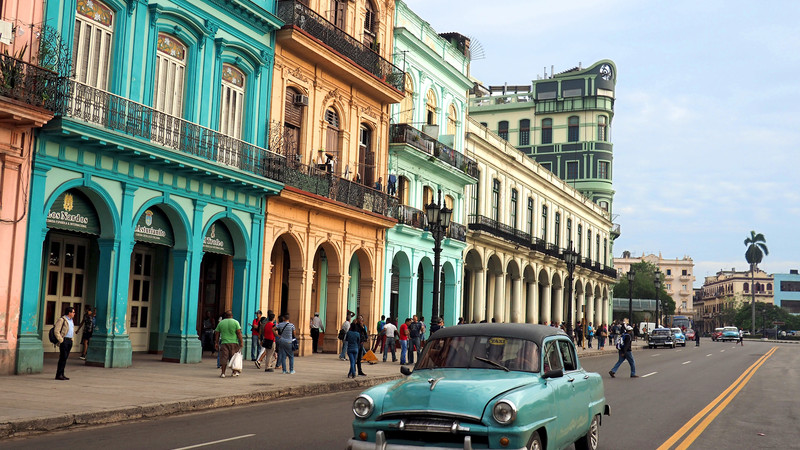 Naturally, Havana is on any list of must-sees in Cuba. With a number of flights from hub cities (including some from the US now) flying directly there, it's easier than ever to visit Cuba's capital. Perhaps best known for its charming "stuck in time" feel, Havana is at once surprising and familiar. The streets of Old Havana are filled with 16th-century-style buildings and vintage American cars.
While you're here, you can't miss a walk along the malecon (sea wall), a visit to the Museum of the Revolution, and a stroll past – or a mojito in – the bars that Ernest Hemingway used to frequent, La Floridita and la Bodeguita del Medio.
READ MORE: HAVANA HAVE-TOS, YOUR GUIDE TO CUBA'S CAPITAL
2. Las Terrazas
Get out of the city and into nature in Las Terrazas. This small community and nature reserve is located about an hour south of Havana. It covers over 5000 ha of reforested land planted on terraced hills (hence the name) and has been a UNESCO biosphere reserve since 1984. The community itself is made up of about 1,000 inhabitants who are farmers, artists, musicians, guesthouse owners and more.
Even amidst dogs yapping and roosters crowing, there is a sense of peace as people go about their days here. The area is open to tourism and has hiking trails that lead to peaceful swimming holes, restaurants, a restored coffee plantation and a zip-line that stretches over the community itself.
SUBSCRIBE TO OUR NEWSLETTER FOR TRAVEL INSPO, GIVEAWAYS, COMPETITIONS & MORE
3. Vinales
The town of Vinales is a can't-miss spot for culture in Cuba. Although it has become more touristy in recent years, its old-world charm remains. The landscapes of Vinales are picturesque to say the least: from the rounded limestone karsts, to the fields of tobacco plants, to the streets lined with brightly-colored houses, point and shoot in pretty much any direction, and you'll get a fabulous photo.
While you're here, you must try a freshly-rolled cigar – even for non-smokers like me, it was a cool and uniquely Cuban experience (read more about it here). Other things do in Vinales include cycling through the beautiful hills, taking a salsa class or simply sitting and watching life (and horse-drawn carts) go by.
RELATED READ: WHY YOU CANNOT HELP BUT FALL FOR VINALES
4. Playa Giron (Bay of Pigs)
Playa Giron is a beach and town on the east side of the Bay of Pigs, notorious for being the site where the landing of U.S. sponsored counter-revolutionary exile militia occurred in 1961. Its main attraction is the Museo Giron where you can see tanks, planes and other artifacts from the conflict and learn more about the Bay of Pigs invasion.
If you're into marine life, check out the diving and snorkeling while you're here as well. There are good dive spots off the coast and sunken cenotes full of tropical fish.
CHECK OUT INTREPID'S RANGE OF SMALL GROUP ADVENTURES IN CUBA
5. Cienfuegos
Cienfuegos was my Intrepid group's favorite spot on our tour. It helped that we had amazing, sunny weather the day we visited, but rain or shine, you're sure to be taken in by this southern city's charm. Settled by the French in 1819, Cienfuegos's architecture still reflects this today.
Be sure to go for a stroll down its wide streets, visit the Plaza de Armas to see the monument to Cuba's national hero, Jose Marti, admire the art galleries all around it, and people watch on Paseo del Prado, the longest boulevard in Cuba. For sweeping views of the sea and the city, I recommend hiking up to the top of a tall building or enjoying a drink on a rooftop patio.
READ MORE: WHAT IT'S LIKE ON A CUBA TOUR (FROM SOMEONE WHO'D ONLY BEEN TO ALL-INCLUSIVES THERE)
6. Trinidad
If I had to narrow this list down to one place you absolutely must visit in Cuba, it's Trinidad. It's got a little bit of everything: culture, nightlife, beaches and more. It's one of Cuba's best-preserved towns and everywhere you look, you'll see charming cobblestone streets lined with pastel-hued houses. Pay a visit to one of the many museums or take a day trip to the white-sand beach of Playa Ancon or Topes de Collantes, a national park with great hiking. There are some truly beautiful beaches in Cuba, not to be missed.
After a day of sightseeing, the best way to cap off your visit is with a night on the town. Head to the Casa de la Musica – an open-air bar in the middle of town. They have a live salsa band every night, so you can watch the locals jive while sipping a chilled Bucanero beer or a freshly muddled mojito.
RELATED READ: HAVANA WHO? WHY TRINIDAD IS CUBA'S REAL STAR
Feeling inspired to visit these incredible places for yourself? Check out all our Cuba trips.
—
(Image credits from top to bottom: Intrepid Travel x2, Rebecca Shapiro, Intrepid Travel, Shayna Zand, Christina Campo, Intrepid Travel) 
Feeling inspired?