Travelling along the Trans-Mongolian railway was never a dream of mine. I never sat and longed to be hurtling through Siberia aboard a poorly air-conditioned train. I experienced no episodes of yearning to travel from Moscow to Beijing (via Ulaanbaatar) on the rails. Much less did I feel any inclination to be confined to a train cabin for several days at a time. Sod that. 
But then, one day (probably around this time last year) I stopped and thought about the enormity of the Trans-Mongolian railway for a moment. My thought process went thus: "Hang on, you can actually travel 7900km, from St. Petersburg to Beijing, on a train? And that train travels through three countries along the way?" And that's how the seed was planted.
Aside from task of travelling half way across the world, overland, by train, the thought of visiting Russia, Mongolia and China in one fell swoop began to appeal too. After all, they're no three regular countries. Somewhere between thinking about the communist histories (and in China's case, the communist present), the wars, the ballets, the temples, the countryside, the throat singing, the dumplings, the vodka, the gers, the horses, the views, the borsch, the Kremlin, the Forbidden City, the rickshaws and everything else, I made up my mind. I had to get on the Trans-Mongolian railway.
So, with my girlfriend in tow and my camera in hand, I made metaphorical tracks for St. Petersburg and then literal tracks, courtesy of the Trans-Mongolian railway, to Beijing. As you've likely guessed by now, there were no shortage of photo opportunities along the way. This is by no means a comprehensive guide to everything I saw (and it doesn't cover off everywhere we stopped and stayed), but it should offer some idea of the kind of things the Trans-Mongolian has to offer.
St Petersburg
The Church of Our Saviour on Spilled Blood is probably one of the most epic churches I've ever seen.
This street in St. Petersburg provided me with the first lavender coffee I'd ever tasted, a damn fine cherry pie, an extremely delicious kebab, and this photograph. What a good street.
The Church of Our Saviour on Spilled Blood looks good at dusk too.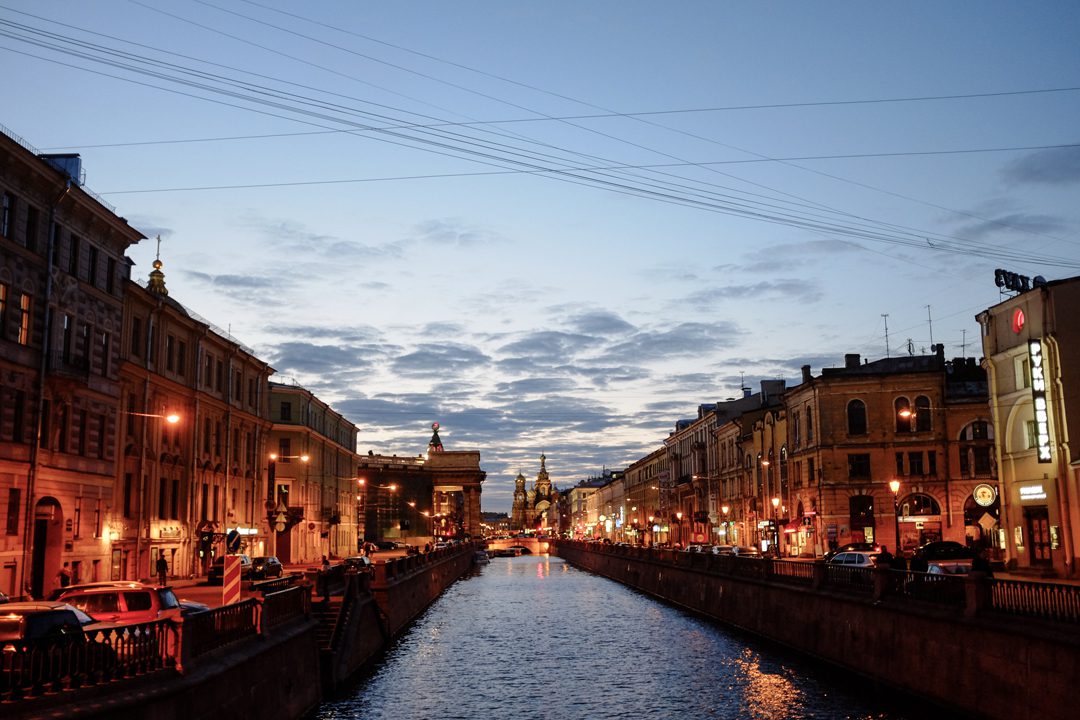 Suzdal
Our first overnight train took us from St. Petersburg to Suzdal, a town set back 35km from the train track. Its distance from the rails meant that the soviets didn't bother travelling to Suzdal to knock down its churches. The result is a town that looks a little like it's frozen in time. A true Russian spectacle.
This woman was hand-making these embroidered broaches. I bought one for my grandmother, because I thought she'd like it. And I just remembered that I forgot to post it to her…so I'll do that now…
Moscow
Moscow's Red Square is a sight to behold. Between the State Historical Museum (pictured), the Kremlin, Lenin's Masouleum, the GUM department store, and St. Basil's Cathedral, the place is a veritable open-air museum of Russian history.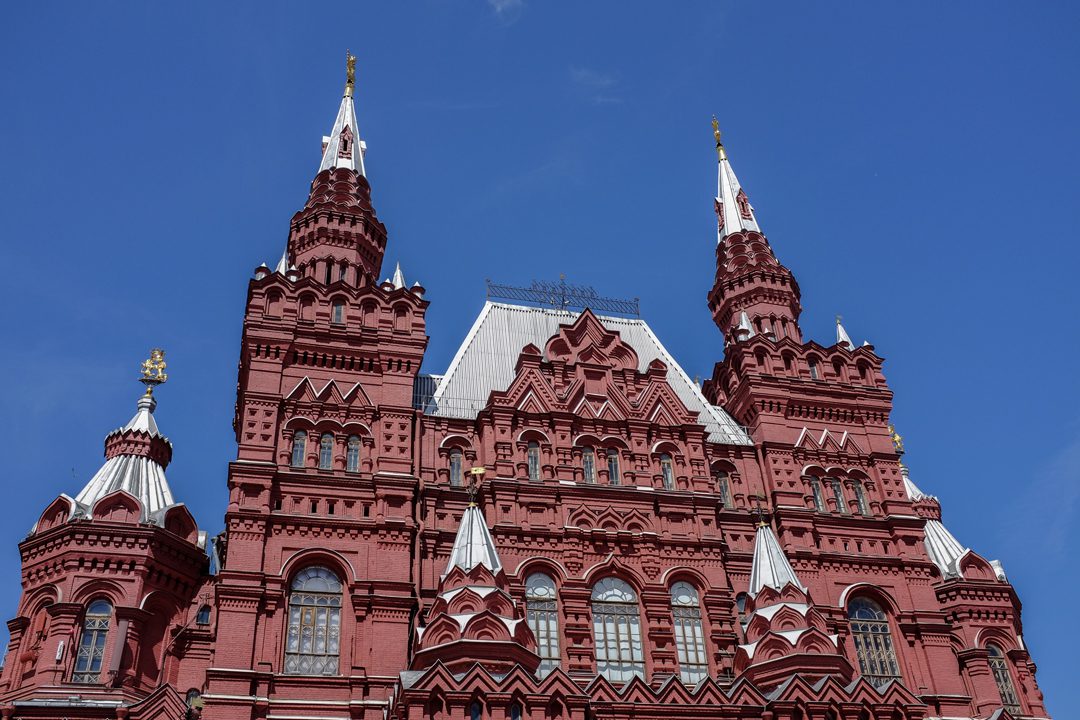 Inside the Kremlin you'll find more Russian-looking buildings and, inside the armoury, more Russian history than you can shake a bottle of vodka at. Here's the Cathedral of the Dormiton (completed in 1479) where all the tsars were crowned. Impressive, isn't it?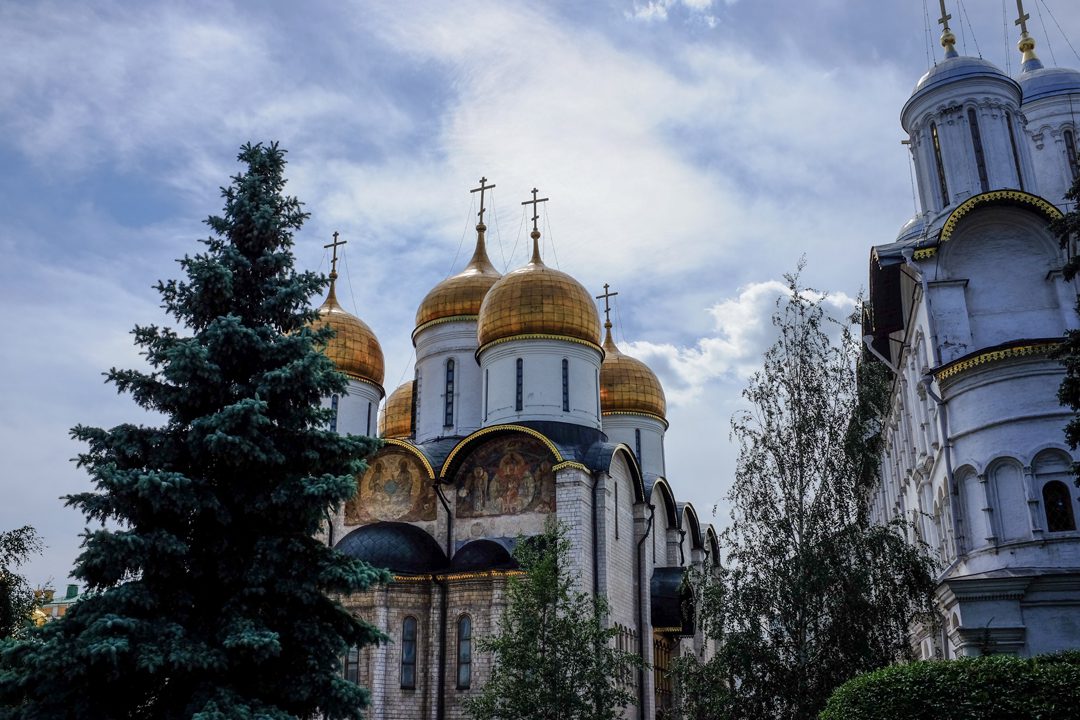 Step into Moscow's Hamleys toy store – the largest Hamleys in the world – and head straight to the top floor for views like this over the city.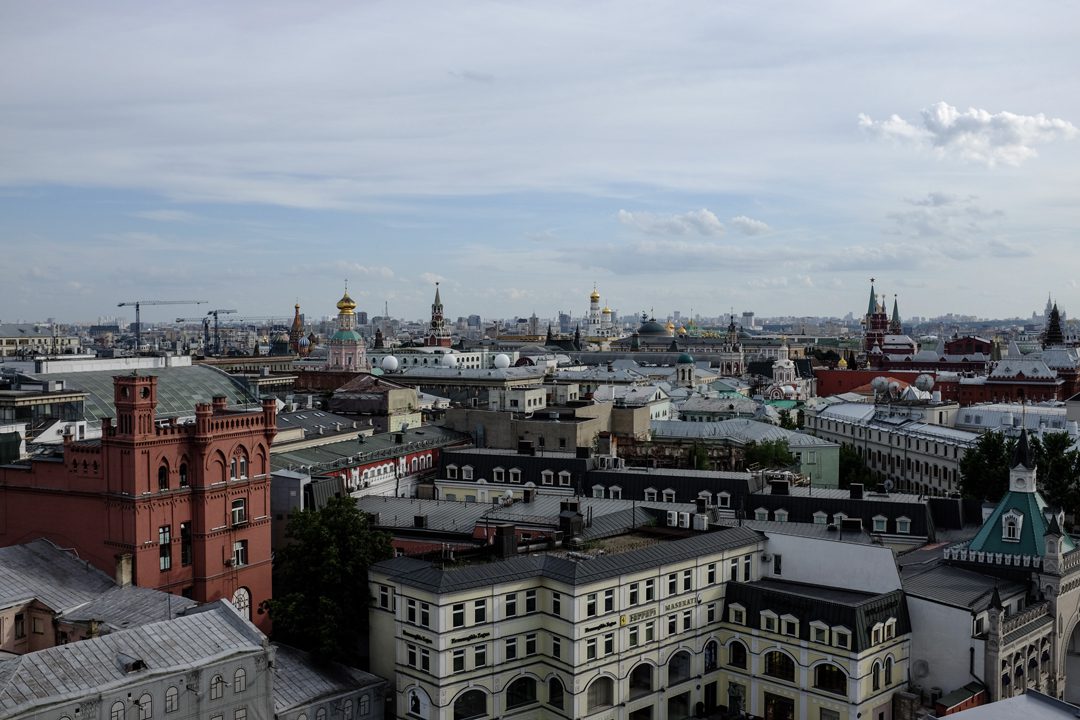 I saw this streetside stall and thought the colours and lines looked nice, so I took a photo of it.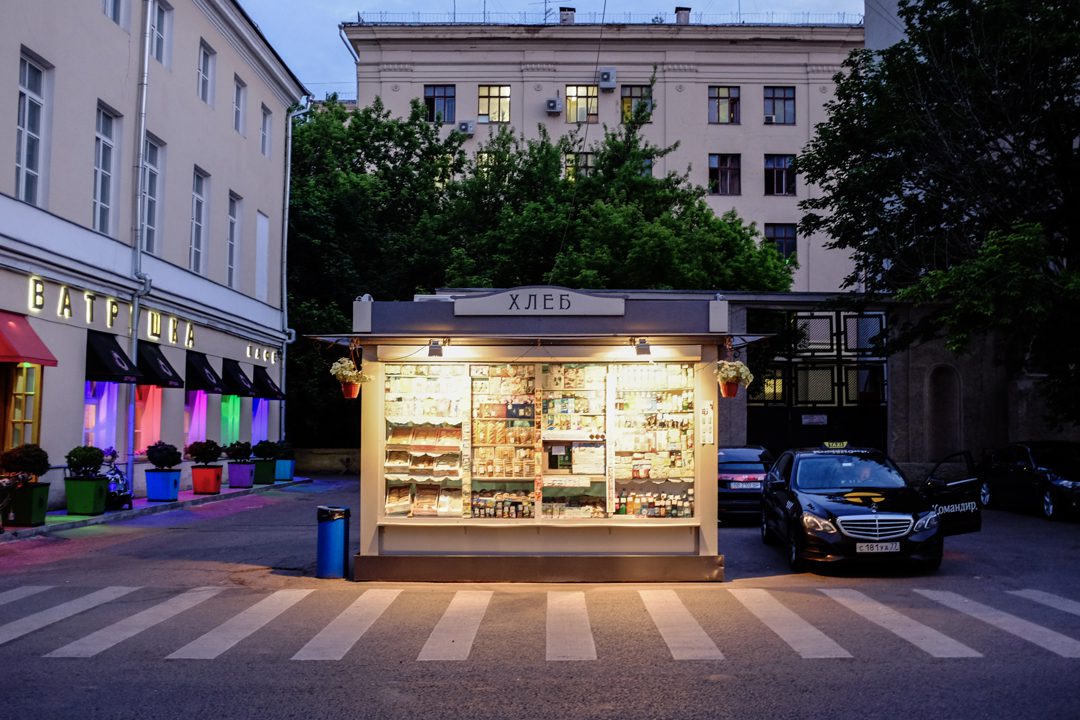 Experiencing The Red Square at night is essential for anyone visiting Moscow.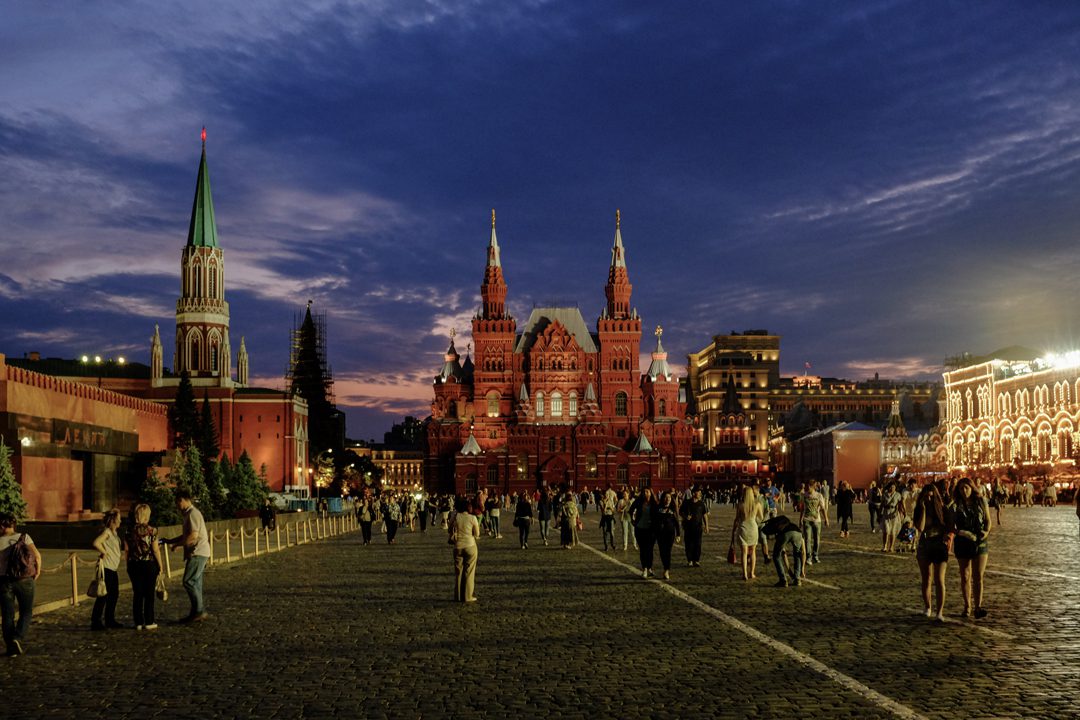 Moscow – Lake Baikal
From Moscow, we jumped on the Trans-Mongolian railway for four consecutive days and headed for Lake Baikal, all the way over in eastern Russia, near the border of Mongolia. Here's Janna and our tour guide, Ksenia, looking pretty chipper.
Life on the train consisted pretty much of eating, drinking, talking, reading, sleeping and gazing out the window. For the first day or so, we felt a bit restless. But we soon settled into the rhythm and began to enjoy the simplicity of having very little to do. Pro tip: buy dill and mint from the station sellers along the way to freshen up your drinks, soups and other meals. Staring down the barrel of four days of eating little else but mushroom soups and noodles, I was thankful to have fresh dill to chuck in everything.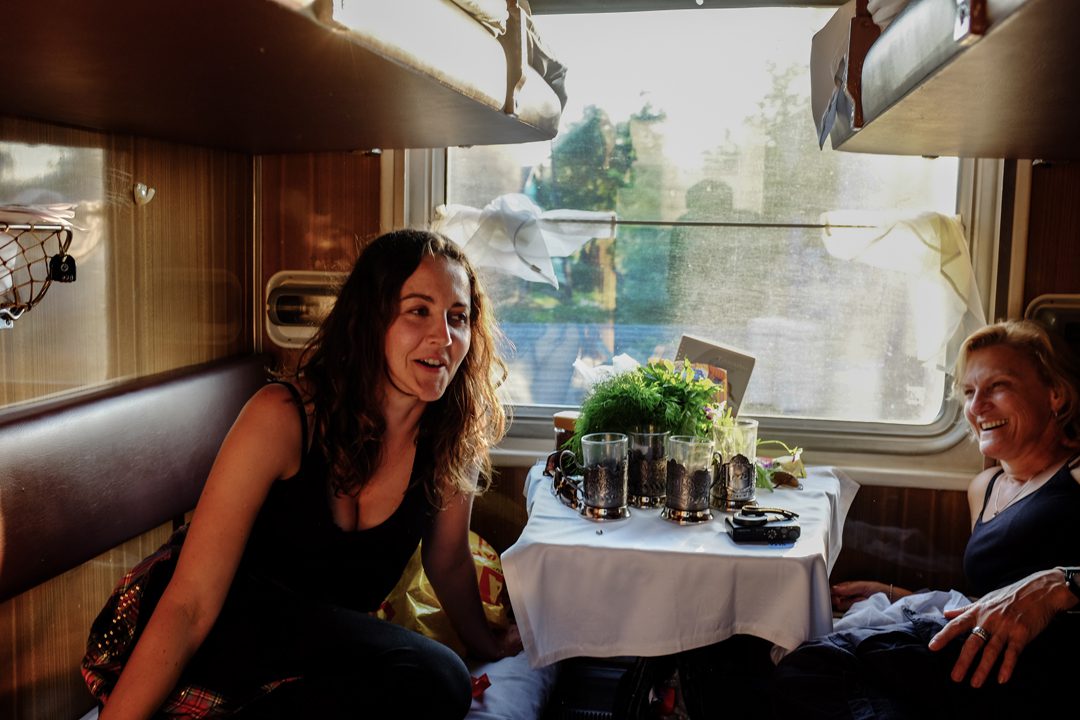 Here's me, having a good gaze. As you can probably tell, I didn't take this photo.
We arrived after four days on the train (and a two hour drive from Irkutsk station) to our homestay in the village of Bolshoye Goloustnoye, on the shores of Lake Baikal. Our hosts were some of the kindest and most hospitable people I'd ever met. Here's Michael milking one of his cows in the yard before dinner. Doesn't he look like a Siberian Robert Deniro?
Did you hear the one about the time I wound up naked in a shed whilst getting beaten with birch leaves by a Siberian bloke? No? That's how the banya works. You get in, you undress, you crank the heat up, then your mate hits you with birch leaves. It's basically a Siberian cross between a sauna and a steam room.
On our second day at Lake Baikal we took a short hike up a nearby mountain. At the top, we were rewarded by epic views of the lake and the village. At the bottom, I was punished by realising I had been eaten alive by horseflies. My legs looked like Jackson Pollock had taken a scalpel to them. And those things itched like hell. Still, it was worth it. Probably.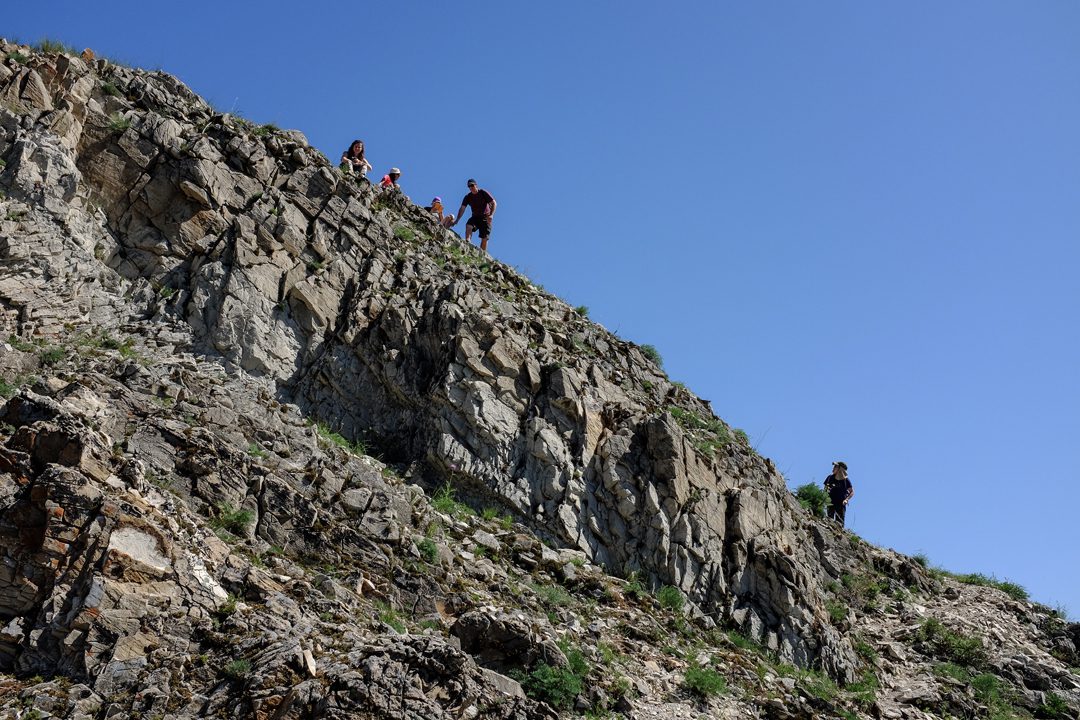 Returning to ground level also afforded us some good photo opportunities.
After the hike, we took some bikes and explored the village and the lake. The lake was so flat that day that you could hardly make out the horizon. Look at the left hand side of this photo and you'll see what I mean.
Lake Baikal – Mongolia
After bidding farewell to Lake Baikal, we boarded the train and headed for Ulaanbaatar. UB isn't the most photogenic city in the world, hence there are no photos of it in this collection. But there are a few from Terelj National Park, where we camped for a couple of nights. That place was amazing. From here on out we were on Chinese trains (they'd been Russian up to this point).
Couldn't resist the cliche out-the-window shot.
The Mongolian countryside manages to look stunning even when speckled with these man-made monstrosities. Good on you, Mongolia.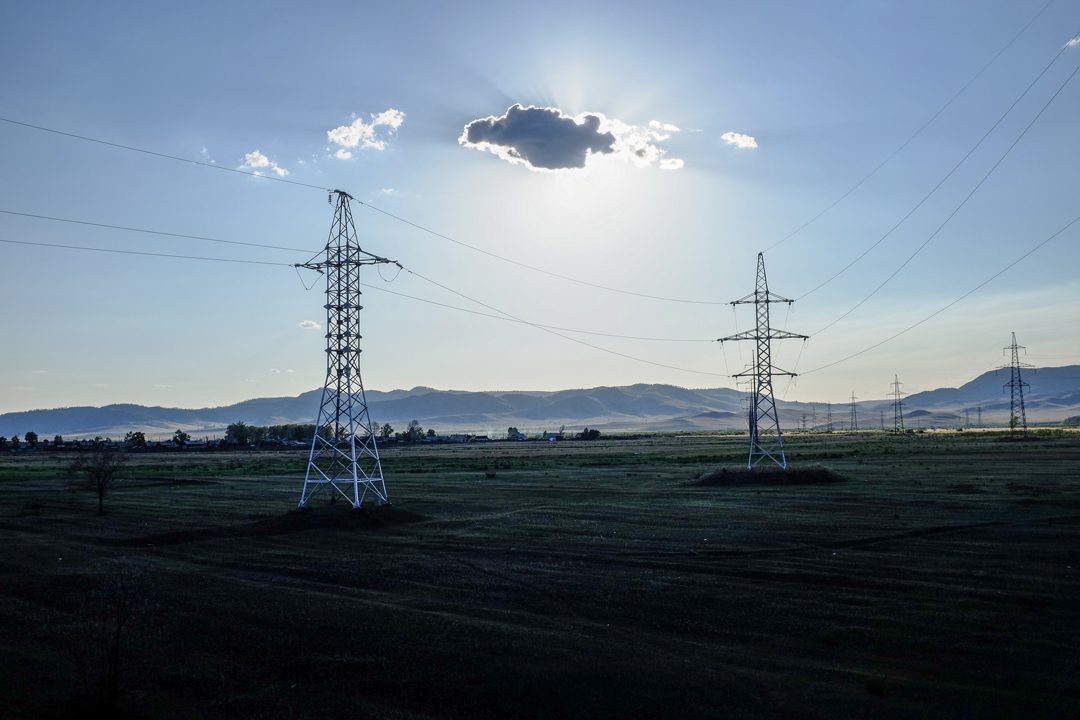 Janna felt at home with the yaks.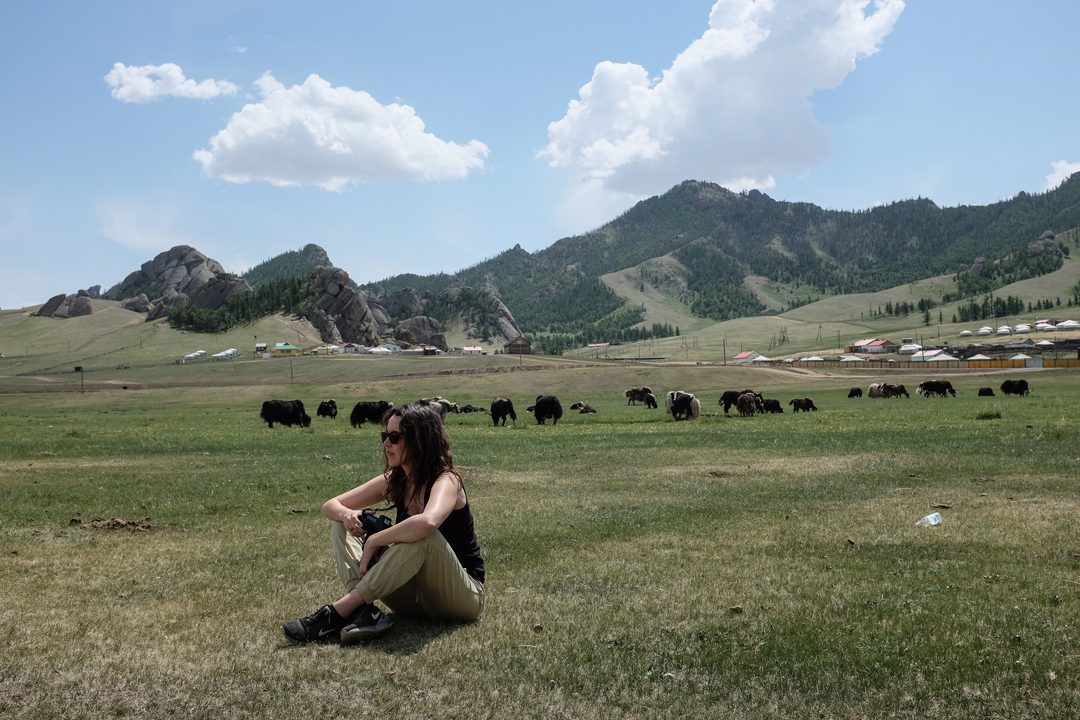 Janna also felt at home in our ger tent.
And those ger tents (and the Mongolian countryside) looked remarkably good at sunset.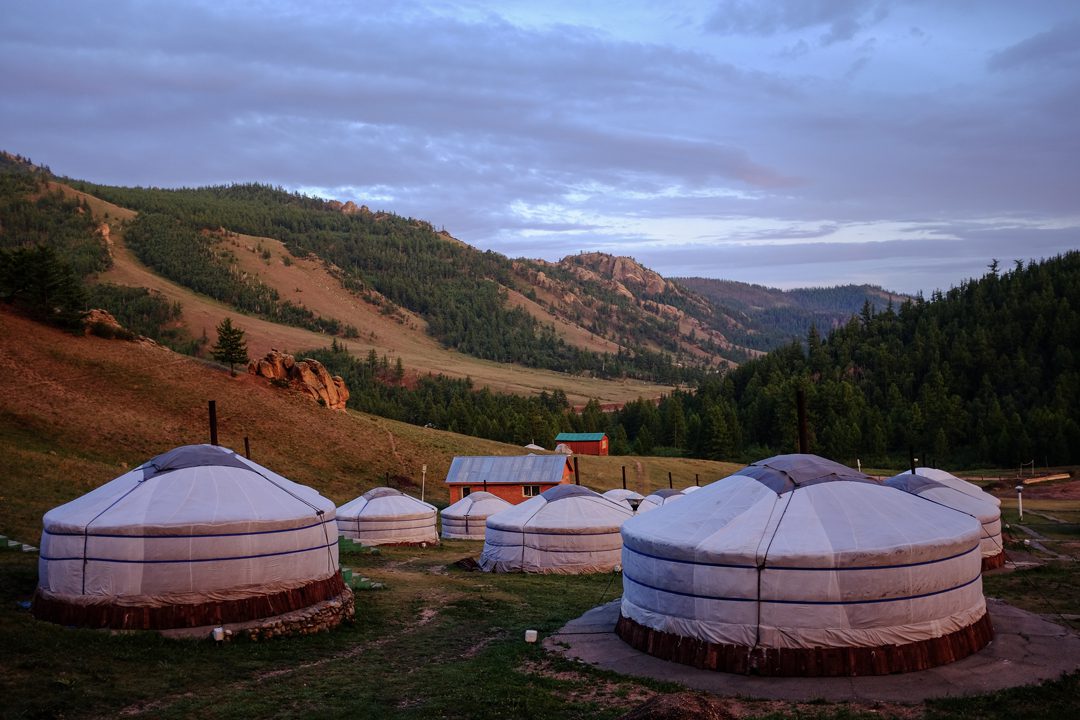 As did the escarpment surrounding our camp. Note: I have done nothing in Photoshop or Lightroom to enhance those colours. This is what a sunset in Mongolia really looks like.
Beijing
Our first stop once we arrived in Beijing was a lunch stop. And after a couple of weeks of (relatively) simple Russian and Mongolian food, Janna and I were glad to get some flavour back into our faces. we feasted at this spot, as did this table of old boys.
On our second day in Beijing we woke early for an excursion to the Great Wall. And it really is great. The thing goes for as far as you can see, and then some. And then some more. For anyone who decides to climb the 1000 steps up, as I did, just keep in mind that the whole wall consists of steep ups and steep downs, so you'll be working those leg muscles the entire time. I pretty much wrote myself off on the 1000 steps and had little energy left to do much else. Still, I persevered. Also, I discovered on this day that you can get a toboggan all the way back to the the car park. So we did, and it was all kinds of fun.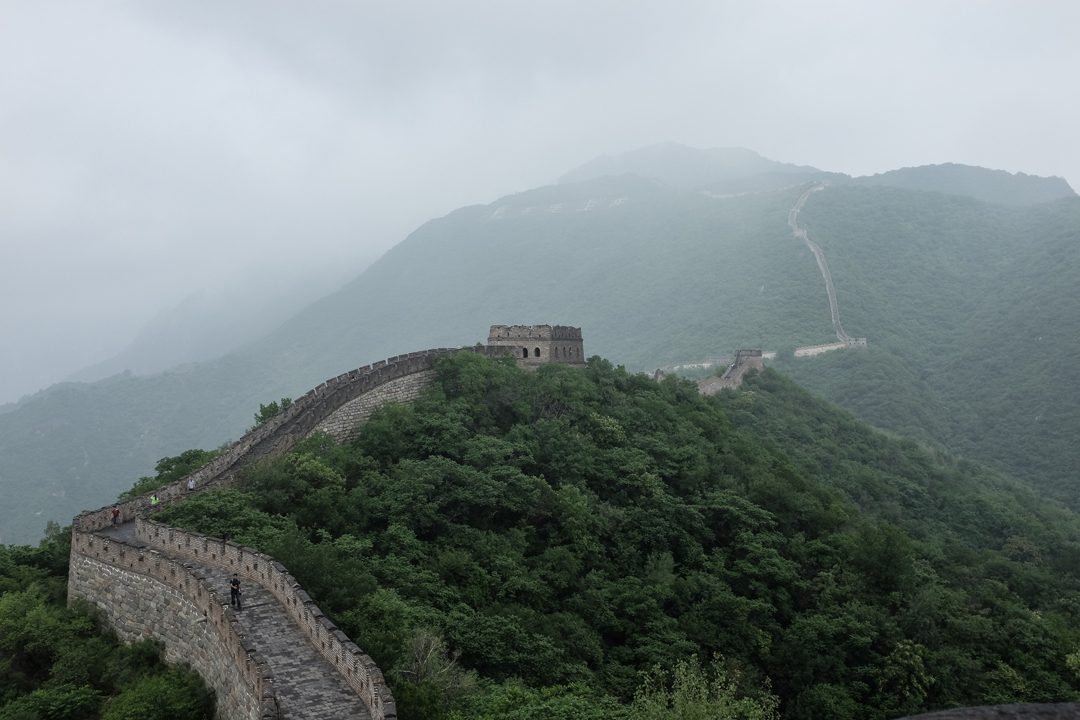 Back in Beijing, and we dedicated almost two whole days to wandering around the hutongs. The locals were just sitting around, going about their business and Janna and I managed to take some of our favourite photos from the trip. Everyone was so friendly too, and there was a real sense of community. People were sitting out and talking to each other, playing games and drinking tea.
Janna spent a while getting photos of this little guy. Both her and grandpop seemed pretty stoked with the final product.
When I'm older, I want to just sit in the street and read the paper with my friends. What a life.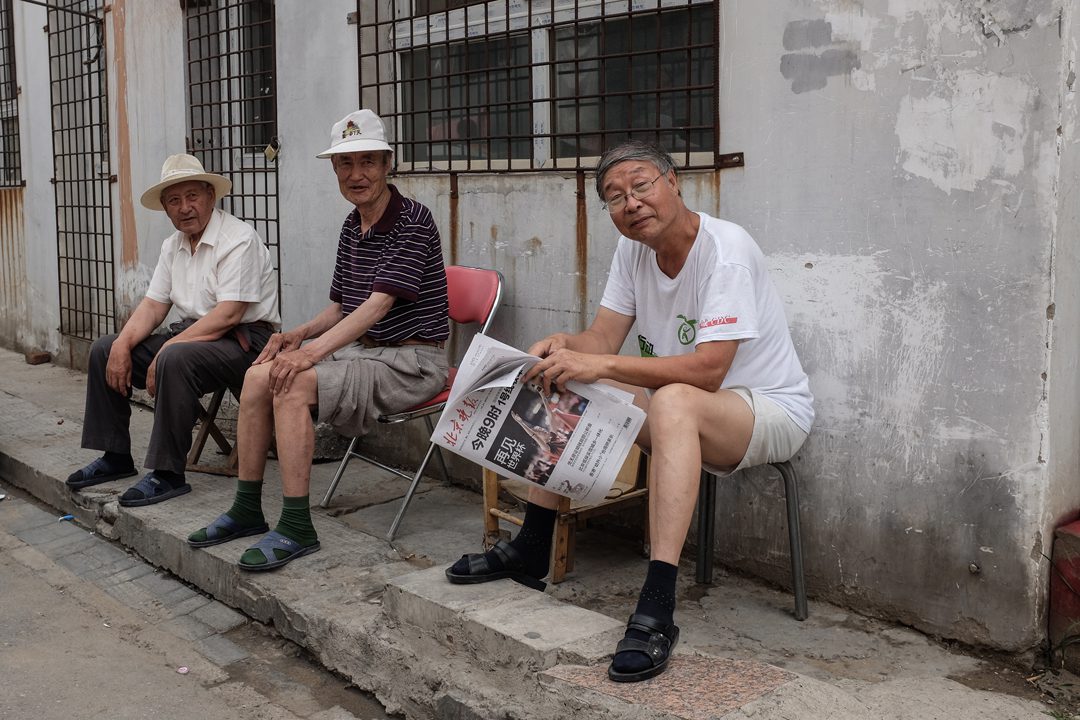 "Oh, me? I'm just having a shave by my food stall. No big deal."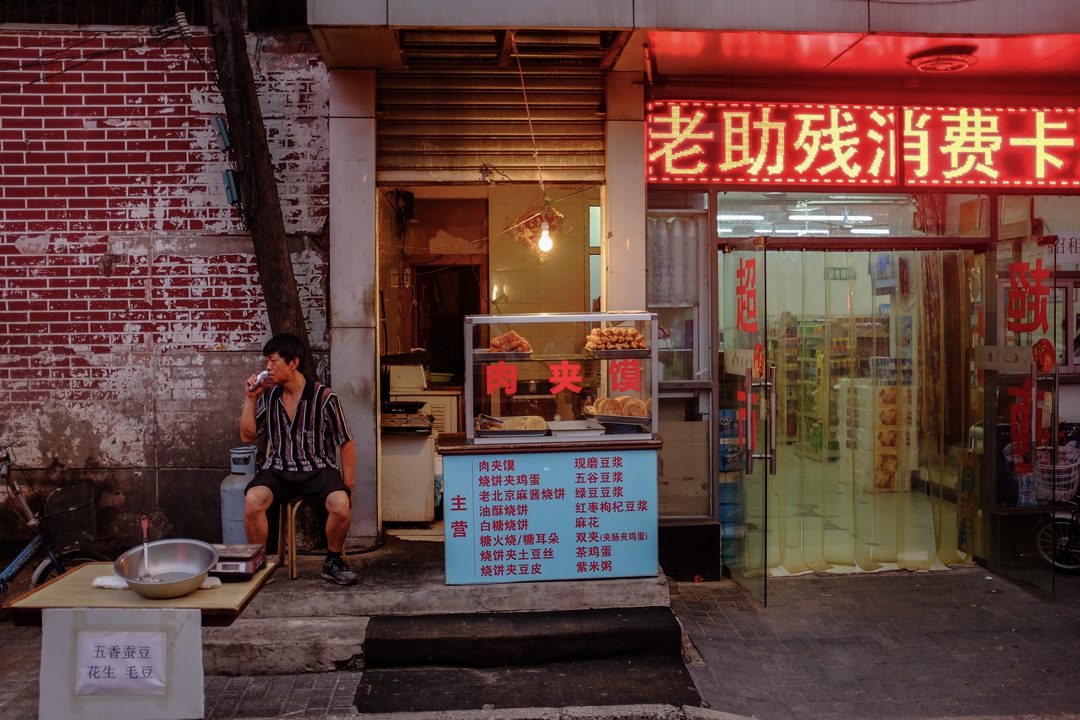 We saw this guy on our last night in Beijing and he asked if we wanted to take his photo, so we did. Then he ran over and put his arm around Janna and beckoned us to take more, so we did. I'm pretty sure it was his plan all along. With the epic Trans-Mongolian railway and an awesome few days exporing Beijing behind us, we were in pretty high spirits. This photo sums it it perfectly.
All of the above was captured on Intrepid's Trans-Mongolian Experience trip. Click here to check out their full list of dates and itineraries.

Feeling inspired?