My best memories of Petra are at night – and it's not what you think!
For anyone travelling to Jordan, a visit to Petra is a must. Nestled amongst the towering red sandstone rocks of the desert, the ancient Nabataean city has been coveted through the ages, from the Romans through to Indiana Jones himself. It's rightly on the bucket list of many intrepid travellers.
For me, wandering through Petra as part of Intrepid's Cycle Jordan trip was a dream I'd had ever since I was a young boy eagerly leafing through my father's Encyclopedia Britannica (that's the paper version of Google for those of you too young to remember).
The iconic Monastery, Royal Tombs and legendary Treasury truly were awe-inspiring, cut into the very rock itself, ablaze in a glowing red from the fierce sun.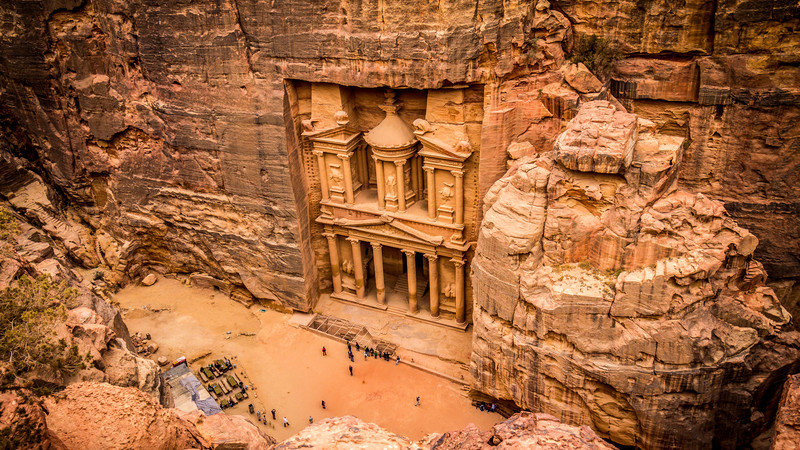 Yet seeing Petra this way was not my main highlight. That came later that day, or more specifically later that night.
During the day the sheer size of Petra can be overwhelming and it is easy to get lost in the experience. At night it is distilled into a beautiful simplicity. No rushing to find the best angles and light, no avoiding the onrushing donkeys and carts ferrying tourists to father flung sites. And no stopping every five minutes to marvel at the ingenuity of a people who built this magnificent icon 2000 years ago.
READ MORE: A COMPLETE GUIDE TO VISITING PETRA
Petra by Night is about simplicity, a lack of modernity and an overwhelming sense of solitude in the company of a hundred other people. The way is lit by the occasional orange glow of paper lanterns as people make their way slowly through the narrow canyons of the Siq, some alone and others in small groups.
It is a peaceful scene yet I'm struck by the incessant hum of people talking, the chatter echoing along the sheer rock walls and fighting the silence of the dark. I'm instantly pulled back to Dylan Thomas' epic poem 'Do not go gentle into that good night' – "Rage, rage against the dying of the light". I've never understood why some people fight against the silence of the dark but within a few minutes that thought was no longer relevant as I rounded the final twist of the smooth canyon walls and saw the fabled Treasury, bathed in the soft glow of countless lanterns. For the first time that night it was completely silent as the assembled people waited patiently in an almost reverential awe.
VISIT PETRA ON AN INTREPID SMALL GROUP ADVENTURE TO JORDAN
And then it began. The air was filled with the soft lilt of a traditional Bedouin pipe, an ancient stringed rebab and a lone voice echoing among the perfect canyon acoustics. It spoke of the history of Petra and the Bedouin and not a single other voice dared utter a word, lost in their own thoughts; it was proof that even in a large group of people you can find moments of quiet solitude if you just let yourself. In a concert hall it would have been impressive but in this setting, with thousands of years of history enhancing the experience, it was simply captivating.
Yet – as sublime as it was – that wasn't my highlight. On the advice of my wife, a former tour guide, I chose to leave early. I admit it was hard to go in such a moment of magic but as I left the glowing Treasury behind I knew I'd made the right decision. Re-entering the serpentine trail through the Siq meant the music and voice softly faded. It was replaced with a pervasive silence. There was nothing more than the crunch of gravel echoing under my feet, the soft glow of gentle lantern light and my own thoughts. For a short moment it was like a personal pilgrimage and I was the only person on the face of the earth.
My advice, for what it's worth, is to not just 'see' Petra. Take the time to experience it. Let its majesty wash over you and seek out quiet moments of discovery wherever you can find them.
Who knows, you may just rediscover a part of yourself.
Ready to visit awe-inspiring Petra? Check out Intrepid's range of small group tours in Jordan.
—
(Image credits from top to bottom: Frank Cheshire, Intepid Travel, Jessica Carpenter x2)
Feeling inspired?