Is there a better movie scene than the end of Indiana Jones and the Last Crusade? I think not.
When the four main characters rode out of the canyon on horseback into the sunset to that iconic movie score, I wanted to BE there. I couldn't think of a better ending to that trilogy or a more fascinating setting for a film.
I spent my childhood assuming that the marvelous rock temple at the end of a long canyon must be fictitious, an elaborate Hollywood creation.
Fast forward a few years, and I realized it's an actual real place on this planet. The desire to see it for myself festered into an all-consuming obsession until I walked down that narrow canyon and saw it with my own eyes.
You are probably familiar with the intricately carved rock facade of the Treasury from iconic Petra photos. Inside, there is no extensive obstacle course that kills everyone who walks through it, and there is no knight at the end guarding the holy grail. But it is still a mystical, almost otherworldly experience to see it as you emerge from the narrow 1.2 km long siq.
Visiting the country on Intrepid's 8-day Explore Jordan trip gave me a taste of the entire country and its magic. The highlight was having two days to explore Petra extensively, both with a brilliant guide and on my own. Here's what I learnt, and what you need to know:
The basics of visiting Petra
One of the most famous archaeological sites in the world and voted one of the New 7 Wonders of the World, this incredible site was carved into sandstone and established as early as the 3rd or 4th century B.C. The site remained mostly unknown to the rest of the world until 1812 when it was "discovered" by a Swiss explorer disguised as an Arab traveler.
The town of Wadi Musa is the base for visiting Petra. There are plenty of well-priced hotels within easy walking distance to the gates of Petra.
Best time to visit Petra
Petra can be excruciatingly hot during the summers and downright frigid in the winters. The shoulder seasons are by far the best time for pleasant warm weather, for example March-May or September-November.
The best times of day to explore Petra are right when the gates open at the crack of dawn (6am) and in the late afternoon when the sun is not as scorching and the crowds have died down.
SUBSCRIBE TO INTREPID'S NEWSLETTER FOR TRAVEL GUIDES, COMPETITIONS, GIVEAWAYS & MORE
How long to visit for
Although you could likely see a great deal of Petra in one day if you're ambitious, I feel like two days is perfect. One day should be spent getting accustomed to the site with a guide and learning about the history. The second day should be spent hiking to some of the more remote sites like the monastery, experiencing mind-blowing views, and capturing great photos.
Getting a guide
Even though you can visit Petra on your own, it is absolutely advisable that you have a guide to visit Petra to learn about the incredible history of this Unesco World Heritage site. The history is so fascinating and complicated, you'd be missing a great deal without a historian to tell you about it. You can hire a guide from the visitor center starting at 50 J.D (about $70 US).
Because I was visiting Petra with Intrepid, I already had a local guide, Ahmed, I knew personally and could ask lots of questions. He could tell us facts ahead of time, prepare us for certain experiences, advise us on what to do or not do, and recommend hikes for the following day.
VISIT JORDAN WITH A LOCAL GUIDE ON ONE OF INTREPID'S SMALL GROUP TOURS
How much does it cost
The entry ticket to visit Petra can be purchased at the Visitor Center upon arrival. Tickets are cheaper if you are staying overnight in Jordan rather than visiting on a day trip. A single day entrance fee is 50 J.D, 55 J.D for two days, or 60 J.D for 3 days. You must have your passport to purchase your ticket and they accept cash or credit cards.
What to bring to Petra
Water. It is for sale in Petra, but the cost is marked up a bit. Comfortable shoes are one of the most important things you could bring. Despite the fact that one of the girls in my group hiked in ballet flats all day and rocked it, I'd still advise to choose your shoes wisely.
Sunscreen, sunglasses, a sunhat, and something to cover your shoulders from the sun are also essential. A little backpack for your camera, water, medication you may need, and cash to purchase things is also handy. That's basically it.
READ MORE: A DEFINITIVE PACKING GUIDE FOR VISITING JORDAN
Entering Petra: What to expect
After entering the gates to Petra, you'll follow a path that gradually descends down into the stunning Siq (canyon) that leads to the city of Petra. The total distance to the famous Treasury is approximately 2km. You can purchase a ticket for a carriage ride for 40 J.D round-trip.
Inside Petra: What to expect
You'll inevitably meet local Bedouins in front of the Treasury. They may try to sell you trinkets or to get you to pay for a camel ride or pictures (Intrepid advises travelers to think very carefully about animal welfare, so please read up). Bedouin women selling items at their stalls may also beg you to stop and look and they can be quite persistent. They are very friendly though and may invite you to sit and enjoy some tea.
There are small restaurants and shops selling refreshments and food inside Petra. The visitors center will give you a map that lists these as well as restrooms. You can also bring a packed lunch if you prefer.
READ MORE: THE ULTIMATE GUIDE TO 7 DAYS IN JORDAN
What to wear
A little more touristy than say, Amman or some of the other Jordanian cities, you don't have to be quite as conservative. Exercise common sense and dress respectfully and comfortably for hiking and sun exposure. This is not the place for mini skirts and high heels. Petra is dusty and usually hot.
Wear comfortable, close-toed shoes because of how dusty and rocky it can be as well as light, breathable clothing and a hat to protect yourself from the sun.
Top 5 Sites in Petra
The Siq
This is the long narrow rock walled canyon that leads from the entrance of Petra to the first facade, the Treasury, and the beginning of the city of Petra. It is both carved by nature and by the Nabataeans. I can't quite explain the anticipation that builds as you venture further into the siq.
READ MORE: WHAT IT'S REALLY LIKE VISITING JORDAN AND EGYPT ON AN INTREPID TRIP
The Treasury
The first facade you will encounter will likely be the reason you had your sights set on Petra in the first place. The famous Treasury, or Al Khazneh, teases you with glimpses between the walls of the siq until the view opens up and the entirety of the Treasury emerges. It is literally breathtaking. I remember feeling a sense of awe and amazement that I'd finally arrived somewhere I'd dreamt of going for so many years.
The High Place of Sacrifice
One of the best views in Petra and the site where animal sacrifices likely took place, this is a 30-45 minute hike up. I didn't complete this hike after two other grueling climbs, but I wish I had. The path begins near a souvenir shop by the street of facades and the theater. The top offers an alter for sacrifices and unparalleled 360-degree views.
READ MORE: 8 THINGS TO DO IN JORDAN THAT AREN'T PETRA OR THE DEAD SEA
The Monastery
Beat the heat and start your trek to the second most visited facade in Petra first thing in the morning. The journey is as impressive as the destination. After roughly 800 (somewhat miserable) steps, you'll arrive at the less famous but stunningly beautiful monastery. Continue even further to a viewpoint for fantastic pictures of the monastery below. You can do this hike completely on your own. Follow the main path through Petra all the way to the end and you'll find signs directing you to the trail.
Al-Khubtha Trail
Also known as the Treasury Overlook, this hike is the one I most recommend. For those who still have functioning feet after climbing to the monastery, you should consider the view point above the Treasury. The majority of visitors don't know about this trail, so you may have it to yourself or see very few people.
Find the trail for the Royal Tombs which starts across the road from the Nabataean Theater. Look for the sign for the trail name "Al-Khubtha" and continue up what seems like the longest rock staircase on the planet. Eventually you'll come to a Bedouin stall at the end of the rocky path. Hang out and enjoy an incredible view of the the Treasury below. Feeling the breeze and the peaceful silence from so far above is nothing short of magical.
CHECK OUT INTREPID'S RANGE OF SMALL GROUP ADVENTURES IN JORDAN
Petra by Night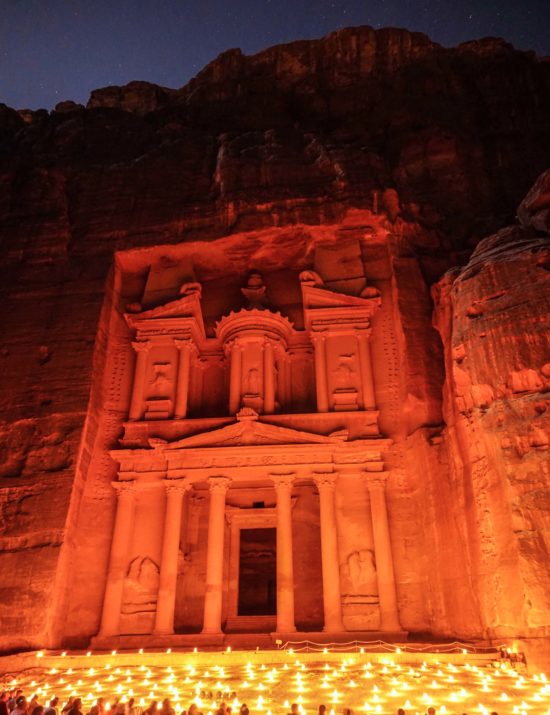 On Monday, Wednesday, and Thursday at 8:30pm each week, Petra offers a special event called Petra by Night. There are mixed reviews of the experience, however I thought it was uniquely charming. Seeing the Siq and ground in front of the Treasury lined with candles is something that's totally different. You shouldn't miss it. If you're a photographer, hang to the very back or far right side out of the way and set up your tripod.
READ MORE ABOUT WHAT PETRA BY NIGHT IS REALLY LIKE
—
Petra is a place that enticed the deepest part of my adventurous soul for years. My inner Indiana Jones has never been happier than when I caught those first glimpses of an elusive marvel I'd dreamt of seeing for years.
Petra is a World Wonder for all the right reasons and highly deserving of its title. I would go again in a heartbeat.
Ready to explore this stunning site? Check out Intrepid's range of small group tours in Jordan.
—
(All images c/o Jessica Carpenter at myfeetwilleadme.com)
Feeling inspired?