I still remember the first time I saw a photo of Pamukkale, Turkey's famous white "cotton castle."
It was late 2014 and a friend of mine suggested we meet in Turkey. I'm based in the US and she lived in China at the time, so it was the perfect halfway point. I was already familiar with both Cappadocia and Istanbul, but what really caught my eye while researching Turkey was a photo of Pamukkale: a collection of bright blue pools of water amongst a pristine, all-white landscape.
Much to my dismay, I wasn't able to visit Pamukkale on that trip. Little did I know, I'd be back in Turkey again a few years later, this time on the Turkey Encompassed tour with Intrepid Travel. It was on this trip that I realized my wish of visiting the spectacular cotton castle.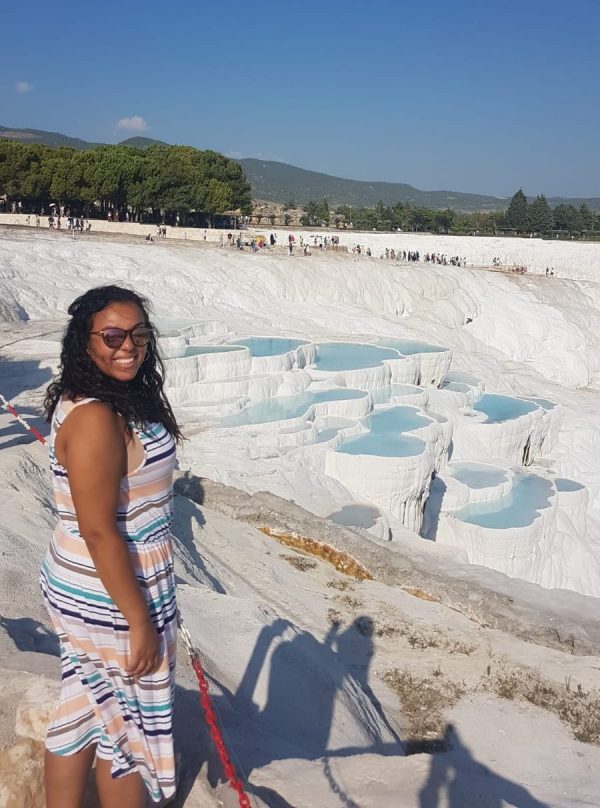 I admit I've occasionally visited world famous sites that were a tad… underwhelming. It's not necessarily due to the site so much as to how I've built the experience up in my head. Sometimes after seeing hundreds of photos and videos of a destination, I unintentionally create these unrealistic expectations of what it will look like. Of course, I'm inevitably disappointed.
I was worried that Pamukkale would be a victim of the images online. Thankfully, that wasn't the case. Pamukkale in real life was everything I imagined and more. I completely understand why it's Turkey's most popular attraction.
READ MORE: 6 AMAZING DESTINATIONS IN TURKEY (THAT AREN'T ISTANBUL OR CAPPADOCIA!)
What is Pamukkale exactly?
Over thousands of years, calcite-filled waters have created the UNESCO World Heritage Site Pamukkale, part of the larger ancient city of Hierapolis. Pamukkale, which translates to "cotton castle," comprises of natural mineral basins formed amongst bright calcium bicarbonate deposits, resulting in an unreal landscape. The petrified white deposits stand out in contrast to the natural bright blue pools formed in layers, almost as if on purpose. It will truly take your breath away.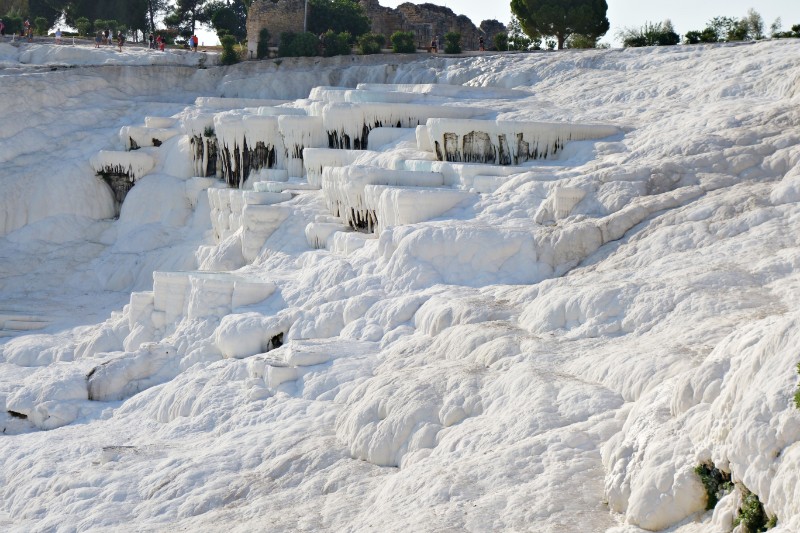 Tempted? Inspired? Here's what you need to know before visiting:
It will be crowded
Before visiting, I had no idea that Pamukkale is Turkey's most popular attraction. I did the Turkey Encompassed tour in the middle of July, so I half expected Pamukkale to be empty, especially considering we went in the middle of the day. I was astonished to encounter hundreds of people in the pool area. July is definitely a popular month to visit, despite the summer heat.
That being said, the crowds are all inside the pools themselves. If you're looking for a good photo op, walk around the side, where you'll find plenty of empty spots to enjoy the views of the pools as well as the surrounding landscape.
READ MORE: WHAT IT'S REALLY LIKE VISITING TURKEY SOLO ON A GROUP TOUR
To avoid the crowds almost entirely, plan to arrive to Pamukkale as soon the site opens. Better yet, visit during the winter. You may encounter a snow-dusted version of the pools instead.
You should pack lightly (and bring your bathing suit)
There's no place to store your belongings at the pools, so you'll have to carry whatever you bring with you. Leave the fancy camera at the hotel and bring just the essentials in a waterproof day bag. Sunglasses, sunscreen, water and flip-flops are a must! If you're interested in taking a dip in one of the pools, you'll want to bring your swimsuit and a change of clothes along as well.
VISIT BEAUTIFUL PAMUKKALE ON A SMALL GROUP ADVENTURE WITH INTREPID TRAVEL
You can't wear shoes at the pools
In order to minimize damage at the pools, visitors must walk barefoot, so be sure to bring shoes you can remove easily. I admit, this rule almost made me reconsider entering the pools. I'm clumsy and the pools are incredibly slippery and have plenty of areas with sharp limestone.
Plus, I had my camera and phone with me, since I really wanted to get good photos. Word to the wise: take your time walking up the cliffside and tread carefully. Thankfully, I managed to make it in and out without falling.
SUBSCRIBE TO INTREPID'S NEWSLETTER FOR DEALS, GIVEAWAYS, TRAVEL TIPS AND STORIES
The water has healing powers…
…at least, that's what the locals say. The minerals in the pools, formed by underground hot water sources, are said to help with all sorts of ailments, especially digestive and circulation problems.  Be sure to don your swimsuit and dip your entire body in to take full advantage of this! At the very least, your skin will feel like you just came back from a luxury spa.
The surrounding ruins aren't to be missed
Did you know that Pamukkale is adjacent to the ancient city of Hierapolis? I didn't either, but thankfully our Intrepid guide, Fatih, gave us the inside scoop on Hierapolis and the must-visit areas.
READ MORE: 4 MUST-VISIT DESTINATIONS IN TURKEY, ACCORDING TO LOCAL LEADER FATIH
Hierapolis was once a large city, but now boasts plenty of well-preserved ruins, many of which are virtually empty. I wasn't kidding when I said all the crowds are at the pools.
The recently restored amphitheater is easily one of the most impressive I've seen – ever. It stands alongside an extensive necropolis. Nearby, there's also an archaeological museum for those that are particularly interested in the history of the area.
Don't spend all your time in the pools. The ruins of Hierapolis are included in the entry fee and are truly not to be missed!
I'm so thankful that despite the numerous photos I've seen online, Pamukkale turned out to be even more spectacular than I expected.
It was precisely my visit to Pamukkale this past summer that reminded me that there are plenty of unmissable and magical places out there in the world. I'm fortunate to be able to continue exploring them.
Ready to explore this stunning site? Check out Intrepid's range of small group adventures in Turkey.
—
(All images courtesy of Sally or Intrepid Travel and taken on Intrepid's Turkey Encompassed trip.)
Feeling inspired?