Along with our newest family member, Wildland Trekking, Intrepid has launched 15 incredible backcountry hiking trips across the United States. These are off-grid, off-the-beaten-track routes through some of America's most remote wilderness – a land of black bears and bison, rushing rivers and dense forests, where cell phone reception is low and the mountain peaks are very, very high.
Hiking and trekking in America is definitely having a moment. In April this year, our USA bookings exploded 208%, with most customers jumping on active trips. After two years in lockdown, people just want to get out. Outside, out of bounds, out of the ordinary, and out of cell phone range.
In 2021, over 3.3 million people visited Yosemite National Park, yet only 1% of visitors got off the popular, overcrowded tourist trails. This is something we wanted to fix. So, along with Intrepid's newest family member, backcountry adventure specialists Wildland Trekking, we've launched 15 incredible North American hiking trips.
"I think these new trips are the perfect blend of Intrepid's 33 years of global travel experience with Wildland's 17 years specialising in backcountry trekking across the US," says Gary Cohen, Intrepid's GM for the Americas, who recently completed a three-day backcountry hike through Yellowstone National Park. "That's 50 years when you put it together, which means we're able to deliver some pretty incredible trips as a combined force."
These are not your ordinary trekking itineraries. They're backcountry adventures, far away from the beaten path, which will explore some of the lesser-known trails of Yosemite's North Rim, Zion's Snow Canyon and Washington's Olympic National Park, among others. If hiking along a narrow ridge, 5,500 feet above sea level, to reach the remote Shi Shi Beach sounds like your idea of a good time, you're going to love these trips.
"These hikes really allow you to disconnect from all the distractions of modern-day life, which is a rare opportunity for most people these days," Gary says. "You get out into some of the finest backcountry that the US has to offer, with active adventures that really put you in touch with your natural surroundings."
Here are just a few highlights from the new backcountry range:
We've deliberately scheduled this during Yosemite's early season, to give you a proper, crowd-free experience. Over four days, you'll hike up to the fabled North Rim, then head through Yosemite Falls, North Dome (Half Dome's smaller but equally amazing twin) and Indian Rock, sleeping under the stars and taking in views of the ridiculously cinematic High Sierra. If you've dreamed of having the wilds of Yosemite all to yourself, this is the trip.
Trekking the backcountry of Utah's most famous national park? You just know this one will be good. Most Zion tourists stick to the Zion Canyon Scenic Drive, which is great, but pretty crowded. You'll be taking a slightly wilder itinerary: strap on your hiking boots and head down the River Trail, buttressed by a 3,000-foot cliff face, before tackling the iconic Virgin River Narrows, wading through rushing water on the way to Orderville Canyon and Snow Canyon. This is the Zion that most visitors never get to see.
Up for a real backcountry challenge? This 6-day trip includes the best of the Olympic Peninsula and Mt Rainier, with historic lodge accommodation, dramatic waterfalls, alpine ridges and glaciated volcanoes to boot. You'll hike along a thin ridgeline, 5,500 feet above sea level, on your way to remote Shi Shi Beach, then head into the Hoh Rainforest, home to some of the largest and oldest trees in Washington. With lodge stays every night, this is a good trip for those who like their backcountry wilderness with a touch of comfort.
The full Appalachian Trail stretches for almost 2,200 miles, but don't worry, we won't be tackling the whole thing on this trip. Instead, we're heading into the wilderness of the Cradle of Forestry – the spot where American forestry conservation began. You'll camp near Shining Rock, explore the meadows of Ivestor Gap and trek some of the most beautiful routes through the Blue Ridge Mountains. Two nights of spectacular backcountry camping at Shining Rock Gap is included.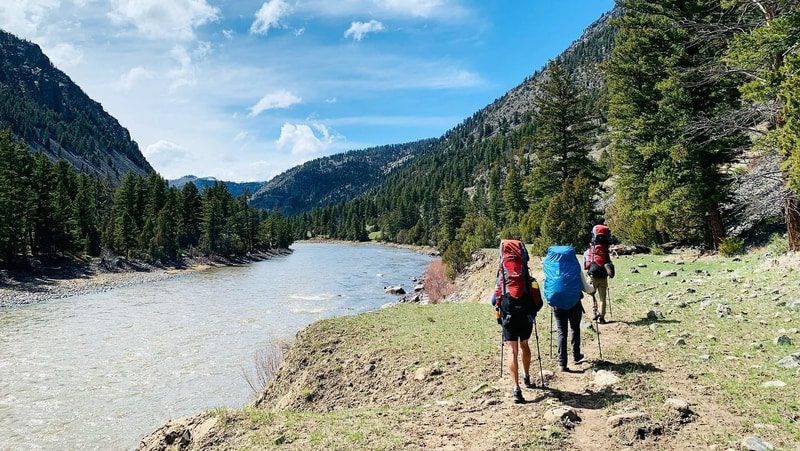 Floods may have damaged parts of Yellowstone recently, but the National Park is expected to be back on its feet in a few weeks, and this trip takes you way, way off the usual tourist trail. By trekking in spring, you'll avoid most of the crowds, and traversing the Black Canyon is something you'll never forget. "Being there so early in the season, we were able to enjoy the park without the crowds, and in all kinds of weather, ranging from warm sunshine to snow blizzards," Gary says. "This also meant that wildlife was especially active and we got to see numerous grizzly and black bears, as well as hundreds of bison."
Want to check out our full range of US backcountry trekking tours? We've got everything you need right here.
Feeling inspired?