Saturday the 25th of April 2015 started out like any other for the people of Nepal.
It was nearly midday. In the mountains, local guides were shepherding tourists through the bellies of the giants. Some wandered through the picturesque paths to Everest Base Camp, or along the rhododendron-lined tracks of the Annapurna Circuit. In rural areas, farmers toiled in the fields near their house, planting crops under a midday sun. In Kathmandu, the streets were awash with weekend traffic and the buzz of over a million people going about their lives.
Just another day. And then, at 11:56 am, everything changed.
Few of us can forget the breaking news that day: the 7.8 magnitude earthquake that ruptured the earth between Kathmandu and Mt. Everest. It claimed nearly 9,000 lives, reducing mountain trails, buildings, and temples to rubble. In the worst-affected areas, whole villages disappeared in a blink. Around the clock, the images of devastation were beamed into our living rooms.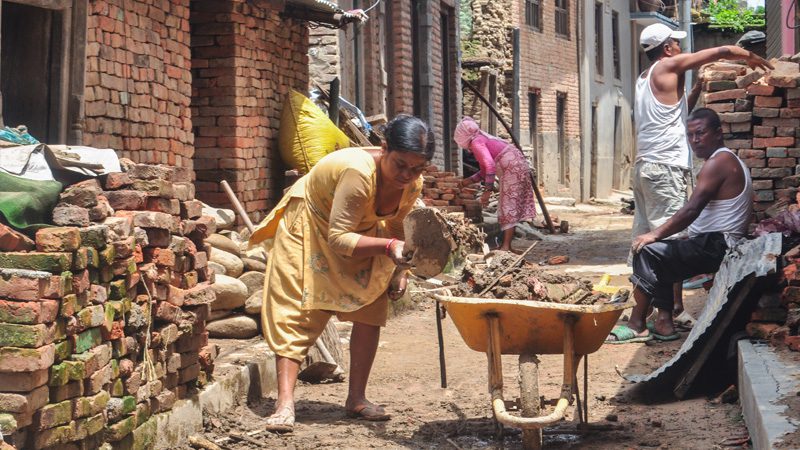 As the news broke, Intrepid Travel reached out to you, our travellers, for help. In only a few hours, our emergency Namaste Nepal appeal had already surpassed its AUD $40,000 fundraising goal. Three weeks later, your generosity had garnered $300,000 with another $100,000 chipped in from Intrepid itself, supporting the on-ground emergency relief work of PLAN International.
But as the weeks following the immediate emergency passed and we began to look towards the future of Nepal again, the question of how we could best support the country in the months ahead began to play on our minds. Tourism is the biggest industry here: about 5% of the population is employed by it directly. And that footprint extends far beyond direct employment to the taxi drivers, restaurant and shop owners, to their families. Without travellers, the country suffers deeply.
After an in-country assessment, Intrepid co-founder Darrell Wade penned an update. "I believe that the best thing we can do now is actually visit Nepal," he wrote, "by visiting you are helping Nepal get back on its feet". We'd found our goal: to help support and rebuild Nepal by encouraging travellers to return. To do so, we decided to donate 100% of our profits from our 2015/16 trekking season to the on-ground projects supported by The Intrepid Foundation, raising over AUD $750,000 in total.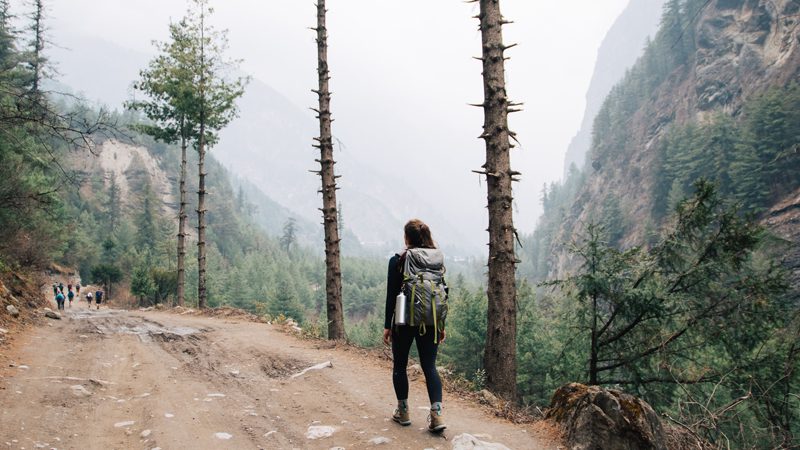 Last year, as the first earthquake anniversary approached, I was one of the travellers who returned, and spent six weeks discovering Nepal. Two weeks in Kathmandu's chaos, two weeks hiking the picturesque Annapurna range, and a week each spent relaxing lakeside in Pokhara and witnessing incredible conservation efforts in Chitwan National Park. That's all it took to fall in love with the country, and yet, there was an incredible sadness to my visit. Much of the infrastructure had actually emerged unscathed from the quake, yet the pinch was obvious. Shutters remained fastened. Restaurants closed by 8 pm. The streets remained quiet, void of travellers. My guides were worried, their usual 9-12 tours per year were down to six if they were lucky. Yet over and over, the locals I encountered shared the same message: Nepal was open, beautiful, and ready to welcome travellers again.
Another year later, and we're again approaching the anniversary of the earthquake. Eager to discover how the country is recovering in this second year, I reached out to Sujan Sijapati, our operations manager in Nepal. At the time, he was in the office of the Kathmandu Guest House managing the peak tourist season. In the days following the quake – with phone lines cut and transportation difficult – he oversaw the evacuation of 80-90 Intrepid trekkers in the Everest region, and up to 300 through the Annapurna region. Miraculously, he brought every Intrepid traveller back home to Kathmandu without injury.
Day-to-day business on hold, he travelled to the Annapurna region to undertake assessments of the trails and various accommodation with engineering firm Miyamoto. The green signal to resume operations was given four months later. Two years on, and Nepal seems like a country transformed.
For the most part, Sujan says, life in Nepal has almost returned to normal. "You know, there are still challenges. But it's been almost two years. Most people have already rebuilt their homes and retrofitted the houses that weren't strong." All of the trekking routes have been open for 18 months as well, along with a brand new Tamang Heritage and Langtang Valley trek, which has brought tourism back into one of the worst affected areas. The reconstruction of the iconic Boudhanath Stupa was completed in October 2016, and work on key sites like Bhaktapur and Kathmandu Durbar Squares continues.
"It can seem slow," admits Sujan, "but these are heritage sites. They require a lot of care and technical work and you can't rebuild overnight". Politics have also played a halting role at times: an election is looming on May 14 and the country is still in the process of maturing its democracy. "The support of international governments and organisations has been important in getting our sites back too – everyone is helping to rebuild these heritage sites," he says.
So if the physical scars are slowly starting to fade with time, has the tourism industry begun to recuperate too? "The tourists are coming again," says Sujan emphatically, "business is picking up. It's very exciting for us to see." In fact, just the day before our phone call, he'd picked up two large group bookings for Everest Base Camp, and when I tell him I'm very happy to hear that, he laughs. "Actually, the newspapers are reporting there are lots of people in Nepal now, and maybe more than before the earthquake." A check of our total bookings confirms it: passenger numbers up to April 2017 have increased by nearly 70% compared to the same period in 2015.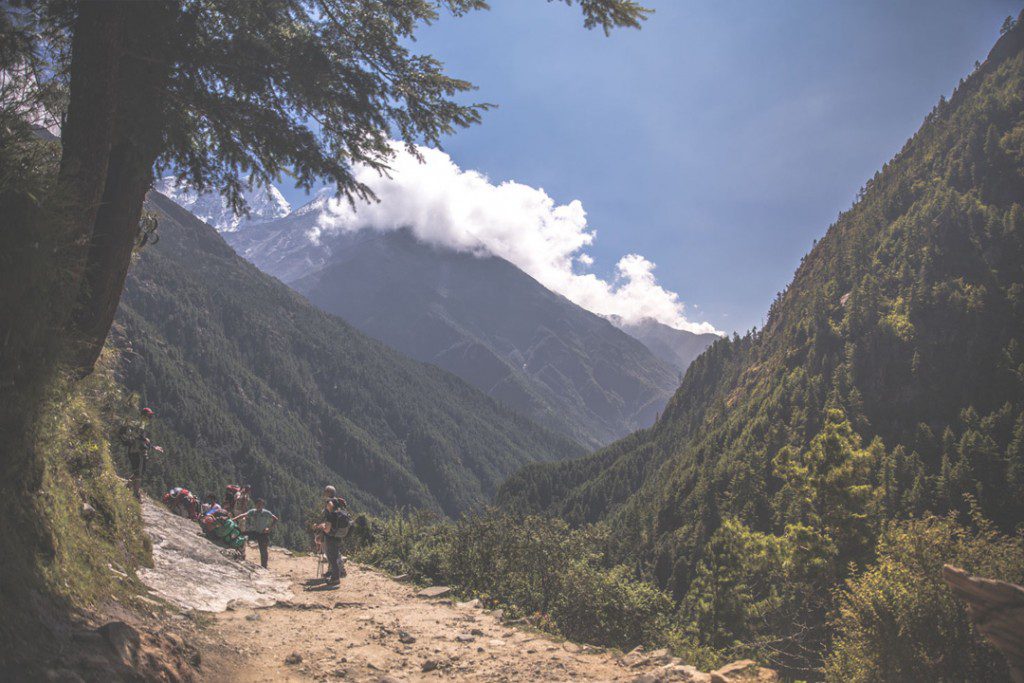 "We're getting awesome feedback from people who have visited again," says Sujan excitedly. "But importantly, it means the people in remote areas, those who own teahouses, who work as leaders and guides, they're all getting work again. They're benefitting again. It's good for the people. It's good for the country."
But perhaps the best news of all is the change in why travellers are returning. "When we launched the Return to Nepal campaign, it was a really key thing that advertised us to the whole world," says Sujan. "But Nepal was also a popular destination before the earthquake. Looking at the travellers who have come in this particular season, they're returning to see the beauty for themselves, not because of the earthquake." He pauses for a moment, then muses, "compared to the beauty of the country, the earthquake is almost irrelevant now."
There's a bouyant optimism around my call with Sujan. While the rebuild continues, there are signs that life is returning to normal again. after two years of slow healing, it genuinely seems as though peace has found this small, beautiful country again. A year ago, it was Nepal's plea for help that drew me there. Today, it's the mountains that are calling me back.
To find out more about Intrepid's work in Nepal – check out our latest report to the United Nations Global Compact. For more information about the projects we support around the world, visit The Intrepid Foundation. 
Inspired to discover the beauty of Nepal for yourself? Check out our small group adventures! 
Feature image c/o – The Common Wanderer

Feeling inspired?