Stretching out over 9,330 kilometres, Mexico's coastline meets the Pacific Ocean, the Gulfs of California and Mexico, and the Caribbean Sea. You know what that means: beaches, and plenty of them.
Some are so beautiful, people can't help but flock there, while others are sleepy and isolated, but they're all perfect for kicking back with an ice-cold Modelo and some fresh fish tacos.
From Tulum's turquoise waters, with ancient ruins standing sentry, to the crashing barrels of the chilled out Puerto Escondido, here's our pick of six of Mexico's best beaches. See you on la playa.
1. Cancun
Crowds flock to Cancun for its undeniably beautiful beaches, which look made for postcards – and trust us, there are plenty of postcards. While the resort town is hardly sleepy, sometimes being brought cocktails beneath an umbrella on the beach is a call that must be answered. Plus, the upside of the many visitors is that – when the sun finally retreats – there are plenty of bustling bars and restaurants to fill your early evening. And late evening. In fact, you might still be going into the early morning. If you've reached your limit on fancy resort life, head two hours inland to explore the ruins of Chichen Itza, or slow down on the nearby Isla Mujeres, just 13 kilometres off the coast.
RELATED: A GUIDE TO MÉRIDA, MEXICO'S MOST UNDERRATED CITY
2. Playa del Carmen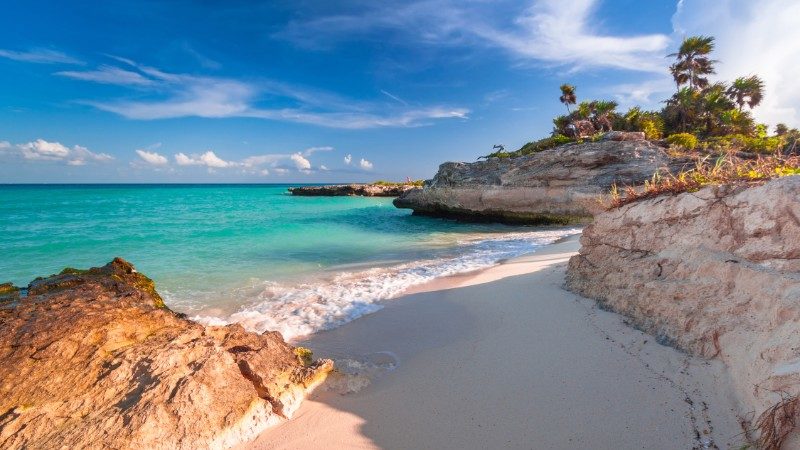 This bustling coastal town of Playa del Carmen is like a hipper version of Cancun, found just an hour down the road. It's no less busy, but it's where both Mexican and visiting socialites head to see and be seen at the many nightclubs and bars that dot this buzzing beachside borough. Beach clubs like Wah Wah have an abundance of recliners and umbrellas set up on the sand, with unobstructed views of the clear blue Caribbean Sea. Get your shades on and people watch 'til your heart's content, pausing only to take a refreshing dip in the ocean.
3. Tulum
If you like your history lessons with a side of swimming, then Tulum is the place for you. It's worth visiting for the colours alone: the cobalt and navy blue sea nudges the white sand beach, which backs onto swathes of green jungle. Just an hour south of Playa Del Carmen, Tulum has been inching up the list of Mexico's most popular beaches due to its unfair share of natural beauty, cool bars and cafes, and fascinating archaeological sites, perched right there on the beach. Seriously, where else can you go swimming in Mayan ruins? Pro tip: be sure to take a detour to Mexico's inland cenotes – they're not exactly the beach, but these crystal clear swimming holes are just as charming.
CHECK OUT OUR RANGE OF MEXICO TRIPS HERE
4. Puerto Escondido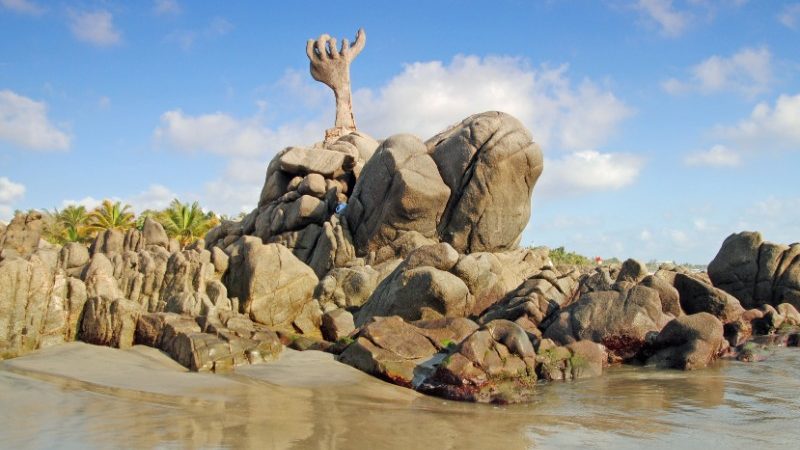 On Mexico's west coast, with a broad view of the Pacific Ocean, the beaches of Puerto Escondido are all about long, lazy afternoons and plenty of rolling waves. In fact, it seems like time slows down at this haven for surfers and backpackers alike. Seafood is firmly on the menu, and each day, the large orb of the sun drops gracefully into the Pacific, at times causing the punters on the beach to break out in applause. Just saying thanks to another perfect day in Mexico, we guess.
5. Mazunte
Just an hour south of Puerto Escondido, you'll find Mazunte, a tiny coastal town with one of the most glorious stretches of coastline in all of Mexico. Here, the pace is slow and the hammocks are plentiful. Much quieter and more isolated than its neighbour to the north, Mazunte has a particular brand of magic that's all its own. The Punta Cometa lookout, jutting out between Playa Mazunte and Playa Mermejita is the southernmost point in the state of Oaxaca. From here, you can spot blue whales, dolphins and turtles between the months of November and January.
RELATED: 5 REASONS WHY MEXICO IS THE PERFECT SOLO TRAVEL DESTINATION
6. Hidden crater beach
Slightly more isolated than the other spots on this list, this beach is found on the Marieta Islands, just off the west coast resort town of Puerto Vallarta in the state of Jalisco. The beach peeks up through a crater in the middle of a deserted island, and can only be reached by swimming through a tunnel. But the one-of-a-kind beach actually hides a pretty dark past. The crater overhead is the result of the Mexican military using the islands for bomb testing in the early 1900s. Still, today the beach bears no scars of its past, and it can be visited after buying a permit from the Mexican Government.
Ready to soak up the sun on some of the best beaches in Mexico? Join us on a small group adventure for swimming, hiking, seafood, history and cerveza. 
Feature image by Gerson Repreza on Unsplash.
Feeling inspired?