Reading Time:
5
minutes
Sisters don't always get along. They fight, they slam doors, they steal each other's stuff. But not us. We love our sister brand Urban Adventures, and we want you to meet them. UA offers small group day tours in over 150 cities around the world – from Colombo to Cairns, Jerusalem to Jo'Burg, Sofia to Santiago.
With their focus on immersive, offbeat experiences and awesome local guides, they've got the same grassroots vibe as an Intrepid trip, only they're shorter and confined to a single city. Which makes them the perfect addition to the end of your trip or a great way to spend any free time along the way. Have a day to fill in Marrakech before your Intrepid Morocco trip begins? Take a tagine cooking class! Got a free afternoon in Rio on your South America adventure? Jump on a sunset bike tour! The urban world is your oyster (especially on the Annapolis Seafood Crawl, where the oysters are delicious).
There are over 700 unique Urban Adventure itineraries around the globe, so we've rounded up a few of our favourites:
Colours of Valparaiso – Chile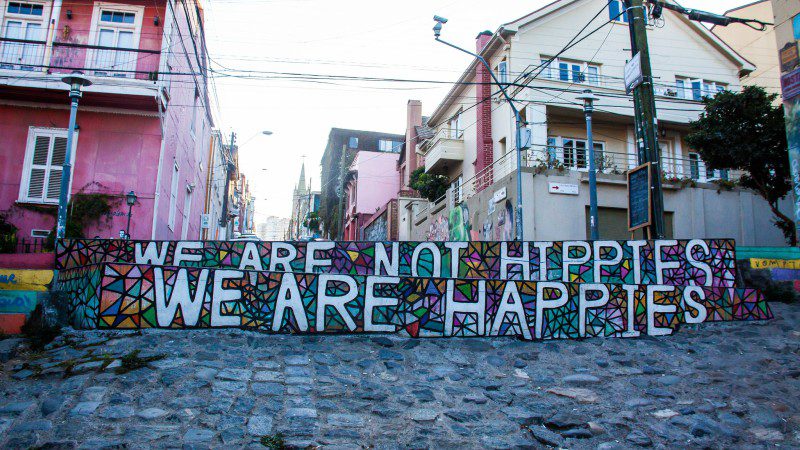 The seaport of Valparaiso might be Chile's bohemian capital, but you don't need to be a creative (or a fisherman) to blend into local life in this town! Joining a small group of travellers and a local guide, discover the culture, history, food and street art of this UNESCO-listed city. Ride Valpo's famous Ascensores (hillside elevators), wander the colourful streets, meet local artists and enjoy a traditional Chilean lunch in a charming restaurant.
Check out the itinerary here, and our Intrepid trips to Chile here.
Japan's Cultural Curiosities – Tokyo
Skyscrapers, businessmen, billboards blazing on every corner… Tokyo feels like the future. But there's loads of antiquity in the backstreets and hidden shops of the capital – you just need to know where to find it! Enter a local Urban Adventures guide, who'll lead you through the districts of Ningyocho and Nihonbashi on a magical treasure hunt. Sample traditional Japanese candies, learn the art of Kodo (incense appreciation) and visit a 300-year-old shop selling toothpicks wrapped in tiny poems.
Check out the itinerary here, and our Intrepid trips to Japan here.
Locals on Tap NYC – New York, USA
Arriving in a strange new city can be intimidating. How do you meet people? How on earth do you use the subway? Ah man, you could really use a stiff drink. Well, good news! Locals on Tap tours can help with all of the above. Join a small group of travellers and a friendly local guide for a quick walking tour and a drink in a cool neighbourhood bar. It's a chance to make friends, ask questions and get a feel for your new environment – in over 70 cities around the world.
On the Locals on Tap NYC tour, you'll trace the footsteps of Founding Father Alexander Hamilton through the Big Apple's oldest 'hood: the Financial District. Rub shoulders with the suits along Wall Street and down a pint or two with George Washington's ghost in a historic tavern (although you'll get more up-to-date city tips from your local NY guide than old Georgie boy).
Check out the itinerary here, read more about our Locals on Tap tours here, and our Intrepid trips to the USA here.
Malbec Trail of Palermo – Buenos Aires, Argentina
Whether or not you're a wine aficionado, no trip to the 'Paris of South America' is complete without a glass (or three) of the local specialty – Malbec. Take it to the next level on this vino-themed tour of Buenos Aires, kicking off with a glass of the good stuff in an art gallery (classy, right?). Next you'll head to a hidden cellar for a private tasting with an Argentine wine expert who'll teach you all about the history and culture of Malbec, before winding up at a local hotspot in Palermo to sample an authentic aperitif.
Check out the itinerary here, and our Intrepid trips to Argentina here.
Classic American Car Tour of Havana – Cuba
It's a common sight in Havana: locals rolling down the malecon in a baby blue Chevrolet or sprawled on the bonnet of their Buick, checking the petrol levels with a dipstick. Cubans LOVE their cars, so how better to experience the island's capital than by vintage convertible? Cruise through the grand suburbs of Centro Habana, Miramar and Vedado and sweeten the day with a sunset cocktail in the famous Hotel Nacional.
Check out the itinerary here, and our Intrepid trips to Cuba here.
Nairobi In Focus tours – Kenya
In Focus tours are social enterprise tours run in conjunction with local non-profits and accelerators around the world. They're a chance for travellers to hear stories from real local people, and to sustainably support local projects and businesses as they fight community issues from the ground up.
In Nairobi, there are not one, but three In Focus tours to choose from. Learn about sustainable chicken and pig farming on the Farm to Feast tour, hear the inspiring story of a Maasai woman as she teaches you how to make traditional jewellery, or meet female entrepreneurs empowered by local micro-lender Zawadisha.
Read more about our In Focus range here, and our Intrepid trips to Kenya here.
Game of Thrones – Split, Croatia
Okay, so Westeros isn't exactly a world you'd want to live in, but wouldn't it be cool to visit? GOT fans can do just that on this walking tour of the amazing Roman camp of Diocletian's Palace in Split. You'll visit the City Museum, check out several filming locations (including the spot where warriors entered Meereen to release the slaves for Khaleesi's army) and end the whole thing with a Tyrion-worthy feast of bread, homemade sausage and beer.
Check out the itinerary here, and our Intrepid trips to Croatia here.
Cinque Terre Hike & Bite – Italy
Views and food. If there's anywhere in the world that combines the two perfectly, it's Italy. Join a local guide along the walking trails of Cinque Terre, passing vineyards, lemon trees and farm houses – all framed by the dreamy Mediterranean Sea – and tasting the best local specialties, including olives, anchovies, pesto and wine. Buon appetite!
Check out the itinerary here, and our Intrepid trips to Italy here.
Want to check out more Urban Adventures? See the full range of day tours here. 

Feeling inspired?