Tackle Everest Base Camp, or the Annapurna Ranges, and you may well find yourself following – quite literally – in the footsteps of Phurba Sherpa. This is a busy time of year for the 27-year-old Intrepid leader, but on a rare day off in Kathmandu, he set aside some time to chat about mountains, tourism and why he'll never get bored of guiding.
Phurba admits, at the start of our conversation, that it has been a really hectic season. He's coming to the end of a four-day rest period and will meet his next group tomorrow. From Kathmandu, they'll travel to Lukla – the gateway to Everest – before commencing the twelve-day return trek to Base Camp. "It's very, very busy, with back-to-back trips," he says, "but I'm very happy to be guiding again. It's been a long time."
Phurba began working with Intrepid a decade ago as a 17-year-old porter. He was promoted to an assistant guide in 2016 and it took another two years of training – much of it in the mountains – to become a full-blown leader. He explains that the team will often promote from porter to assistant guide, and assistant guide to leader, "Because we need people with a good level of English as well as the experience in the mountains. It's difficult to find someone with both."
Phurba has worked incredibly hard to get where he is, but like many others, his guiding career was put on hold when Nepal's tourism industry ground to a halt during the pandemic. "There were no tourists, so I returned to Lukla, my village, to help my family with farming," he says.
There may not have been any tourists to guide, but Phurba still managed to keep his mountain skills sharp, clocking up five to ten kilometres of trail-running most days, despite Lukla's high elevation (2860 metres). These weren't light jogs either; Phurba has competed in the Everest Marathon – from Base Camp to Namche Bazaar – three times now, placing fifth in both the 2016 and 2018 editions of the legendary race. At this point, he's more Himalayan tahr (a kind of mountain goat) than human, which is helpful when you're paid to lead treks to the world's highest peaks.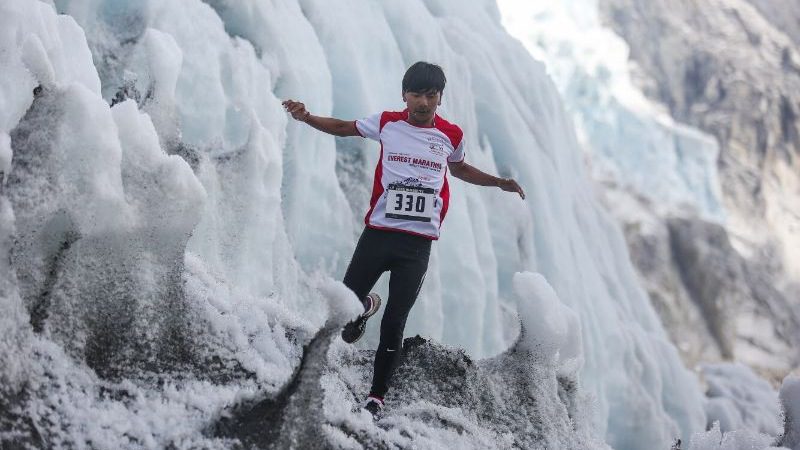 "As a Sherpa, I was born and raised in the mountains," he says. "I've grown up seeing lots of foreigners and trekkers. There are so many mountains and waterfalls and jungles, and I feel truly blessed and proud to share these moments and experiences with travellers. I want to give them a once-in-a-life experience."
Now that travellers have returned to the Himalaya, once-in-a-lifetime experiences are exactly what Phurba is facilitating. He recalls a 77-year-old woman – "Miss Fiona" – who recently travelled with him to Base Camp. "I felt so happy to see her complete the trip without any problems. No headaches, no issues at all. It was a great achievement for her and for me as well. I loved playing a part in making her dream come true."
It isn't just the travellers who benefit from being in the mountains; for Phurba, the imposing peaks at the roof of the world inspire his own growth. "I feel empowered when I'm in the Himalaya," he says. "When I'm exposing myself, facing my fear and accepting challenges while ensuring safety for everyone. I've learned so many things and my communication and language skills are improving and growing on every trip. I learn more every trip because of the different languages and backgrounds and cultures."
It's this constant learning, and the ever-changing nature of the Himalaya, that motivates Phurba to continue exploring the mountains. "I never get bored of nature," he says. "Even on the same trek, the weather and scenery will be changing and there will be new people every time. I'm always learning and never bored."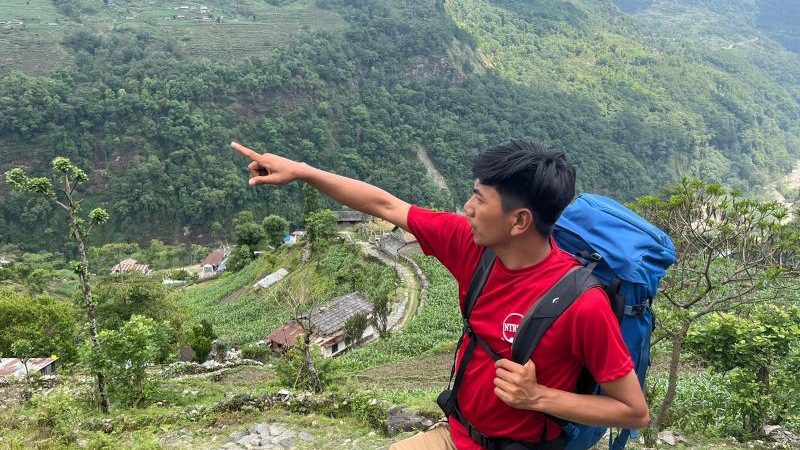 He is, however, philosophical about his future. Given his age, there should be lots of mountain trips remaining, but life, he points out, often has other plans. "When I was young, I told my teacher I wanted to be a doctor or pilot or in the army. But life takes a different way. I am very happy now, but you never know what will happen."
It's fitting, then, that Phurba sees the destination – in this case, Base Camp – as being secondary to the journey. "On the very first day of a trip, I explain that the trek isn't just about reaching the destination. It's more about creating good moments and memories along the way. In the evening, we congratulate each other and spend time learning about culture, religion and Nepal. We want to make sure visitors know Nepal is more than mountains. And Base Camp, it isn't about being healthy or young; in the end, it's a positive mindset that makes you a success."
Has Phurba Sherpa inspired you to take on a mountain? Take the first step by checking out our Everest Base Camp and Annapurna treks.
Feeling inspired?