Let the battle of the 'lands' commence.
So, you're ready for your next getaway and you've finally settled on the general region (good choice by the way) but what happens now? How can you even begin to decide between the natural wonders and captivating colours of Iceland and the untouched wilderness and wintry weather of Greenland?
Both countries have fascinating cultures, mouthwatering cuisine, unbelievable landscapes (think glaciers and geysers and geothermal spectacles – oh my!) and plenty of activities on offer, but which one does it best?
Luckily, you don't have to pull the answer out of a hat – you've got this comparison blog instead.
Culture
The 'Land of fire and ice' has a strong culture with roots going back centuries to the days of its healthy Viking population in the 800s. Defined by history and traditional customs, this country's rich beginning is still celebrated today with lots of rules set in place to protect and preserve its past – think naming babies in a way that abides by grammatical rules and Icelandic tradition and observing several national holidays and celebrations.
Iceland also draws its culture from literature with plenty of myths and legends told to young children when they're growing up, namely folk tales of elves, gnomes, and fairies. With impressive landscapes like the ones in Iceland, it's easy to imagine where these magical stories came from.  
DISCOVER ICELAND'S CULTURE ON OUR PREMIUM ICELAND TOUR
I can't tell the story of Greenland's culture without also telling the story of its Indigenous people, the Inuit people of Greenland. Reaching Greenland around 1300AD, the Inuit people practiced Thule traditions and were known as 'hunters', using dog sleds and advanced harpoon technology (at the time) to survive in Greenland's often harsh conditions.
These ancient practices of hunting are still very much alive in Greenland's culture today with many Greenlanders supplementing their diet and gathering materials from this source. Other traditions that have carried down through the years include telling Inuit legends, throwing money during celebrations such as weddings and baptisms, and giving each other 'Inuit kisses' – the process of showing love by smelling one another.
LEARN ABOUT INUIT CULTURE ON OUR GREENLAND ADVENTURE
Landscapes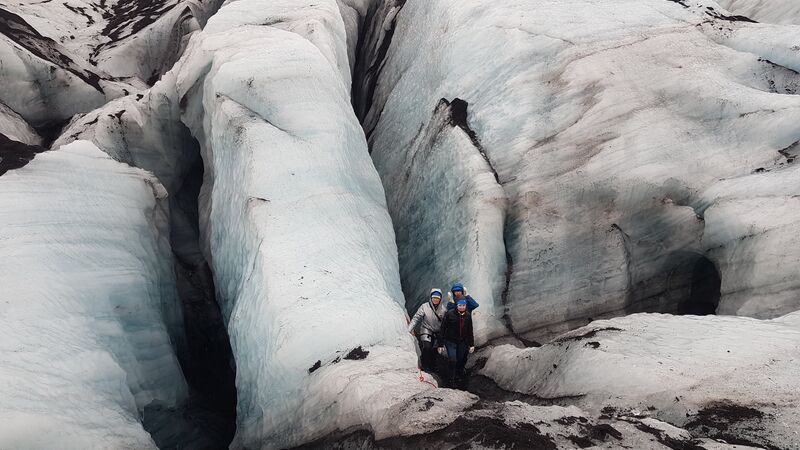 Saying you'll never run out of extraordinary things to see in Iceland might sound like an exaggeration but when you're dealing with a country that boasts geothermal springs, magnificent waterfalls, pristine national parks, and a coastline that's utterly captivating, it's easy to make such sweeping statements.
From the rushing waters of the Gullfoss waterfall to the blue-white icebergs floating in Jokulsarlon glacier lagoon, the natural landscapes of this Nordic country will take your breath away (and not because the temperature's below freezing).
Exploring Iceland can feel like discovering another world; one that's full of erupting geysers, soaring coastal cliffs, frozen glaciers, and bubbling lava fields seeping from centuries-old volcanoes. And that's only the beginning.
MARVEL AT GLACIERS ON OUR ICELAND DISCOVERY TOUR
If you're anything like me then you've been equally terrified yet entranced by icebergs since watching James Cameron's Titanic for the first time. There's something so fascinating about their seemingly larger-than-life stature, their sparkling whiteness, and how much of them lies beneath the water's surface.
Your fascination with icebergs will only grow in Greenland with ice-fjords full of the towering wonders a common part of the country's landscape. But that's not all there is to marvel at.
From discovering Disko Bay with its marine life and Inuit culture to snowcapped mountains that look as if they're straight off the pages of a fairytale, spending time in the great outdoors will leave you with one certainty; Greenland is some of Mother Nature's best work.  
SEE ICEBERGS UP CLOSE ON OUR HIGH ARCTIC EXPLORER TOUR
Cuisine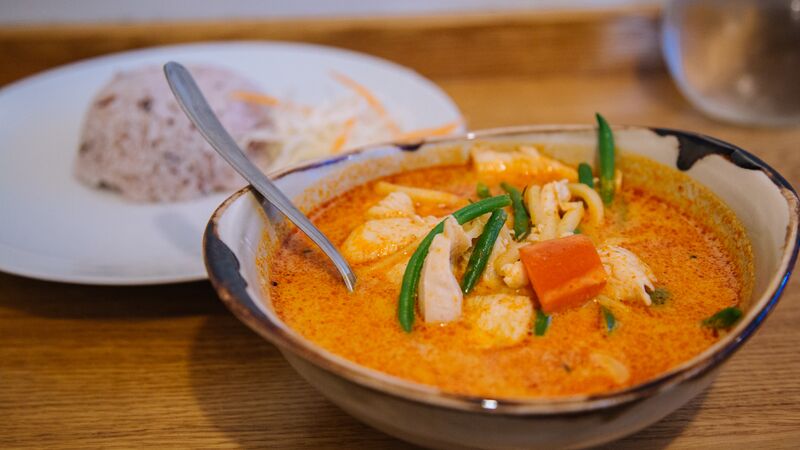 Icelandic cuisine might not be as well known as Italian or French, but it'll still tickle your tastebuds in the same way, especially if you like fish (think herring and cod). Developed over the centuries by natural, readily available ingredients and resources, Icelandic cuisine consists of meat-heavy dishes and hearty meals that'll keep you fuller for longer.
Whether you're interested in stepping out of your culinary comfort zone by ordering a plate of hakarl or fermented shark (the national dish of Iceland) or you're salivating at the thought of slurping up some plokkfiskur (fish stew), there's plenty to love about this Nordic country's delicious delicacies.
EAT YOUR WAY THROUGH ICELAND ON OUR ICELAND EXPRESS SMALL GROUP ADVENTURE
Greenland's extraordinary landscapes might be recognised all over the world but the same can't be said for its cuisine which remains a mystery for many travellers to the world's largest island. Due to its unique location in between the Arctic and Atlantic oceans, Greenland's cuisine is made up of a lot of seafood with its national dish being suaasat – a thick, frothy soup traditionally made from a number of things including seal, whale, or seabirds.
Yes, Greenland's cuisine can take a little getting used to but if that soup's not for your tastebuds, there are plenty of other delicious dishes and accompaniments to try from crowberry marmalade to reindeer mignon. And don't forget to wash your meal down with a Greenlandic coffee (a tasty concoction of whisky, Kahlua, Grand Marnier, whipped cream, and coffee).
TRY GREENLANDIC CUISINE ON OUR WEST GREENLAND GEMS TOUR
Weather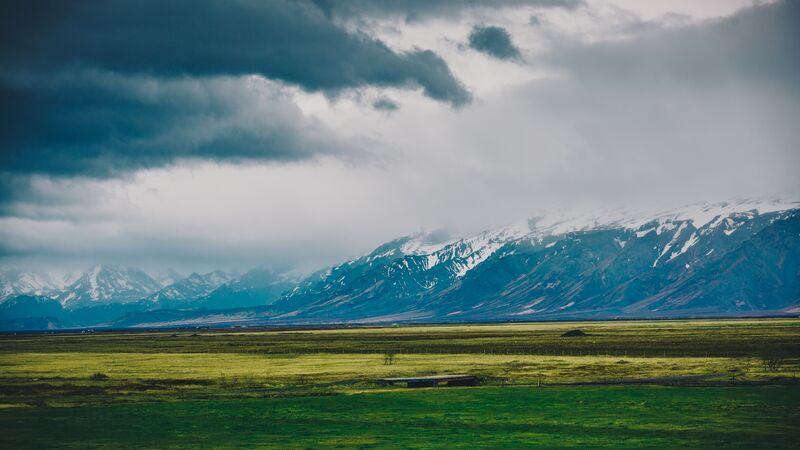 Let's face it, if you want warm, tropical weather in summer then Iceland's not the place you're travelling to but while it might not quite get up to sunbathing temperatures, the seasons of June, July, and August still reach highs of around 13°C/55°F.
In fact, this is practically sweltering for the Nordic country as winter lows can drop the temperature down to a freezing -3°C/27°F (it does have 'ice' in its name after all).
While these temperatures can fluctuate during the year, the one thing that remains consistent in Iceland weather-wise is the rain. Each month experiences around 25mm-50mm which means that each day is likely to bring at least a light smattering of rain. But this also depends on the area of Iceland you're in with the south coast experiencing windier and wetter conditions than that of other regions.
WITNESS THE NORTHERN LIGHTS ON OUR SMALL GROUP ADVENTURE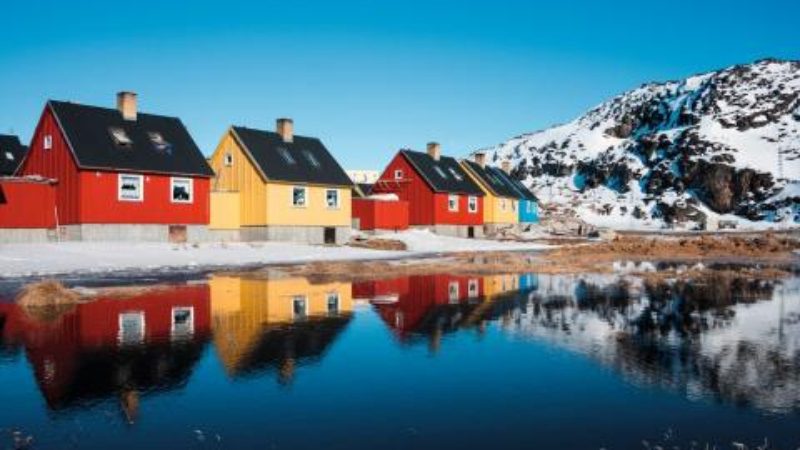 It's going to come as no surprise to anyone that the best months to visit Greenland are the summer ones of June, July, and August when temperatures can reach as high as 15°C/59°F and the sun stays up all night. While that might not seem very warm, it's better than the piercing lows of -20°C/-4°F the country experiences in winter.
But of course, with the plummeting temperatures comes the chance to see the mystical aurora borealis (whose colours dance across the night sky from October until March), so you'll still see plenty of travellers around during December, January, and February.
However, while temperatures can exceed freezing levels, it doesn't actually feel that cold thanks to the country's low humidity levels. The air in Greenland is very dry and while that means you can see further than you're used to (mountain peaks can appear closer than they actually are), it also means you need to drink plenty of water to avoid dehydration.  
Activities
While the cold temperatures might have you wanting to curl up in front of your guesthouse's fireplace with a good book and a cup of kaffi (coffee), there's plenty of adventure to be had in Iceland with activities that range from relaxing to adventurous at your perfectly gloved fingertips.
Whether you want to lace up your boots and hike to Vatnajokull (Europe's largest glacier), soak in the mineral-rich waters of Grindavik's famous blue lagoon, enjoy a scenic drive along the rugged coasts of East Fjords, or simply take a walking tour of Reykjavik's landmark attractions (think the old harbour and Hallgrimskirkja church), you'll never get bored of exploring this icy isle.
GET ACTIVE ON OUR ICELAND'S GOLDEN CIRCLE IN DEPTH TOUR
From hiking through remote areas in search of mind-boggling landscapes and camping overnight in a fjord to catching a helicopter for spectacular views over the immense Greenland ice sheet, this country is full of activity-filled surprises.
One day you might be kayaking through glacial lakes and trying to spot the northern lights while the next, you'll be exploring the remains of ancient settlements at Sydkap and Frederiksdal and cruising the waters of Disko Bay, keeping your eyes peeled for the breach of a whale of the cry of a seabird.
At this point, Greenland may as well change its name to 'Adventureland'.
The verdict
Greenland might dwarf Iceland in size but when it comes to the things that count – culture, landscapes, cuisine, weather, and activities – it's hard to differentiate the two. That might sound like a cop out but these two Nordic countries both promise an unforgettable adventure you won't stop telling your friends about.
But, if we can't decide which one comes out on top, then we can hardly expect you to. So, why not travel to both on our East Greenland and Northern Lights tour? Problem solved. 
EXPLORE BOTH COUNTRIES ON OUR EAST GREENLAND AND ICELAND NORTHERN LIGHTS TOUR
Feeling inspired?