Mt Kinabalu is one of the highest mountain in South East Asia. It's a craggy, tectonic plateau, technically part of the Bornean Crocker Range, and looms over the surrounding Sabah jungle like something out of Lord Of The Rings. For a lot of Malaysia travellers, this is the whole reason they visit: to get up at 2am, drink several cups of strong coffee, and watch the sun rise over Low's Peak.
But like most mountains over 13,000 feet, you'll need more than a sturdy pair of hiking boots and a sunny attitude. It pays to do your research beforehand. What gear should you bring? What's accommodation like on the mountain? If Kinabalu is on your itinerary, do you even have to climb? And what about altitude sickness?
Consider this your Mt Kinabalu survival guide. Everything you need to know before tackling Gunung Kinabalu.
So, let's start with the mountain.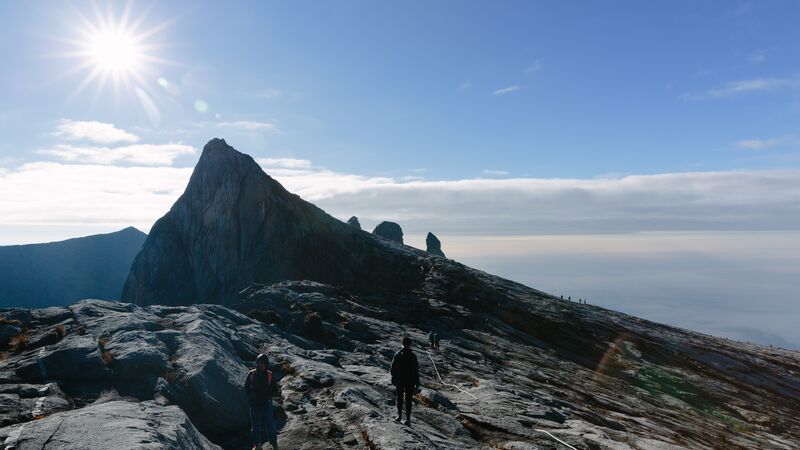 Mt Kinabalu sits on Borneo, about 4,000 metres above sea level, which makes it the 20th most prominent mountain in the world. But it's not the toughest trek going around. Most tour companies (including us) run two-day climbs, with one night spent in dorm accommodation on the mountain (we'll get to that later). Kinabalu is a World Heritage Site, and you'll pass through several habitats and ecosystems on the way up: steamy Sabah rainforest, Montane grasslands, desolate rock-scapes and the famous alpine meadows. Keep your eyes peeled too – there are 5,000 types of plants, 326 different birds and over 100 mammal species on the mountain.
Only 135 climbers are allowed on the mountain each day, so it does tend to book up early. For peak season travel, we recommend locking in your spot at least six months in advance.
WANT TO CLIMB MT KINABALU? CHECK OUT OUR 9-DAY HIKE, BIKE & KAYAK ADVENTURE IN BORNEO HERE
What sort of stuff should I pack?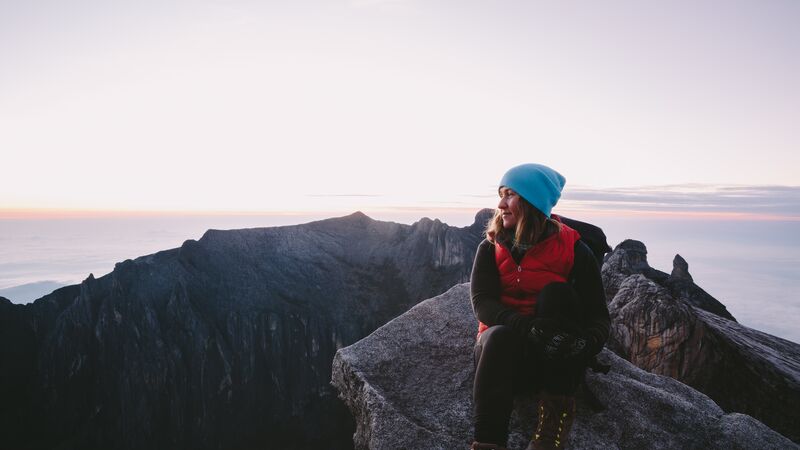 Start by checking out Intrepid's Ultimate Packing List. That's your basics covered. But Mt Kinabalu will require some specialist trekking gear, along with all the common sense stuff (sunscreen, sunglasses, cap etc). Here's a few other things you might need.
A small backpack for your jacket, drink bottle, snacks etc.
A waterproof jacket. It rains on Kinabalu. A lot. Pack a light-weight rain jacket and some waterproof bags for your gear.
A head torch. For the morning summit hike (which starts in pitch darkness). You can pick these up easily in Kota Kinabalu.
Water bottles. For obvious reasons. Pick a sustainable, re-useable drink bottle.
Yummy snacks. Any good trail mix, chocolate or sugary treat will do.
Good hiking boots. Make sure you get a pair that support your ankles, and wear them in at least two months before the trip.
Thick hiking socks. Dry socks will be your best friend. Pack 3-4 pairs.
Earplugs. Accommodation on the mountain is dorm-style. That means snoring.
Shorts. At least for the first day, when you're trekking through muggy rainforests. Bring pants for the summit climb.
Money. You won't need much, but it's good for tipping porters and buying food.
Waterproof gloves. These will keep your digits warm, but they're also handy for the Via Ferrata.
Layers. The big one. Pack some thermal skivvies, light jumpers and a jacket. Layer up or down, depending on temperature.
What should I wear?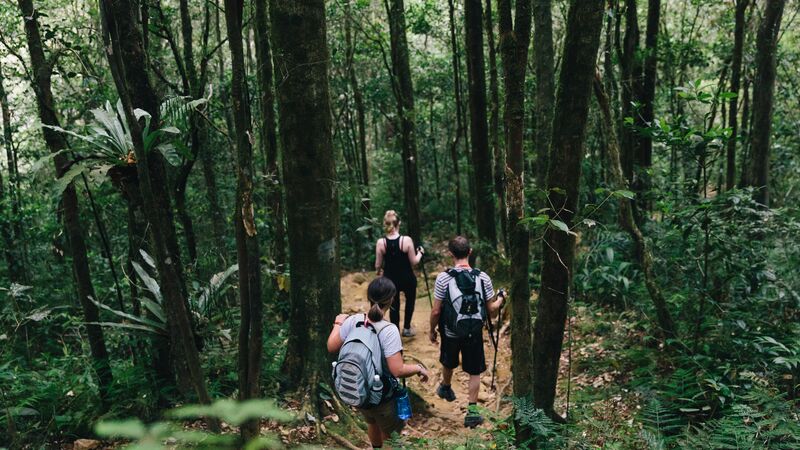 What to wear on Kinabalu can change from hour to hour, never mind day to day. The mountain's climate is known to be pretty temperamental. Nights get icy, afternoons are muggy, and rain storms can sweep in without notice. Generally you want to wear multiple light layers, so you can adjust on the fly. On the first morning, wear shorts. Trust me. It's very steamy down in the Sabah jungle, and everyone else will be sweating into their hiking pants.
Once you're up on the mountain proper, it can get cold, especially at night: switch to trousers, thick socks and a polar fleece jumper. Don't forget the waterproof jacket either. For the dawn summit, the big things are head torch, a beanie and warm gloves. Here's a good packing guide to get you started.
EXPLORE OUR RANGE OF SMALL GROUP ADVENTURES IN BORNEO HERE
When's the best time to visit?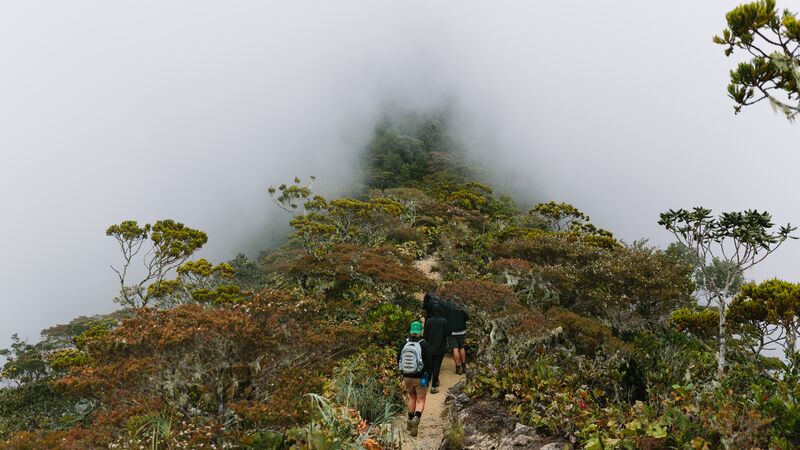 Borneo sits in the middle of a swirling tropical vortex, so it's always raining somewhere. Really bad weather can sometimes close the Kinabalu summit (check the Mt Kinabalu home page for recent weather updates). It usually pays to book in the dry season. The temperatures are mild, the skies are (mostly) clear, and you've got a better chance of seeing that marmalade sunrise. Best months are generally March and April, although June to September can be fine too (it just gets very hot). Check out our Malaysia Season Guide for more info.
Do I need to be fit?
You'll need a certain base level of fitness: there are many, many, many steps on Mt Kinabalu, not to mention slippery, rain-soaked rocks, uneven terrain and high altitudes (which make breathing tricky). The mountain climb takes two days. On the first day you'll climb about 6 kilometres worth of steps, up through the lowland jungle, to around 11,000 feet above sea level. The second day is more technical: you'll get up early and climb to the summit. This stretch is rocky and steep, about 15-20 degrees incline. For some tips on getting ready for your trek, check out this handy guide.
LOVE TREKKING? EXPLORE OUR FULL RANGE OF HIKING ADVENTURES HERE
The Via Ferrata: Explained!
CHECK OUT THE VIA FERRATA ON OUR 9-DAY BORNEO: HIKE, BIKE & KAYAK ADVENTURE
If you want to add some Tomb Raider-style adventure to your Kinabalu climb, check out the 'Mountain Torq' via ferrata (we've got a comprehensive guide over here). It's one of two via ferratas on the mountain; basically a series of ropes, ladders and walkways that have been nailed into the rockface. This is an optional route, so there's no pressure to take part. For those who are keen, you descend the via ferrata on Day 2 of Intrepid's Borneo: Hike, Bike and Kayak trips, carefully hooked into a climbing line with multiple carabiners. You don't need any rock climbing experience to give it a go (although there is a minimum height requirement of 1.3 metres and weight limit of 100 kilos, it's essential to attend an hour-long safety briefing, and you must ensure your insurance provider will cover this activity). Mount Kinabalu has all the relevant information over here.
READ MORE: WHAT IT'S ACTUALLY LIKE TO CLIMB THE VIA FERRATA ON MT KINABALU
What's the accommodation like?
You won't be camping on Mt Kinabalu, but don't expect 5-star accommodation either. Intrepid stay in dorms with bunk beds, and all your sleeping bags, pillows and sheets are provided; it's clean, cosy and comfortable. There are toilets and (very) cold communal showers, too. If you struggle sleeping in dorm rooms, we recommend packing a sleep mask and a couple of stout earplugs.
Do I really need a porter?
You don't have to hire a porter when climbing Mt Kinabalu, but it helps. You'll also get to meet some amazing local people and help stimulate the economy. If you'd like a porter on the climb, just let your Intrepid leader know and they can arrange everything. Porters are always paid directly, and in cash. The rates vary depending how much gear you've got, and the particular climb route you take, but your leader can advise on how much you can expect to pay when you're there.
READ MORE ABOUT INTREPID'S PORTER POLICY HERE
What if I don't want to climb?
That's totally fine! Intrepid has three trips that offer non-climbing options: Sabah Adventure, Sabah Discovery and Essential Borneo. Just let your agent know when you're booking that you don't want to summit the mountain, and they'll help you organise an alternative. Some people prefer to stick to lower altitudes, and there are still fantastic views of Mt Kinabalu from the smaller ridges. You'll find a good round-up of the low-altitude day walks here.
Mt Kinabalu FAQ's
How high is Mount kinabalu?
The summit of Mt Kinabalu is 4095 meters (13,435 feet) tall, above sea level.
How to book Mount Kinabalu Climb?
We have tours covering Mount Kinabalu which you can book today
When is the best time to climb Mount Kinabalu?
The best time to climb Mount Kinabalu is March and April, although June to September can be a good time too.
Find out more about our small group adventures in Borneo now.
All images by Melissa Findley.
Feeling inspired?