With international travel put on hold for two years, many travellers have been exploring a little closer to home. Turns out, travelling domestically can be just as transformative as an overseas adventure. We sat down with three Intrepid travellers to find out why you should explore closer to home this year.
When people think of travel as a life-changing, transformative experience, they usually picture remote wilderness or far-flung destinations on the other side of the planet. Adventure is one of the few things that looks bigger the further away it is.
But COVID-19 has given travellers an excuse to explore closer to home, some for the first time, and many are finding that it's not how far you travel, it's the people you meet and experiences you collect along the way. You don't have to fly halfway around the world to conquer your fears, or try something new, or push yourself. Travel is wherever you find it.
We asked three Intrepid travellers how their domestic trips changed their perspective.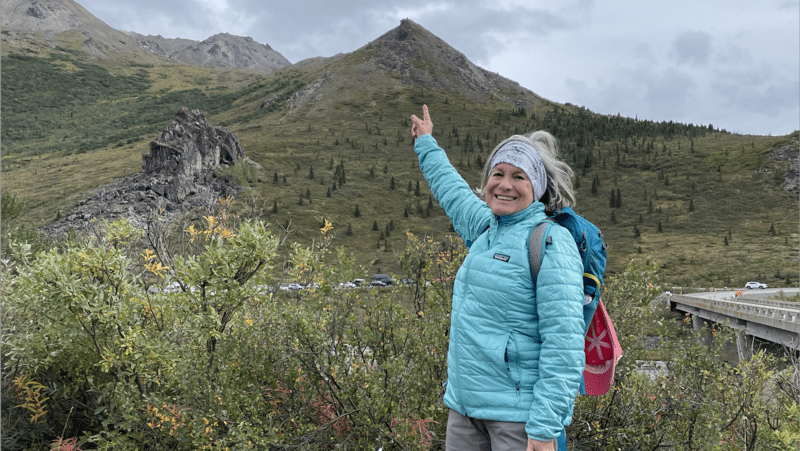 When 73-year-old Florida native Judy Mace booked her spot on Intrepid's Hiking In Denali National Park she had her reservations. "As the time came closer and I was heading to the airport, I became very apprehensive about the tour," she admits. "I'm old! Will I be the oldest person on the hike? How often do they stop for bathroom breaks? I'd never been on a group tour before, and all these nagging thoughts were keeping me up at night."
Judy was also recovering from a back operation she underwent in 2020. The surgery was successful, but the recouperation and rehab were tough. Her surgeon said running was out, but Judy could walk as much as she wanted, so she booked a hike in Alaska's Denali National Park with her sister.
"My sister and I visit a national park every year to participate in half marathons and hiking," she says. "We figured Alaska was as far away as we could go, while still being in the United States! And the tour was amazing. Every day was a new adventure – glaciers, mountains, tundra, bears. Our tour guide was a walking encyclopedia, and he made Alaska's history come alive.
"I look back on my apprehension before the trip and realise it was all so unnecessary. I did end up pushing myself, but in a good way. I needed to prove to myself that I can still get out there and enjoy nature as I once did. And if I can do it, anyone can!"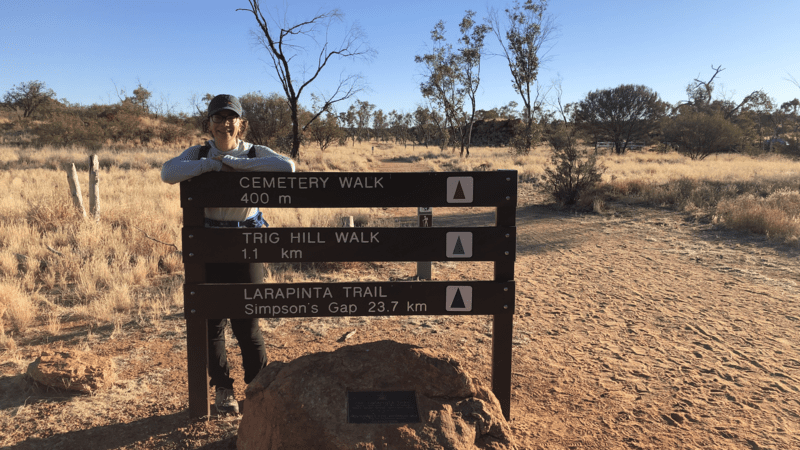 Maida Kopic first heard about Australia's Larapinta Trail at a work conference in 2019, but thanks to the lure of international travel, it sat on the backburner for a while. "Once the pandemic hit, international travel was off the cards," Maida says, "so I decided it was time to start ticking things off the Bucket List. I got into hiking in 2020, but I'd never travelled to the centre of Australia. The Larapinta was my first multi-day trek."
The Larapinta Trail is one of Australia's most famous trekking routes, winding through some of the wildest, most spectacular scenery in the Northern Territory. It also includes quite a few staring-down-into-the-abyss-from-a-cliff kind of moments, which was a problem for Maida, being scared of heights.
"It was terrifying, especially the first time. On the first day we walked on the Euro Ridge, and you could go to the edge and look nearly 800 metres down to the ground. I'd been training for months for the trek, and I was worried that my fear of heights would hold me back from this incredible experience," she says.
"Luckily, our guide, Anne, was amazing. She would literally guide me by the hand, even singing at one point to distract me. Thanks to Anne, I was able to see and do the entire trek. I'd offered to skip certain sections to make things easier, but she was always so encouraging. She got us into daily stretches, too, and even brought a foam roller for people to use! The whole experience was incredible."
"I turned up dressed like I was going to Everest Base Camp." Laura Owen (50s) trekked Hadrian's Wall in the UK
After 18 months working for the NHS during the pandemic, Laura Owen was exhausted. Her usual walking and hiking routes were suddenly packed with lockdown-weary tourists, so she decided to book a trip within the UK. Somewhere remote, but that didn't require a long flight or PCR test.
"My niece sent me a few links, one of which was Hadrian's Wall," Laura says. "Scanning through the itinerary, I was drawn to the words 'Doesn't require a high level of fitness'. Of course, after the booking confirmation, doubts began to set in. Would I be able to walk for a week? Will I be the old lady holding everyone back?"
Laura decided to give the tour a crack, and dug her old hiking boots out of the closet. She sprang for some new waterproof trousers and hiking socks, too. "Unfortunately, I turned up dressed like I was going to Everest Base Camp," she laughs. "I spent my first few minutes nervously eyeing up the rest of the group, trying to gauge everyone's fitness."
Despite the nerves, Laura finished the walk in style. The Northumbrian scenery was spectacular, her feet remained unblistered, and she found herself enjoying the group travel dynamic.
"The books that I'd packed in anticipation of early nights seeking solitude remained tucked away in my case, and I found myself looking forward to dinner each evening and carrying on with the laughter we'd had throughout the day. By the time the trip was ending and the outskirts of Newcastle were within sight, I honestly felt like turning around and walking back to Carlisle! Couch to hiker in the space of a week. Who'd have thought?"
Ready to explore closer to home for yourself? See our new local trips here!
Feeling inspired?