Arriving into the north of England, country hills suddenly appear like the wrong frame in a film, and the scene keeps rolling to Manchester.
She Bangs the Drum by the Stone Roses humming through headphones, a thousand puddles on the floor and a chorus of "sorry love" brushing past in the street – there's nothing better than coming home to find the familiar things are still in place.
City pride can be a rose-tinted description of a mundane trip back home. It can be an enthusiastic local itinerary for a stranger in a cafe. Or a social trend of aggregated lists and flattering imagery that define a city's cheekbones.
"Manchester is well better than Liverpool." – Proud Mancunian.
"The city is the economic heart of the north west." – Strategic politician.
"A linchpin in the industrial revolution." – Cherry picked history.
Whether it's based on landmarks, music, fashion, food, sport, literature, location or landscape, city rivalries are, more often than not, progressive in their ideals. For an established rivalry, one city offering something more than the other is a fresh benchmark that extends the competition further towards bigger prizes. And it's the travellers of this world, who reap the benefits.
Here are a few examples of famous city rivalries from across the world.
Thinly veiled by the world-renowned El Classico between FC Barcelona and Real Madrid, this is a rivalry that's much more than 22 players and an inflated leather ball. Don't quote me on this. The proxy battle between the capital of Catalonia and the capital of Spain is a complex narrative of independence, architecture, pride, art, food and the beach. An example of one city pushing the other is Madrid's bubbling envy of Barcelona's gothic architecture inspired by Gaudi, which unofficially funded Madrid's burgeoning art scene.
Sydney vs. Melbourne
"One minute it's raining, the next it's sunshine, plus the beaches are tiny bays," said the Sydneysider about Melbourne. "They've still got a long way to go in developing their breakfast menu and coffee culture," said the Melburnian about Sydney. A tasty Australian jaffle, filled with the administrative capital of Canberra, these two great Australian cities flex their muscle in symbolic landmarks, beaches, food, culture, neighbourhoods and sporting events. Melbourne and Sydney are just two old friends who love to get one over on each other.
Rio vs. Sao Paulo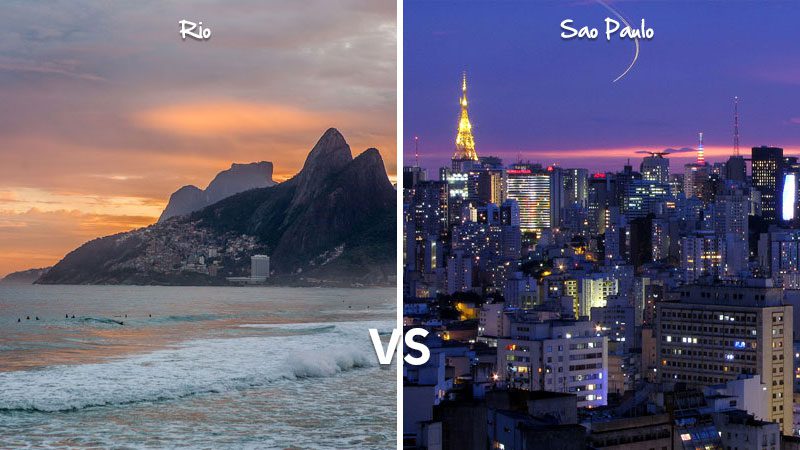 A fierce rivalry has been born from their reluctant need for each other. While both cities struggle in the same areas, such as education, transportation and poverty, their individual attractions couldn't be more different. Rio is full of natural beauty, hedonism, iconic landmarks and long, sandy beaches, while Sao Paulo is the country's business hub, arts centre and melting pot. A fantastical landscape and concrete jungle are handcuffed by their mutual desire to drive Brazil's economy and tourism.
Berlin vs. Munich
These German heavyweights constantly jab at each other behind closed doors. Berlin is seen as one of the most desirable cities in Europe, if not the world, yet it's Munich that claims to hold the true values of German tradition and humble living. Berlin is a relic of a not so distant past, flourishing through pockets of culture that complement each other and collide sometimes. Munich invites families, Berlin cultivates young adults. A mix of youth and experience keeps them both off the ropes and into the hearts of travellers.
Feature image c/o sandeepachetan.com, Flickr 
Feeling inspired?