Being a tourist in Cape Town is a strange feeling.
It's a Thursday evening, and we've joined some of Cape Town's young creative elite at a hip gallery/co-working space in town for the opening of a new photography exhibition. We sip delicious wine in the jovial room, marvelling at the exquisite photography captured during the artist's recent journey through the Congo.
On one hand, Cape Town is a paradise. We spend our days exploring mountain ranges that spill towards the picturesque coastline, enjoying thriving gourmet food, wine, and coffee scene to rival those of Europe, relaxing in tranquil national parks teeming with biodiversity, and swimming near surf breaks that draw keen barrel-chasers from around the world. At night, we enjoy warm and generous South African hospitality in the many quirky galleries, restaurants, and bars the city has to offer. It's picturesque, pumping, and with the Rand at roughly 15ZAR to 1GBP for travellers, oh so cheap.
To our naive and wide traveller's eyes, we've stumbled across an Eden. Each day we spend time lamenting the fact that people don't travel to 'perfect South Africa', and at one point seriously consider cancelling the rest of our travel plans to spend the rest of the summer here.
Yet simmering just under the surface of this gleaming cosmopolitan hub lies a very different reality for many. While we're enjoying the best of Cape Town for very little, just twenty minutes away there are millions of people living in cramped, unhygienic conditions in shanty towns. We marvel at how cheap our Ubers and tasty meals are, but the reality is they're the product of an exploited low socioeconomic – mostly black – workforce. It's confusing, feeling both like high-flyer, and guilty poverty-voyeurs.
Cape Town's natural setting is undeniably stunning. Flying into Cape Town for the first time, the vision of Table Mountain rising above the city bowl and the turquoise bay is captivating.  The landing is equally so, but for very different reasons: directly under the landing path lies the messy, impoverished tangle of repurposed tin shacks that make up the Cape Flats township. It really is a Dickensian tale of two cities; for many here it's the best of times and it's the worst of times.
In many ways, this city and its mountain are symbols of South Africa's highs and lows. After all, it was on present-day Cape Town's shores that Jan van Riebeeck's party of three Dutch East India ships first landed in 1652, marking the first days of European history in the south of Africa. It was also in Cape Town that anti-apartheid revolutionary Nelson Mandela was imprisoned on Robben Island for 27 years, and in Cape Town that President FW De Klerk announced the end of Apartheid and his release in 1990. Finally, it was Cape Town where, upon Mandela's passing in 2013, his face was projected onto Table Mountain – a poignant symbol of how far both the city and country have come.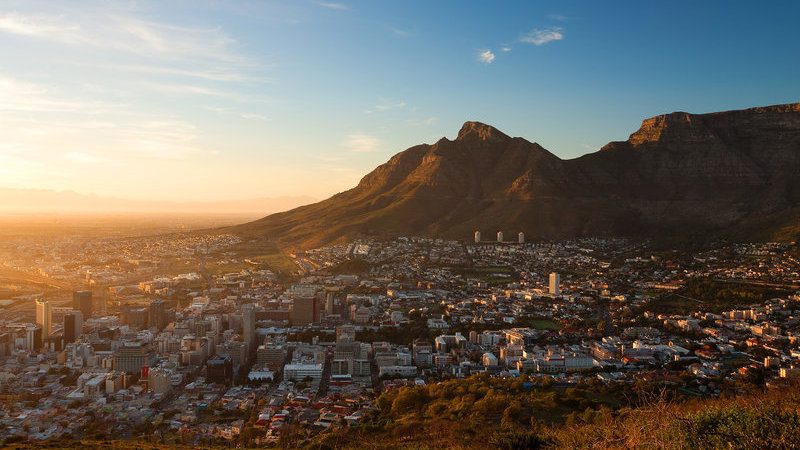 But during the apartheid years, it was this imposing mountain, along with the rivers, parklands, and roads that formed natural boundaries that divided a people and a nation. Carved them into lines of us and them, desirable and untouchable, investment and neglect. Black and coloured populations were removed from vibrant multicultural neighbourhoods like District Six and forcibly relocated to the other side of the mountain in the low-lying Cape Flats area.
The whites remained behind, comfortably nestled in the foothills on the bayside, with Atlantic ocean views and orderly waterfront mansions. Despite twenty years of progress and work to reunite these communities after Mandela's commitment to "heal the old wounds and build a new South Africa", the signs of the apartheid era still linger.
Equal rights may have been granted to all, but income inequality remains divided along much the same racial lines. In 2012, a census discovered that the average black family earns about one-sixth that of the average white family's salary, in low-paying menial or domestic service jobs. That same census calculated around 35% of black and coloured students complete high school, compared with 75% of white citizens. At a tertiary level, the white graduation rate outstrips their counterparts by more than 50%.
Decades of discrimination have left a scar, and as we drive past many of the beautiful homes in the city bowl, it's heartbreaking to see the 8ft high protective walls laced with electric fences and surveillance systems. A stark contrast to the over-cramped townships where gang violence and poverty are rife and opportunity out of reach for many.
Yet while it seems bleak, there are glimpses of hope. In spite of its social issues, South Africa remains a wealthy, prosperous country with a brilliant tourism industry. In recent years, they've played host to the Football and Cricket World Cups, and claimed the title of World Design Capital in 2014.
In Cape Town, managed by the more functional Democratic Alliance government, the pay gap is slightly smaller, and an entrepreneurial spirit is thriving. We spend a month working at the Woodstock Exchange (one of the coolest coworking spaces we've ever found) surrounded by exceptionally talented, intelligent minds from all walks of life. Nowhere is it more evident that from hardship, great creativity and resilience is born.
We spend a morning exploring the Imizamo Yethu township with a young Xhosa woman called Nandipha. Expecting to feel her anger at the injustice, we leave heart-warmed and inspired by her positivity and ambition. "I changed my heart as I grew up," she shares, "I let the anger go, let the love in. I'm inspired by our differences now". She looks to the future and works tirelessly to make her community a better place.
We meet young white South Africans who have set up social enterprises within their communities, who campaign for better circumstances for all, and who have grown up with the freedom of rainbow coloured friendship. Most of all, we discover a society that while deeply flawed, is also deeply generous, welcoming and friendly.
South Africa may still be a tale of inequality, but when it comes to balancing the divide, Cape Town is leading the drive down the long, winding road. In these glimmers of progress lie hope for the nation, and perhaps it will be before the dramatic backdrop of Table Mountain that Mandela's long-cherished ideal of the democratic and free society of peoples living harmoniously and equally will be realised.
Ready to discover South Africa for yourself?  Check out our range of small group adventures!
Words by The Common Wanderer. Feature image, second image: c/o – Shutterstock, all other images c/o The Common Wanderer

Feeling inspired?