Floating above Cappadocia in a colourful hot air balloon is on the bucket list of most travellers to Turkey; watching the volcanic landscape change colour in the morning light is a pretty spectacular way to start the day.
But before you go booking your tickets, I'm going to burst your (hot air) bubble. Even though ballooning in Cappadocia is hugely popular, many flights are cancelled because of weather conditions. In fact, in the summer months there's a 50/50 chance your morning balloon ride will be cancelled.
Don't despair. There are heaps of other ways to explore Goreme that are just as memorable. Here's how you can put a twist on your visit to Cappadocia.
1. Jump on a bike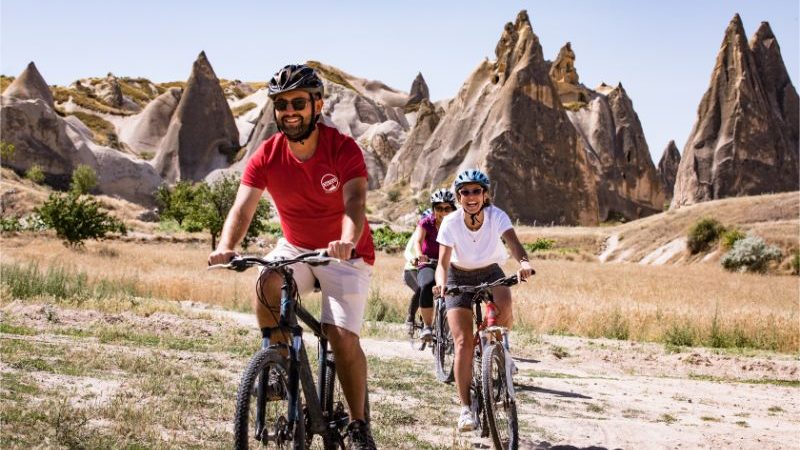 A bike is the perfect way to explore the on-ground nooks and crannies of Goreme's folded landscapes. It allows you to travel at a slower pace, so you can really take in the twisted rock formations and see how the locals have carved their homes into the soft rock. The trails can be hilly, and sometimes a bit uneven and sandy, but easily achievable when you've got a small team of cyclists along for the ride. One highlight includes stopping for a picnic lunch in the lesser-known Cappadocia town of Cavusin, where you can check out the faded frescos and preserved arches of the 5th-century Church of St John the Baptist.
Cycle around Cappadocia on Intrepid's 12-day Hike, Bike and Kayak Active Adventure.
RELATED: HERE'S WHY MOUNTAIN BIKING IN CAPPADOCIA WILL BE THE HIGHLIGHT OF YOUR HOLIDAY
2. Learn the secrets of Cappadocian cuisine
If outdoor activities aren't quite your thing, there's another way to get to know Cappadocia – using a rolling pin and wooden spoon. A cooking class in a traditional cave home is a great way to add a few tricks to your cooking repertoire, while learning about local traditions. Some of the dishes you can expect to learn include manti (a type of Turkish ravioli), red lentil soup, sarma (stuffed vine rolls) and karniyarik (stuffed eggplants). The best bit? Getting to eat your creations afterwards.
Cook up a storm on a 10-day Real Food Adventure in Turkey – trip details here. 
RELATED: WHAT TO EXPECT AT A COOKING CLASS IN CAPPADOCIA
3. Explore underground
Cappadocia's fairy chimneys are spellbinding from above, but they're just as spectacular from below. Deep underground in Derinkuyu, just a short drive from Goreme, you'll find an ancient multi-level city with a complex network of tunnels and passageways (it's estimated the city could house as many as 20,000 inhabitants, as well as their food and livestock). Surprisingly for such a big city, it was lost to memory for many years until a local man found a mysterious tunnel behind one of the walls in his home.
Visit Derinkuyu on Intrepid Travel's Turkey Encompassed adventure.
RELATED: 7 SKY-HIGH VIEWS IN CAPPADOCIA (THAT AREN'T FROM A HOT AIR BALLOON)
4. Browse ancient art works
If you're short on time and can't reach Derinkuyu, another option is to visit the UNESCO World Heritage-listed Open Air Museum in Goreme. It's a monastic complex composed of churches, rectories and dwellings, all carved into the soft rock. The churches date between AD900 and AD1200 and each one is named after a prominent attribute by the local villagers, who were exploring the caves long before there was an entrance fee. It's worth paying extra to visit Karanlik Kilise, also known as the 'Dark Church' because of its lack of sunlight. This has allowed the bright and colourful frescoes inside to be preserved without fading, making it a highlight of the museum.
5. Lace up your hiking boots
Love. Red. Pigeon. Monk. What do these seemingly random collection of words have in common? They're all names of Cappadocia's varied and colourful valleys. Each has its own backstory and history that can be uncovered while walking the trails between the giant mushroom-shaped chimneys. Depending on the valley you choose to hike, you can also see cave homes and ancient fortresses (time your hike right and you might also get to enjoy a spectacular sunset).
RELATED: WHY TURKEY IS THE HOTTEST DESTINATION FOR WELLNESS TRAVEL
6. Witness a whirling dervish ceremony
The whirling dervish is much more than a hypnotic dance; it's also a religious ceremony. Locally referred to as a sema, it is performed by trained dervishes from the Mevlevi order, a branch of Islamic mysticism. Each ceremony begins and ends with chanted passages from the Koran and every step and pose is imbued with spiritual meaning. Witnessing a whirling dervish ceremony is an intimate, dizzying experience and a powerful expression of local faith. Thankfully you'll also have a local leader on hand to explain the complex symbolism involved.
7. Unwind at a hamam
If you want to take it real slow on your visit to Cappadocia, pay a visit to one of the local hamams. The hamam is a uniquely Turkish approach to wellbeing; one where you can enjoy a good scrubbing by an attendant and time to relax by the pool afterwards. You can also customise your hamam experience with extras like massages, pedicures and facials, or just kick back with a nice glass of cay (Turkish tea).
RELATED: A FIRST-TIMER'S GUIDE TO TURKISH HAMAMS
Experience more than just the balloons on a small group adventure in Goreme with Intrepid. Check out our full range of Turkey tours here. 

Feeling inspired?