In some ways, there's never been a better time to be a Canadian – the country's natural beauty is getting more recognition than ever before, the politics is far less controversial than elsewhere, and when times get tough, there's always poutine. If only the same good things could be said about the Canadian dollar. Just five years ago it was above par compared to our American neighbors. But ever since then we've seen a steady decline, to the point where CAD $1 is now worth about U.S. $.75.
However, Canadians love to travel. Yes, a weak exchange rate hurts, but that doesn't mean we're going to stay home and be content with watching the Travel Channel. We're still going to explore the world, we just need to be smarter about how we spend our dollars. To help inspire you, we've picked 7 destinations where you can still stretch your loonie.
7. Scotland
Because of Brexit, the English pound has fallen about 20% in value in the last year. Most of the attention has been focused on England, but Scotland also uses the pound, so why not take advantage and and head there instead? After all, it offers a  perfect mix of lush landscapes and sophisticated cities. If you like nature, make your way to Ben Nevis for the ultimate Scottish Highlands hiking experience or check out the deserted beaches of the Outer Hebrides. Alternatively, go even further off the beaten track by exploring the Isle of Skye, an area packed full of picturesque fishing villages (like Portree, pictured above) and dramatic landscapes dotted with castles.
Edinburgh, possibly the most charming city of all, offers a lot of value with free galleries that include the Scottish National Gallery, Scottish Gallery of Modern Art, and the Scottish National Portrait Gallery. (Bonus: the city is pricier but even more vibrant each August, when it hosts the world's largest arts festival, Edinburgh Fringe.)

6. Vietnam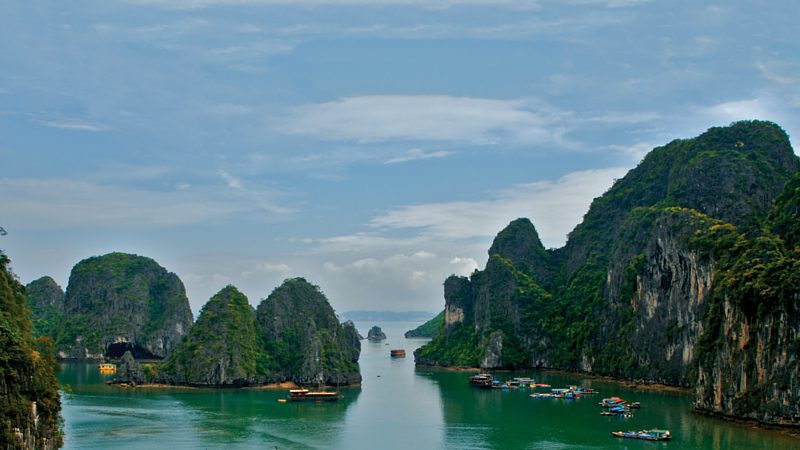 When $1 CAD = 17,000 Vietnamese Dong, you know you're getting some serious value for your dollar. A bowl of pho averages about 20,000 dong while a Vietnamese iced coffee is just 10,000 dong. It shouldn't be too hard to find a hotel for CAD $35 a night and remember, in Vietnam, hotels are only licensed to accept foreign guests if there is air conditioning. We're not complaining…
After arriving in Ho Chi Minh City, be sure to discover the city's historic past by visiting the War Remnants Museum, which makes for an interesting look at the Vietnam War. Once you're ready to move on, follow the coast north towards the bustling capital, Hanoi, while stopping in Hoi An, Hue, and Halong Bay.  Honestly, you really can't go wrong in this beautiful country – whether you explore the mountains of Sapa in the northwest or the beaches of Nha Trang in southern Vietnam, you're in for a treat.
RELATED: EXPLORE BEAUTIFUL VIETNAM ON THIS 10-DAY TRIP
5. Portugal
Portugal is going to have a big year. Lonely Planet named Lisbon as one of their top cities of 2017 and TAP Portugal now offers free stopovers in the country, which practically makes it two destinations for the price of one if you're traveling to Europe. The great thing about Portugal is that there is just so much variety. In Lisbon, you can get some epic views from one of the seven hills the city is built on; the coastal city of Porto is brimming with cobbled streets and fine wine; and the Algarve offers up a ton of stunning beaches and breathtaking cliffs.
From a price perspective, Portugal is significantly cheaper than Spain. Meals can be had for less than CAD $10 per person and mid-range hotels are about $80 a night in Lisbon (not bad for a European capital city!). And the locals are incredibly friendly, so solo travelers will feel right at home.

4. Turkey
After a failed political coup and terrorism attacks, Turkey's currency (the Lira) has seen a pretty big drop. These events have hurt the tourism sector and as a result, prices have dropped at hotels. Safety is obviously a concern, so you'll notice an increased security presence (and should be cautious!), but that doesn't take away from the beauty of the country.
Istanbul is still one of the best cities in the world with its mix of cultures, friendly people, and delicious cuisine (we might be biased, but we adore our 10-day food trip there). It's also hard to resist a hot air balloon ride over Cappadocia – what bucket lists are made for. And if you need something more relaxing, Antalya, with its beautiful Old Harbor and azure waters, is arguably the best of the Turkish Mediterranean.
RELATED: 10 REASONS YOU SHOULD GO SAILING IN TURKEY
3. India
Here's another country that offers good value for Canadians: India. $1 CAD is worth about 48 Indian Rupees. For perspective, a meal for two at a mid-range restaurant will cost you 600 Rs while a domestic beer can be had for 100 Rs. Trains are ridiculously cheap (and soon might get you across the country in just one hour), but so are domestic flights which are definitely more comfortable.
If your time is limited, the Golden Triangle which covers Delhi, Jaipur, and Agra can easily be done in 8 days (especially on this trip). However, if you have more time, a journey from Delhi to Goa will take you to some of India's top attractions including the Taj Mahal, Lake Pichola, the Gateway of India and much more. Oh, and did we mention the cuisine? Go south to Kerala for some of the country's freshest fish and tastiest tea (guide here).

2. Argentina
Over the last five years, debt and political issues have caused the Argentine Peso to fall considerably in value. Back in 2012, $1 CAD was worth 4.40 Argentine Pesos, but now it's worth 11.58 Pesos. Although inflation has taken away from some of those gains, Argentina still offers great value for Canadians. Buenos Aires has a very European feel to it (plus the best wine and steak around), but each individual neighborhood couldn't be more different: San Telmo has a bohemian vibe with a quirky weekend market, while Palermo is a hip 'hood with some of the trendiest bars and restaurants in the city.
For a once-in-a-lifetime experience, head to Patagonia where you can explore one of the most remote and beautiful environments on this planet. Check out Perito Moreno Glacier, for starters, then venture to the southernmost city in the world, Ushuaia. (You can do both of these on our 15-day Patagonia Wilderness trip.) And as the picture above illustrates, the mighty Iguazu Falls, on the border of Brazil, is a waterfall not to be missed.
1. Canada
Every Canadian says they want to explore more of Canada, but rarely actually do it. Well, 2017 is the year to finally discover our great backyard, since Canada is celebrating their 150th birthday. There will be birthday celebrations right across the country come Canada Day, so you really can't go wrong wherever you are.
Regardless of when you travel, how can you resist the Canadian Rockies or Montreal's thriving food scene? Don't forget that national parks are free as long as you order a Discovery Pass online from Parks Canada. Oh, and there's no need to worry about the exchange rate since we're staying within the country.
Got the travel bug? Join the club… Then check out our small group tours in over 100 countries.

Image Credits: All c/o Intrepid Travel (except Scotland c/o iStock)