If you're visiting Hawke's Bay, you had better bring your appetite as this pretty wine growing area is also home to some of New Zealand's most delicious dining options.
With a bounty of superb regional produce to choose from, Hawke's Bay's chefs were into paddock-to-plate dining long before it became trendy. Whether you're after a tasty brunch, degustation dinner, or a romantic lunch overlooking the region's famous vines, these restaurants in Hawke's Bay have got you covered.
Central Fire Station Bistro
If you don't have a lot of time and want to sample Hawke's Bay's famous local wine and produce and see Napier's famous Art Deco architecture, this restaurant is the place to do it. Central Fire Station Bistro is located inside one of Napier's most significant Art Deco buildings which has been decked out with plush banquettes, floral wallpaper, and chandeliers. The European-inspired menu features a dash of molecular gastronomy magic and an appealing mix of classic dishes which often come with a twist, such as a beef fillet served with Bordelaise sauce made with shiitake mushrooms. There's also a superb wine list featuring Hawke's Bay wines …. and a brass firefighter's pole. What could possibly go wrong?
Craggy Range Restaurant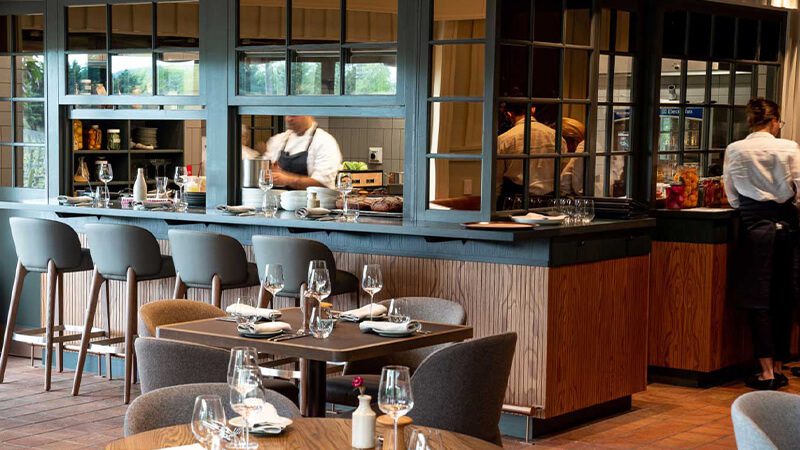 With Craggy Range regularly winning a spot in World's Best Vineyards lists, you know the bottles at this winery restaurant are going to be good, and the food is just as impressive. With a menu that changes by the month depending on what's in season, you're assured of the best and freshest produce when you pull up a chair here. Dishes are simple yet sophisticated, like cured fish, horseradish cream, green apple and chilled sorrel sauce to start, with a cheese soufflé served with pickled shiitake mushrooms, asparagus, witlof salad, burnt butter and tamarillo for mains. Even if you're feeling full, there's always room for dark chocolate and salted caramel truffles for dessert.
CHOOSE YOUR PERFECT HAWKE'S BAY TRIP
READ MORE: NEW ZEALAND NORTH ISLAND HIGHLIGHTS
Malo
With a kitchen that opens daily from 9am until late, it's easy to find time to drop into Malo when you're visiting Hawke's Bay. If the weather is playing along, try to snare a table in the courtyard which is shaded by large market umbrellas. The owner-chef learned his trade at Michelin-starred restaurants and the rustic yet refined dishes are bursting with flavour. The bar menu features excellent cocktails and a gin trio chasing which pairs well with something from the elegant bar bites menu. These aren't your usual 'bar snacks': think bruschetta served with silky parmesan cream or savoury profiteroles with duck liver parfait, plum gel, and pistachio. Desserts tend towards classics like chocolate mousse, albeit with a twist like crème brulee served with berry marshmallow and graham cracker.
Emporium Eatery & Bar
Any time is a good time to drop into this lively local favourite inside the Art Deco Masonic Hotel, but the weekend brunch at Emporium Eatery & Bar is especially good. If you want something more exciting than the same old café breakfast dishes, you'll find it on the extensive brunch menu which ranges from brioche French toast topped with maple blueberry ricotta, bacon, banana, and hazelnuts to Shakshuka eggs, bacon filled bagels, or confit salmon served warm with daikon pickle and nori jam. A pared back breakfast menu is also available from 7am if you can't wait until 11am when the brunch menu kicks in.
Bistronomy
This hatted restaurant in Napier might be serious about food but it doesn't take itself too seriously. With a focus on fun rather than fine dining, Bistronomy is equally good whether you're here as a group or a couple. Choose from dishes on the compact a la carte menu which include the likes of Kawakawa cured cold smoked venison served on a sourdough flat bread, topped with a celeriac remoulade, watercress, lightly pickled beetroot, and powdered herbs or free-range pork hock with pork belly, peas, and mung bean salad. If you want to make it a night, there's also a six course Chef's Choice Degustation which includes a tempting wine matching option.
Feeling inspired?