Ah, Asia. A continent so diverse, so beautiful, and so packed with chaos and charm that it truly does provide something for everyone.
And this is certainly the case for solo travelers, who will feel right at home provided they pick the perfect destination to visit. Enter our round-up. We've made a list of the best countries in Asia for independent explorers (though we'd love to hear where else you'd recommend in the comments below!).
Anyway, we love the following five destinations, and we reckon you will too:
South Korea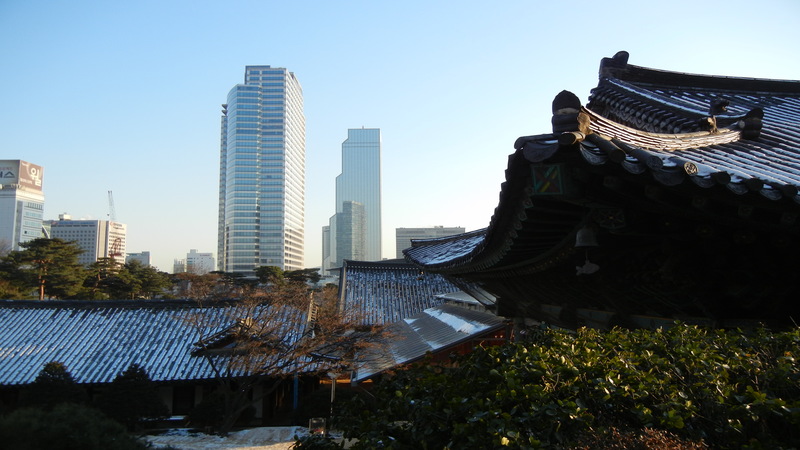 We'll start this list with a country you may not have expected… South Korea. Yes, the East Asian nation has got us so excited in recent years that we dedicated an 8-day trip to its awesome food scene. Korean BBQ, kimchi, bibimbap and more – what's not to love? We think both this trip and country are ideal for solo travelers because South Korea's street food scene (as unintimidating as it is delicious) is easily navigable for those traveling on their own.
But it's not all about the food, it's about the people too. Plenty of young Koreans can speak some English, but even if they don't, you'll be hard press to find a country with friendlier locals. Their warmth is truly outstanding, so whether you're hiking Mt. Gangcheon to Byeongpung Waterfall or browsing the seafood at Busan's epic Jalgalchi Market, you'll find them always willing to help you out. Bonus: the subways in Seoul, Daejon and Busan are super easy to use, thanks to announcements in English and a ton of signs – solo travelers needn't worry! The glittering skyscrapers and irresistible energy of South Korea is calling…
SUBSCRIBE TO OUR NEWSLETTER FOR TRAVEL INSPO, GIVEAWAYS, COMPETITIONS & MORE
Cambodia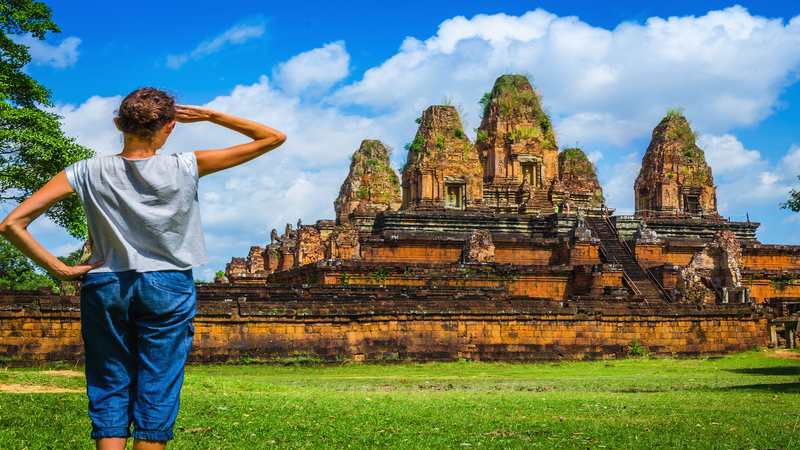 Who doesn't want to go to Cambodia? Even those that have been are keen to go again. And that's a testament to the country's excessive beauty, rich history, friendly people, and up-and-coming cuisine. It's a fantastic place for solo travelers to explore – in part thanks to its diversity. You've got the big city buzz of capital city Phnom Penh, the stunning temples of Angkor Wat, and the peaceful, plentiful beaches of Sihanoukville. Something for everyone.
Plus it's safe, too. Reports of harassment are incredibly rare, and even though travelers aren't super common outside of Siem Reap, you'll barely notice thanks to the kindness of locals. It really is easy to get off the beaten track here. Once you've seen the temples and visited the Killing Fields (devastating, but a must) you can explore little-known sites. Our recommendations for solo travelers seeking something special? Battambang, the second largest city – brimming with riverside charm and colonial architecture – and Kampot, where you can help blind Cambodians make a living by getting a traditional massage (info here).
Vietnam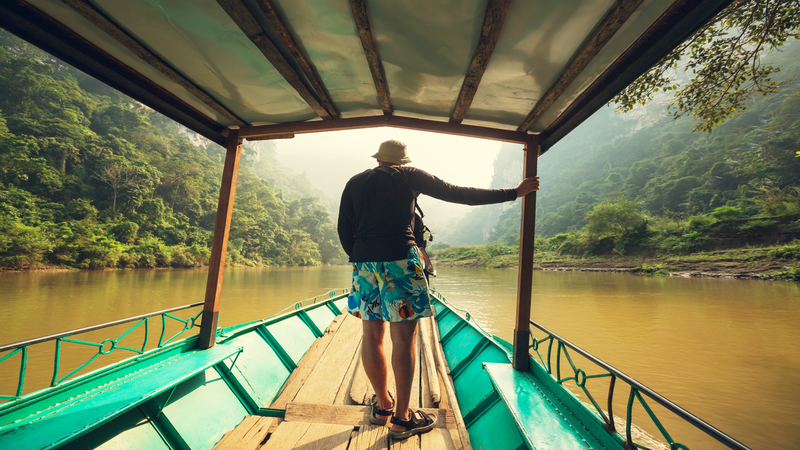 We're aware this is another Southeast Asian entry on the list, but visit Vietnam and you'll see why it makes the cut. It has the nature and the culture, the food and the fun. It's also pretty easy to get around, thanks to a well-developed train system, and it's varied enough that it'll satisfy every sort of traveler. Big city lover? Cool, head to Ho Chi Minh City or bustling capital, Hanoi. Super into Vietnamese cuisine? You'll go crazy for this 12-day food trip and our food and coffee guides to the country. Or are you more into nature and picturesque scenery? The mountains of Sapa, world heritage site of Halong Bay, and idyllic beaches of Nha Trang have got you covered.
The Vietnamese also speak pretty good English, so getting around and doing your thing as a solo traveler really isn't hard. One thing we would advise is to emotionally prepare for motorbikes aplenty – they're the most common form of transport here, so either join the crowd and rent one or become brave enough to ensure that crossing the motorbike-filled road doesn't take an hour (a very real possibility in Hanoi).
Lastly, it's worth bearing in mind that Vietnam is very much a developing country, meaning it provides travelers with a wealth of ways in which to offer their support. Our favorite way of doing so is by hitting up KOTO restaurant in Ho Chi Minh City, an organisation dedicated to giving jobs in hospitality to street kids (hint: you can go there on this 10-day tour).
RELATED: WHAT TO EXPECT ON AN OVERNIGHT TRAIN IN VIETNAM
Japan
Not only is Japan as safe as it is developed, it's perfect for the solo traveler in oh so many ways. First off, eating alone in Japan is actually quite routine. This alleviates one of the biggest worries for those on the road, since a ton of eateries actually cater to solo diners specifically. We advise checking out ramen restaurants because they tend to be composed mostly of single counter seats. Alternatively, check out a trip dedicated to Japanese cuisine, so you can enjoy the freshest sushi around, and in the company of other solo travelers.
Stroll round any big city, such as Tokyo, and you'll see just how many people walk alone. It's very safe to do so, so you definitely won't be judged as a solo adventurer. Females can even go one step further if worried about safety and check out ladies-only transport and accommodation options. And although English isn't spoken fluently, you'll find that everyone is both respectful and eager to offer assistance, so all that's left to do is chill out and explore the beautiful country. You can do so in just one week (if you're time poor), but don't leave without checking out an onsen, a traditional Japanese bath (guide here). In doing so you might be pretty glad you're traveling alone – after all, you have to be 100% nude to indulge…
RELATED: WHAT IT'S LIKE TO TRAVEL IN JAPAN AS A SOLO TRAVELER
Myanmar
Because why not end on a high? If Myanmar isn't on your radar yet, it really should be. It isn't all temples, pagodas, ancient towns and quaint villages, but there are enough that you'll be left feeling zen and inspired in equal measures. Locals here are honestly some of the kindest around (a refrain we've repeated too often, but one we really mean) and the 2,000+ brick and gilded ruins you'll see at Bagan are truly life-affirming.
Solo travelers will be more than happy here, mostly thanks to the above, but also because of the authenticity on offer. It's a given that Yangon, Bagan and Mandalay will likely be visited on a trip to Myanmar, but Intrepid's Best of Myanmar trip takes you through so much more of the country than that. For example, the small group tour takes you to Kalaw, home of extraordinary hikes, tea plantations and tiny villages. It also lets you sleep at a unique community lodge, where you visit a thanka farm, help out with an important tree-planting project, and even get a dinner cooked by nearby villagers. It doesn't get cooler than that.
Got the solo travel bug? Intrepid has a new range of trip departures just for solo travelers. 
—
Image Credits: All c/o Intrepid Travel
Feeling inspired?