With mountains covering an area six times the size of Switzerland, pristine lakes, alpine meadows, vast sand dunes, and rugged canyons that look like they're straight from a Wild West movie, Colorado is as diverse as it is spectacular.
Even better, the State's 12 National Parks filled with natural hot springs, sparkling lakes, and towering peaks can be enjoyed year round. Add a bustling capital city with tasty craft beers and great dining plus a thriving arts and cultural scene, and you've got a United States holiday that offers something for everyone. Here are five of the best Colorado vacation activities for your next trip.
1. Go hiking in Rocky Mountain National Park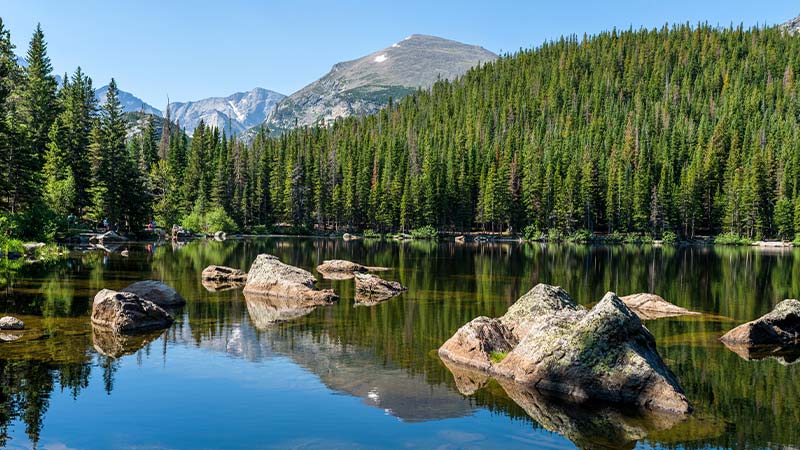 Colorado contains most of the southern Rocky Mountains and the famous Rocky Mountain National Park, home to some seriously awe-inspiring peaks. Take it easy on the Lulu City trail, an easy-going path that's a perfect introduction to the gorgeous scenery of Rocky Mountain National Park or tackle the more challenging hike to Ouzel Falls. Chapel on the Rock, a functioning 100-year-old Catholic church that blends into the rock formation it was built on top of, is also well worth a visit. Don't miss the scenic Gem Lake trail, a pleasant and scenic walk delivering big views of Estes Park, Longs Peak and the Continental Divide. The path leads to Gem Lake, a pond filled by snowmelt and rainfall that is a hit with photographers who come here to snap jaw dropping reflective shots.
FIND OUT MORE ABOUT TOURING ROCKY MOUNTAIN NATIONAL PARK
2. Discover Denver 
Denver, the capital of Colorado, has an appealing mix of independent shops, restaurants and bars tucked into charming Victorian buildings and a thriving craft beer scene to explore with boutique breweries within walking distance of each other. Denver is also a hub of creativity with art studios, galleries, and street art galore. Check out the Art District on Santa Fe or head to the River North (RiNo) Arts District where your leader will introduce you to a vibrant collection of works, from graffiti and murals to fascinating 3D installations, and explain how local artists have brought this beloved neighbourhood back to life. You'll also find eight of Denver's top museums in the Golden Triangle Creative District.
DISCOVER DENVER ON A COLORADO EXPLORER TOUR
3. See the world's tallest sand dunes 
Head to Great Sand Dunes National Park and discover the tallest sand dunes in America which are over 2,400 metres high. There are no designated walking trails here. Simply pull up in the visitor carpark and go for a stroll around the mighty dunes anywhere you like. Along with sandboarding down the dunes and exploring in a 4WD, you can also hike along Medano Creek and enjoy mountain views along the way or admire the waterfalls and breathtaking views at the scenic Zapata Falls Recreation Area. In late May and June, when melting snow sends plenty of water down the mountain, you can bob along the creek on a blow up raft or pool toy. When night falls, the sight of the dunes draped in moonlight and a blanket of stars is breathtaking.
4. Cycle in Colorado 
Colorado is one of the United States' best cycling destinations with trails to suit all levels of fitness and riding ability. Cycle the Arkansas River Valley, one of Colorado's best mountain biking destinations, with an experienced guide to show you the most scenic and rewarding trails. There are hundreds of off-road trails that take you through the Rockies, alongside rushing rivers or through scenic farmland. Some trails travel through what was once goldmining country and are packed with local history. If you prefer a leisurely cycle around town, Boulder's B-Cycle program lets you check out a bike at one of the city's many bike stations with a quick tap of your credit card and cruise around town and beyond.
FIND OUT MORE: CYCLING AND HIKING IN COLORADO
5. Hit the slopes in Aspen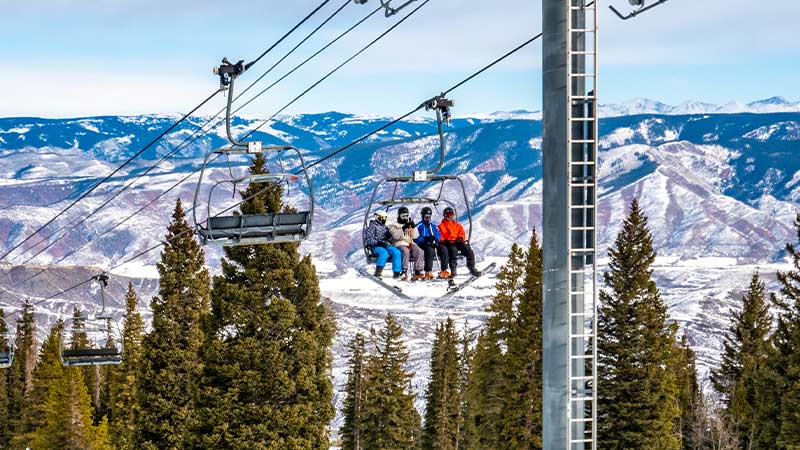 If you're staying in Aspen, there are four different ski resorts to choose from: Aspen Mountain, Aspen Highlands, Buttermilk, and Snowmass. All of them can be visited on the same lift ticket. Don't go too hard too soon though as Aspen is at altitude. Pace yourself for the first day or two and remember to stay hydrated and rest if you need to. There is great scenery to enjoy while you enjoy a break between runs. The well-spaced glades and easy slopes at Buttermilk are ideal for beginners. Snowmass has ski-in ski-out accommodation and runs to suit every level. Aspen Mountain doesn't have any beginner's runs at all so it's best suited for more experienced skiers. Aspen Highlands is quieter except for when the après ski scene kicks off each evening. When you want a break from skiing, the historic and charming city centre of Aspen is the place to be with plenty of cafes, boutiques, and bars to explore.  
SOAK UP COLORADO"S FRESH AIR AND NATURAL BEAUTY ON A COLORADO TOUR
Feeling inspired?